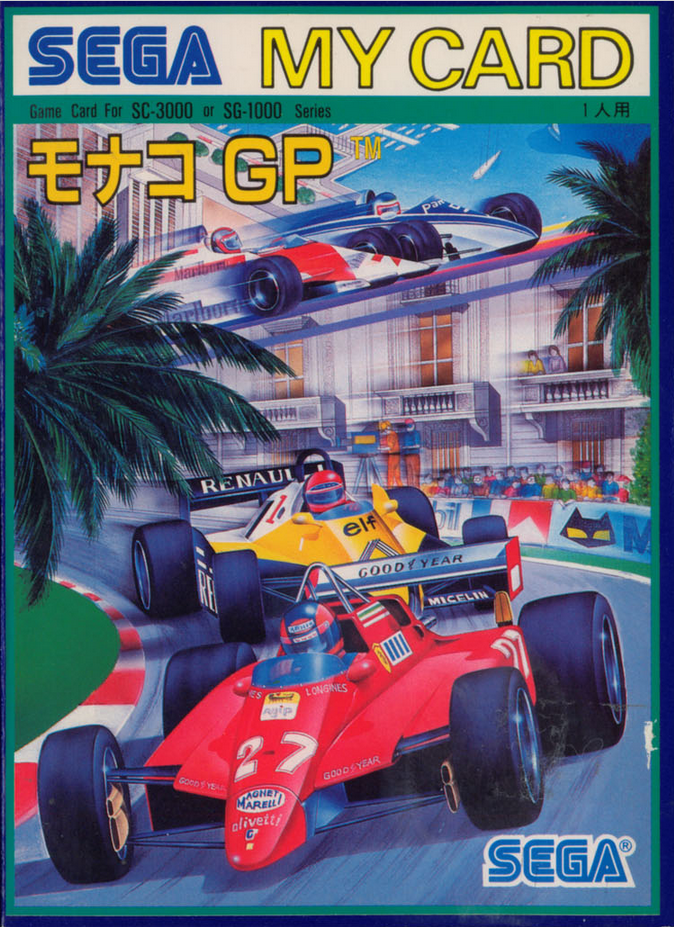 PLAYERS: 1
PUBLISHER/DEVELOPER: Sega
GENRE: Racing
RELEASE DATE: 1983 (SG-1000); 1985 (Sega Card)
Despite being named for the esteemed Monaco Grand Prix race, Monaco GP is less racing, more driving endurance.
 You drive an F1 car through what I presume are the streets of Monaco (houses litter both sides of the seemingly neverending track), but you don't have any direct opponents. Rather, you maneuver around other F1 cars who are either just allowing you to win or were paid to go slow and get in your way.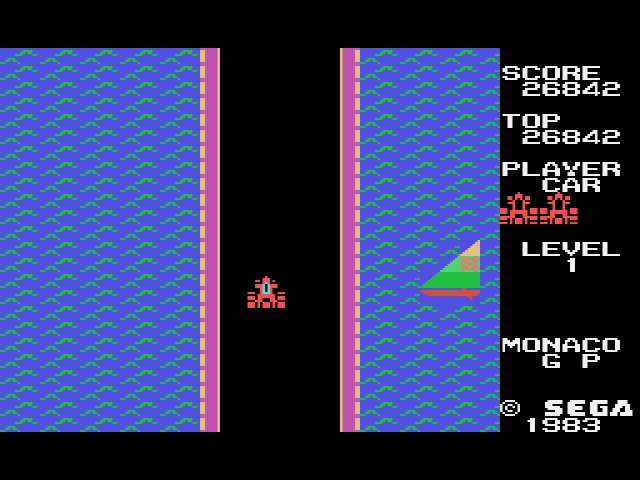 The roads change constantly from straightforward to winding to ice-covered. You'll drive through blacked-out tunnels with only your headlights to inform you where the other drivers are (for some reason, they've failed to turn their lights on). You'll also drive over bridges, some of which have gaps that require you to jump. If you touch another car, you spin out and crash on the side with zero chance of recovery.
Thankfully, Monaco GP gives you four cars to start, with an additional car achieved every 10,000 points. The faster you drive, the quicker you receive points. Also, there is no time limit. Drive as fast as you can for as long as you can. Monaco GP isn't Le Mans, but it is possible to spend many hours going nowhere.
The Monaco GP arcade was released in 1979, a whopping four years earlier than the SG-1000 port. Obviously the port doesn't have the all-encompassing feel of the cockpit cabinet – a cabinet that comes complete with steering wheel, gear shifter, and gas pedal – but the speed-up-slow-down gameplay is well-represented and has aged tastefully.
In fact, Monaco GP feels more finely crafted than some of the SG-1000's more recent 1983 arcade ports, like Congo Bongo or Sindbad Mystery; both of which play like Sega borrowing other companies ideas and making them worse. The driving in Monaco GP is straightforward, yes, but it's also pure and focused. No surprise that Sega would later thrive with racing series like Daytona USA and Sega Rally. In 1979, Monaco GP was already laying the groundwork for greater accomplishments.
B
FUN FACTS

Monaco GP would get a slight upgrade later in 1979 in the form of Pro Monaco GP. The changes mostly involve point accumulation. Because both games were made with discrete logic circuits instead of a digital CPU, neither Monaco nor Pro can be emulated in MAME. As someone who's not a techhead, I assure you that I don't know what discrete logic circuits are, but they sound expensive.

Monaco GP also had a Sega Card release two years later. Both the cartridge and the card versions look and play exactly the same.

Super Monaco GP was the proper sequel released in 1989 in the arcades and ported to several home consoles, including the Master System, Genesis, and Game Gear. Ayrton Senna's Super Monaco GP II was a console-only sequel in 1992 and was touted as one of the most "realistic" console racers of its day (whether the game was realistic or not, I'm unsure as I've yet to play it). The series has not seen a release since.