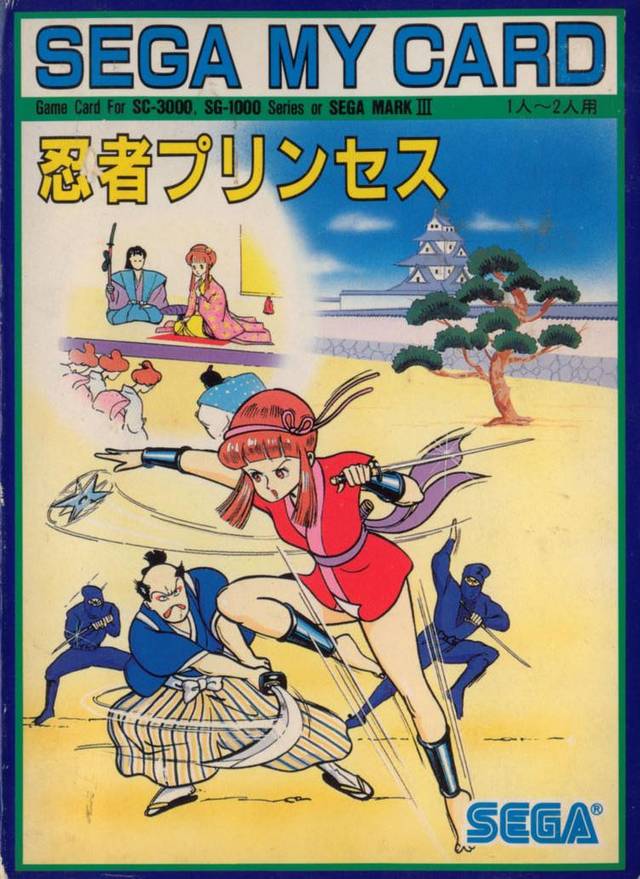 PLAYERS: 1-2 alternating
PUBLISHER/DEVELOPER: Sega
GENRE: Action
RELEASE DATE: 1986 (JP)
"Ninja Princess: feminist warrior raging against the male oppressors or just another chick in drag?"
The answer to such a ridiculous rhetorical question is, of course, neither. The Ninja Princess of the title, Princess Kurumi, is a member of the aristocracy who gets dethroned by one of her trusted advisors. In response to this outrage, she dresses up as a ninja and goes after the traitor to reclaim her castle. I wouldn't know what it's like to have an advisor, but I'd certainly be pissed if, say, my cat kicked me out of my house and declared it theirs. Can you imagine the litter?!
Let's say we were to go all "20XX" analytical on this game made in 1986: Ninja Princess would likely be used as an example of strong females in gaming. Princess Kurumi might have a good cry after her home is taken away, but who wouldn't? She picks herself up, puts on ninja garb, and goes for it. So yeah, Kurumi is a strong female, but Ninja Princess is not a political statement. Like so many other female character-driven games hyper-analyzed until I couldn't possibly give a damn, Ninja Princess is just a good game that happens to have a female protagonist, the end.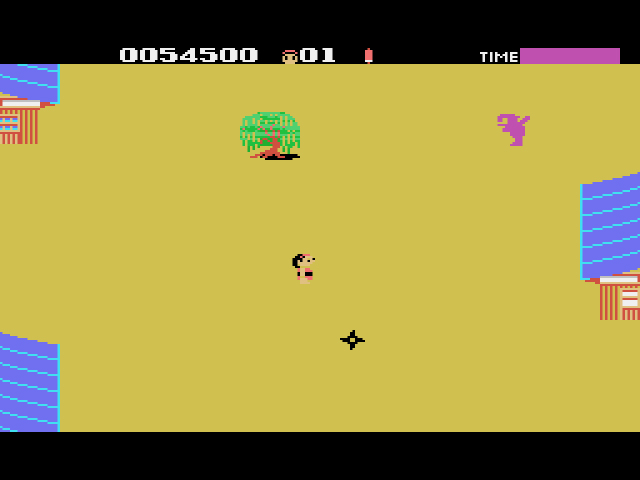 The style of play is top-down horizontally scrolling action, a la Gun.Smoke, Commando, and Ikari Warriors. Since you're a Ninja Princess (who, by the way, looks nothing like the traditional ninja portrayed in every other game), naturally by mid-80s game logic, your enemies are other ninjas. The enemy ninjas are multi-colored for your convenience: different colors have different attack patterns. Some ninjas jump from rooftops, others imitate rocks, and still others appear ghost-like and chase you down. The ninjas put on a tough front, but if you jam your thumb on the attack buttons and move out of the way of their attacks, your Highness will be fine.
Enemies will occasionally drop scrolls that increase your attack power from standard throwing knife to Omega Shuriken status. The shuriken are broader and can take out several enemies with one hit, so there's no reason not to upgrade. Button 2 allows you to attack in any direction, while Button 1 is only a forward attack. I'm not sure why you would ever use Button 1 over Button 2, but hey, we can't all be ninja princesses! Button 1 and Button 2 pressed at the same time will cause Kurumi to disappear in mid-air for a couple seconds. Disappearing can be tricky to pull off, but when executed properly, it will allow you to avoid enemy attacks.
Every level ends with what appears to be a witch boss, who twirls a magical baton around her person in a fast and circular (and possibly satanic) motion. Getting past her requires you to spam your attack as quickly as possible in her face. The witch dies, bonus points are obtained (or not), and Kurumi is one step closer to regaining her castle.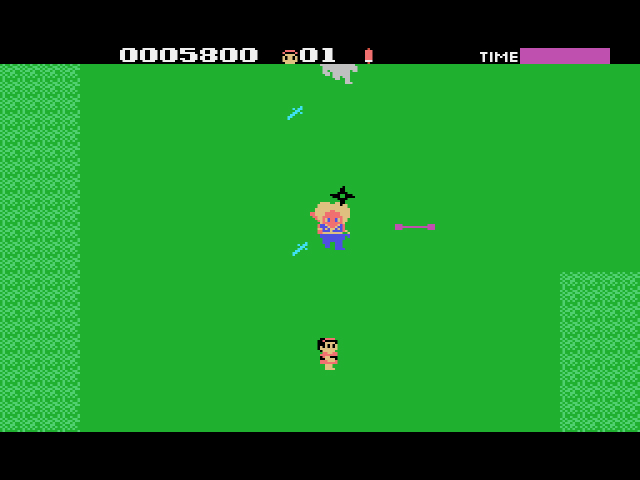 What distinguishes Ninja Princess from more repetitive SG-1000 action games is the variety of level layouts and the strong sense of progression. Before you begin a level, a map of the surrounding area is displayed, showing you how close you are to the castle, and ultimately, the end. As you move further into the game and on the map, the environments shift from forest to village to castle outskirts to the castle wall, and finally, into the castle itself. This might seem like a small point to some, but this dedication to detail immerses you in the game's story. Compared to previous SG-1000 action games, Ninja Princess's twelve (or so) stages feels like an actual journey instead of a meaningless three-stage loop.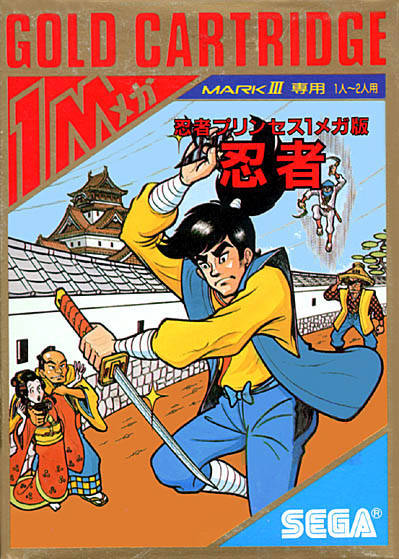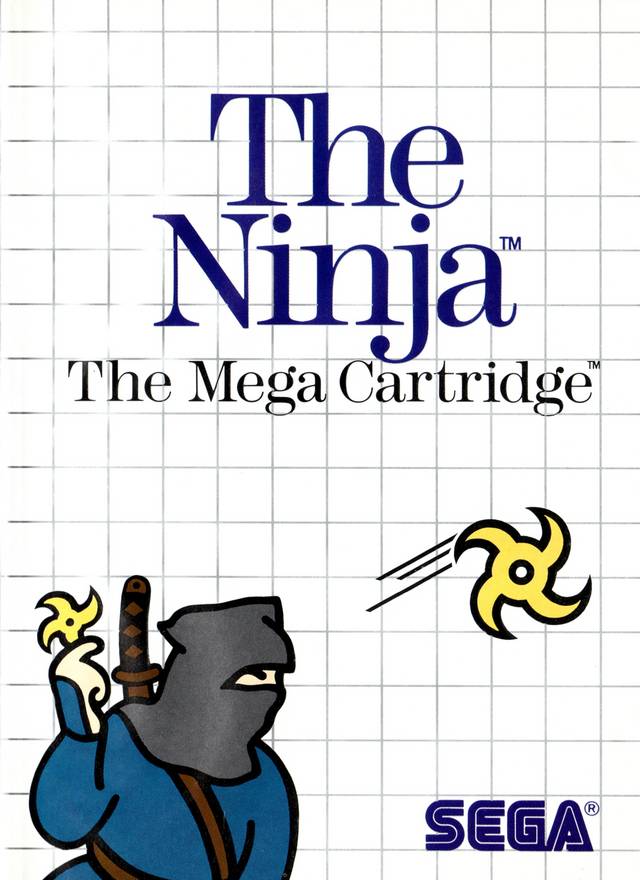 PLAYERS: 1-2 alternating
PUBLISHER/DEVELOPER: Sega
GENRE: Action
RELEASE DATE: 11/08/86 – (JP), 1986 – (US), 11/87 – (EU)
But why would Sega release Ninja Princess for the SG-1000 when they had a perfectly good Mark III in need of some solid games? That's a fair question, but to answer it, we need to travel back in time by exactly one year. Ninja Princess actually began life in the arcades in 1985. The core gameplay, characters, story, and environments are all the same, save for sharper graphics and a couple arcade-only levels. When Ninja Princess was brought over to U.S. arcades, the game's name was changed to Sega Ninja, but every other feature of the game was exactly the same including the presence of Princess Kurumi as the protagonist.
Later in 1986, however, Kurumi received a mysterious sex change and reappeared as a male in The Ninja for the Master System. One might think this was just a Western retooling for the States, since the majority of gamers in the U.S. at the time were – supposedly, statistically – young males. But The Ninja saw an '86 release in Japan as well, despite the presence of Ninja Princess on the SG-1000, and a release in Europe in 1987 where gamers were none the wiser about Sega's transgender shenanigans.
There's absolutely nothing wrong with The Ninja. It plays exactly like Ninja Princess – top-down action scroller, two attacks, one weapon upgrade, lots of enemy ninjas with scores to settle – but instead of playing as the colorful Princess Kurumi, you play as Kazamaru, a nameless, faceless soul. Now, male characters, female characters, I don't really care what sex I play as. What I want is personality from my protagonists, and Kazamaru has no discernible personality. As far as I could tell, he's just another dude rescuing a woman from distress. Now, I don't care that the man-rescues-woman-and-defeats-all-evil trope is the plot of The Ninja. I just prefer Princess Kurumi's story of upheaval and reclaiming of a kingdom more.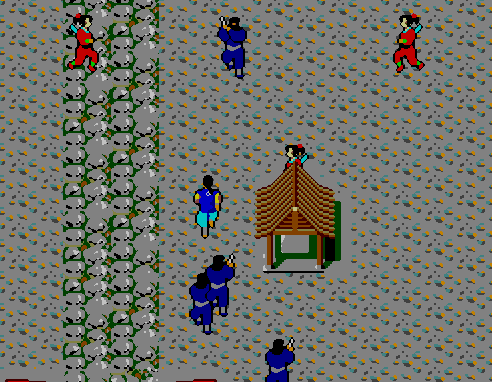 Whereas Ninja Princess feels like Sega crafted it for an all-encompassing audience, The Ninja feels like Sega jumping on the Western action hero bandwagon in order to appeal to… the select few in the States who bought a Master System? A group of macho males that would never play a game with a woman as the main character? I know these types of guys existed then, and they probably exist today. But to think that Sega was so concerned about the sex of the main character that they reworked an entire game just to accommodate for this supposed audience? That's both admirable and sad.
NINJA PRINCESS: B+
THE NINJA: B-