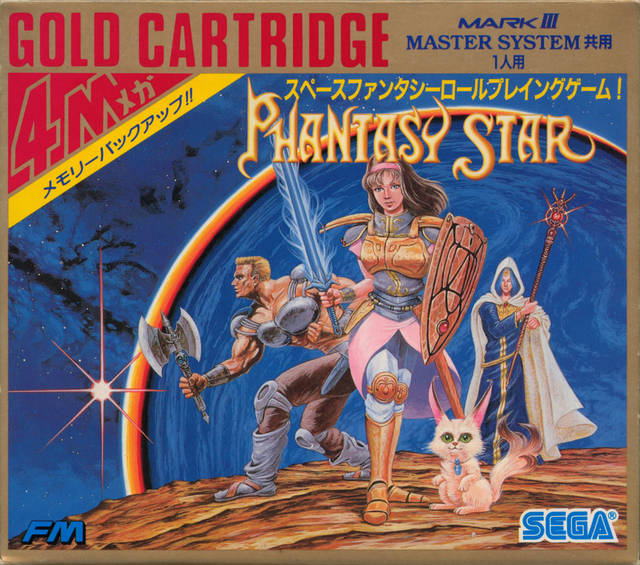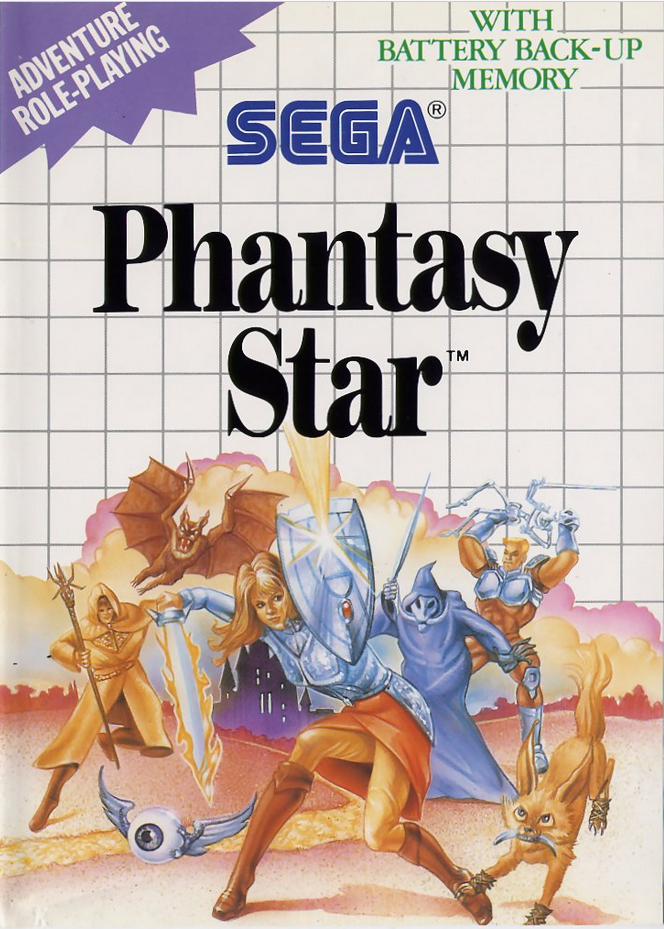 PLAYERS: 1
PUBLISHER/DEVELOPER: Sega
GENRE: RPG
RELEASE DATE: 12/20/87 – (JP), 11/88 – (US), 1988 – (EU)
Phantasy Star is, to paraphrase Snoop Dogg, the gangsta ish. In an era before kids even knew what role-playing-games were, Phantasy Star brought them out back and showed them what it was like. Not just with its staggering $69.99 price tag (which amounts to about $140 in today's money), but with the interplanetary traveling, first-person pseudo-3D dungeon exploration, and extensive length and difficulty. A role-playing-game Phantasy Star certainly was and is, but for Master System owners hungry for a break from arcade ports, it was their first real adventure. One that would linger for a lifetime.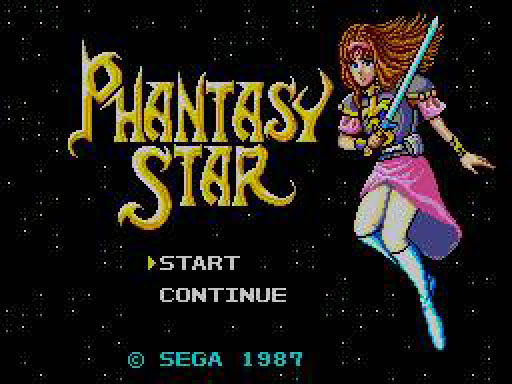 Phantasy Star begins with a death scene. Nero Landale, a leader of a rebellion against the evil King Lassic, is shot down by Lassic's robocops. Alis, Nero's sister and the main protagonist of the game, holds him in his final moments, then promises revenge on Lassic for his death.
This wasn't just an average death scene given through text. This was a cutscene. A straight-up cutscene in 1988. The first cutscene in any console game in the West? I won't make that claim, but it's certainly one of the first. Ninja Gaiden on the NES was praised for its dynamic cutscenes, and rightfully so, but it wasn't released until 1989 (December '88 in Japan, for all you date sticklers out there). With these jarring cinematic intros showcasing at least two of the game's four megs of power, the $70 pricetag had already justified itself.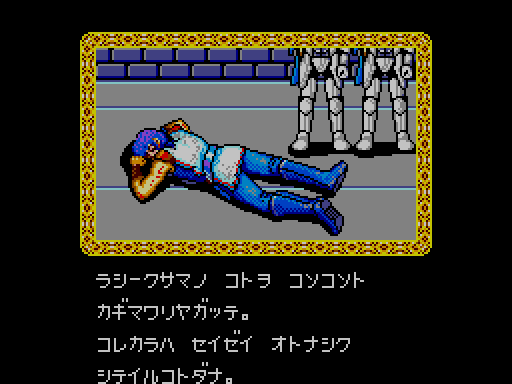 Alis begins her adventure on the planet Palma, in the town of Camineet. From there, she can talk to the townsfolk, buy weapons, armor, and food, and get herself healed up, if need be. The townsfolk have lots of cryptic, socially awkward things to say – things that you should nevertheless write down because they're actually clues. Once Alis leaves Camineet, she's free to explore the landscape of Palma and get into battles. Lots of battles. So many battles, your eyes will bleed. Yes, if you want to get anywhere in Phantasy Star, you'll have to indulge in that harsh, discordant activity, grinding. Experience doesn't come for free, and neither do Mesetas, the game's currency system. In order to get the best weapons (the Laconian Axe, the Laser Gun, the Light Saber) and the best items that make life easier down the road (the Magic Lamp, the Crystal, the Hovercraft), you'll need to search every cave, tower, desert, mountain, beach, and forest.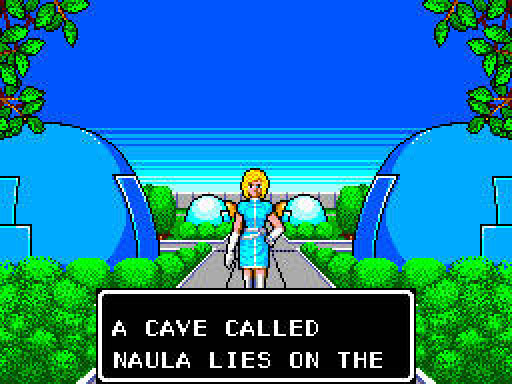 Along the way, you'll team up with Odin the Warrior, Myau the Alien Cat, and Noah the Sorcerer. Odin is the team's resident meat-eater, beer-drinker, axe-slinger. Hard-drinkin', hard-livin', but he always shows up to work on time. And in the end, one of his best weapons is the none-too-sissy Laser Gun. Fancy that! Myau might be adorable, but she'll use all of her nine lives to prove how deadly she is. She's got decent scratching abilities and she's the resident healer of the ground. Truly a cat of all trades. Noah, bless him, is the weakling of the group in terms of attack power. But his white robe makes a cool swishing noise, and his magician status allows him to cast some strong spells.
This is your crew, and it's no exaggeration to say that you'll grow attached to all of them as you play. Considering that there's very little character development, I was impressed with how much I appreciated each character. You bond through the understood silence of warriors and through the constant battling. Each character has their strengths and weaknesses which you discover as you travel and fight. The warriors hardly utter a word, yet you realize that you need each other, and the player is all the richer for this unspoken dynamic.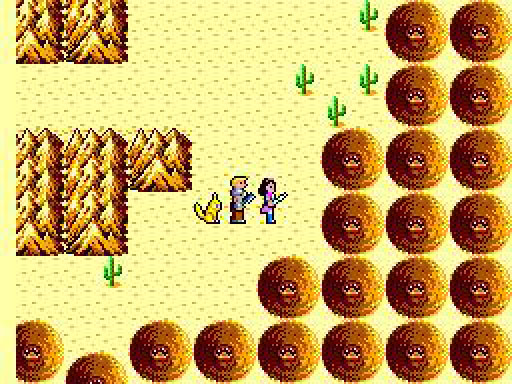 There's two types of exploration in this game: top-down overworld, where you guide your party members from a viewpoint in the sky, and first-person dungeon exploration. The former will be familiar to most retro RPG aficionados. Your party wanders around the overworld looking for areas to explore and is periodically interrupted (every other step) by battles. Once you enter a cave or a tower, the game's perspective will shift to first-person. While graphically breathtaking in their day, the dungeons of this game are brutal to explore. Even in some of the earlier dungeons, you'll need to use graph paper to keep track of where you're going and where you've been. Thankfully, if you get stuck, there are items like the Flute and the Exit spell that will help you get to safety.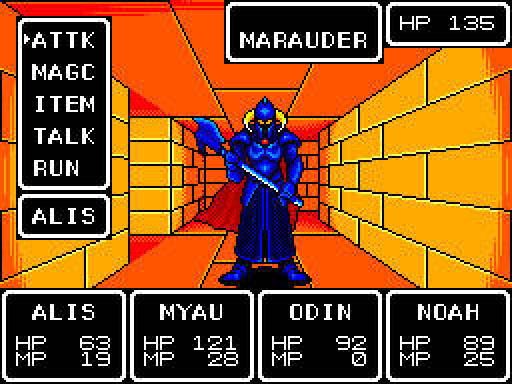 As the team gets stronger and progresses the story, you eventually travel to two other planets: Motavia, a desert planet, and Dezoris, an ice world. You don't just walk there, though. You fly. In a rocket ship. Driven by a robot. Indeed, seeing the ship blast across the galaxy is a gamechanger. This brief travel scene shows you how ambitious Phantasy Star is. Traversing across one planet is fine and good for most games, but three planets? Even though you are fairly limited as to where you can go, the game tricks you into thinking the planets are larger than they are. At different points during the game, you'll acquire vehicles to better explore the areas: Hovercraft, Landrover, and an Ice Digger. All of these vehicles will help you travel across treacherous terrain with ease. The Ice Digger is particularly cool, as it can burrow through layers of ice on Dezoris, revealing hidden caves and secrets and such. Features like the latter help the worlds to feel like well-crafted alien planets. Their hostile terrain is unkind to your party, but they provide rich rewards for those willing to explore.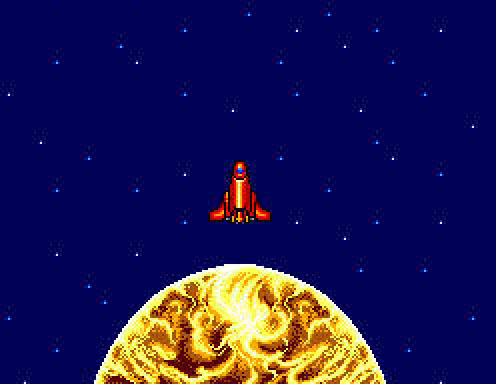 Once a battle begins, the monster appears in front of you, a menu box appears to the upper left, and the character's health and magic stats appear in boxes underneath the screen. The menu gives you the options to Attack, use Items, Magic, Run, and even Talk to the monsters (just a heads up, this rarely works). Once you choose an option, the game cycles through each person and monster until either the monster dies or the party members die. Treasure chests are always gained from beating a monster, and while monsters are always good for Mesetas, there are also traps hidden in chests. Be careful, as the type of trap could kill you if your health is low enough.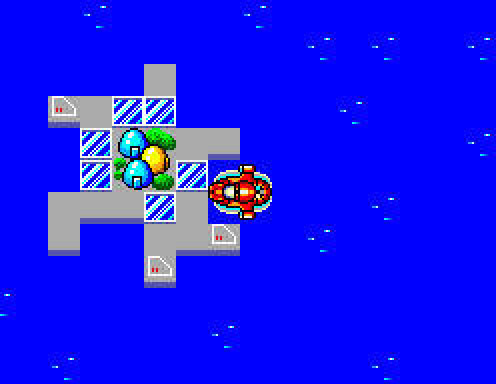 If the last couple paragraphs sound more or less like every Japanese RPG you've ever played from approximately 1988 to 2002-ish, that's because Phantasy Star was a template for all those role-playing-games you've enjoyed over the years. Dragon Quest certainly streamlined RPGs for the mainstream in Japan, but Phantasy Star solidified turn-based battles as the system to use, established the party system (four characters, even), the importance of an in-depth story with characters you care about, and exploring out-of-the-way secret locations for items. Sure, Final Fantasy expanded on these elements. Lots of RPGs did. The reason the genre became as popular as it did was because fans not only knew what to expect, they wanted more of the same in slightly different trappings. Phantasy Star – without meaning to, I'd wager – started several RPG tropes that linger until this day.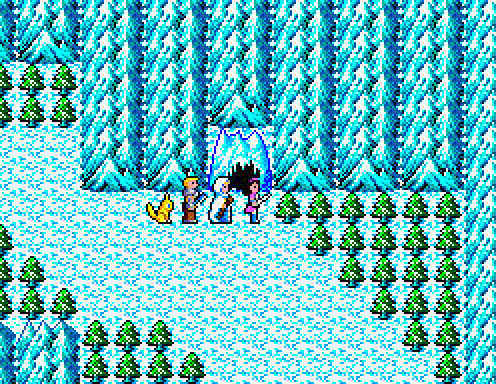 Special mention needs to be made to the fantastic monster designs and animations. The first time I saw a zombie lower his jaw and excrete vomit, I was in awe. Every enemy has their own special attack animation and look that gives them personality. Later enemy designs, like the Centaur, the Troll, and the various colored Dragons are incredibly well-rendered and intimidating as all hell.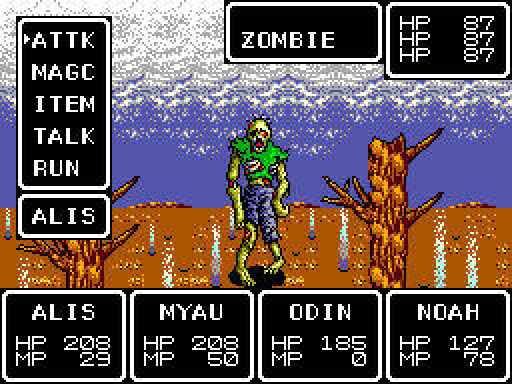 If I had to level a complaint at Phantasy Star's way, it would be the game's soul-rending difficulty, particularly in the later temples. Graph paper will only get you so far with some of them, due to the plentiful doorways and traps, all leading to God knows where. Figuring out where the dungeon drops you wouldn't be so hard, though, if you weren't up against an unholy amount of enemies at the same time. They'll destroy you if you don't have the best weapons and equipment in the game, and even then, you'll take a solid thrashing.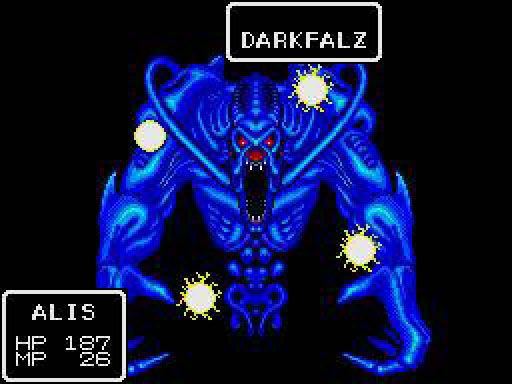 To really understand Phantasy Star's impact, you have to realize that there was no other game like it at the time. Miracle Warriors – the first RPG Sega (regrettably) released for the Master System – didn't even come close to Phantasy Star's scope nor did it play as smoothly. Dragon Quest had released a year prior to Phantasy Star in Japan, but in the West, Dragon Warrior didn't emerge until 1989, several months after the former. Final Fantasy was a whole year away. Thus, Phantasy Star had a significant period in which it made NES-owning children jealous of those who owned Master Systems. After a couple years of NESheads rubbing the fantastic Zelda and Metroid in Master System owner's faces, the beleaguered console lovers had a game to call their own. Alex Kidd in Miracle World might have been Sega's flagship title for the Master System, the pony/monkey that they bet all their arcade tokens on, but Phantasy Star is the console's crowning achievement.
A-
*images generously provided by GameFAQs.
^image generously provided by VGMuseum.com