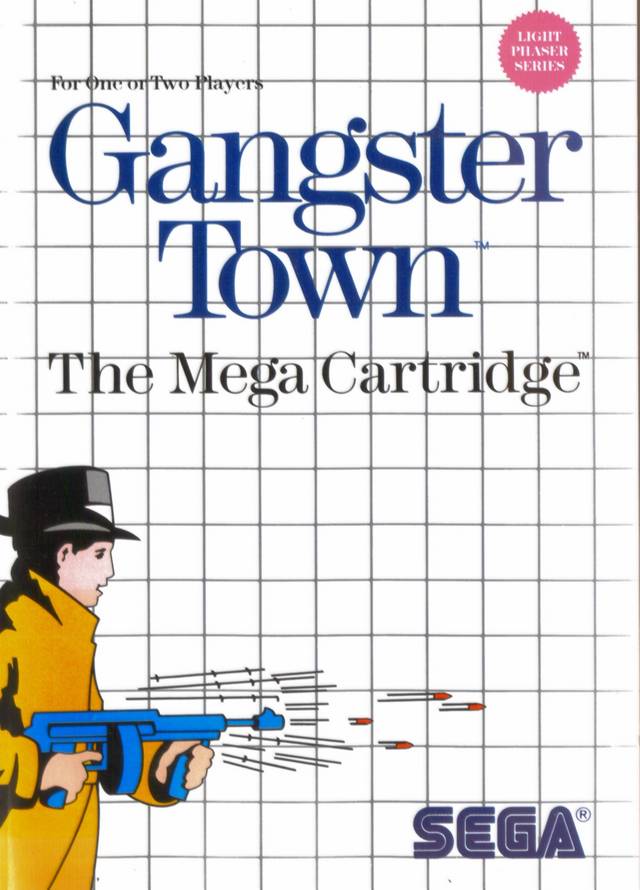 PLAYERS: 1-2 simultaneous
PUBLISHER/DEVELOPER: Sega
GENRE: Light gun
RELEASE DATE: 08/1987 – (US), 1987- (EU)
Gangster Town picks up where Sega's Wild West shooter Bank Panic left off. In the latter, you were a lowly bank sheriff hired to take money from the good citizens, and protect the bank from banditos and kids with stacks of cowboy hats in their hand. It was a job with little reward, but at the very least, the experience kept you on your toes. Gangster Town gives you, the bank sheriff, a promotion, to FBI Federal Agent of the "Taking Down Loads of Swankily-Dressed Mobsters From the 1920s" Unit. What an honor!
Are the gangsters bootlegging? Racketeering? Peanut steering? Doesn't matter. They're criminals! Take 'em down. Gangster Town offers gin-u-wine Light Phaser support to ensure that the mobsters' pin-striped jackets get as bloody as possible. While you technically had a gun in Bank Panic, the latter didn't support the Light Phaser, and thus, wasn't as violent as it should have been. Gangster Town rectifies that with a body count as high as the heavens.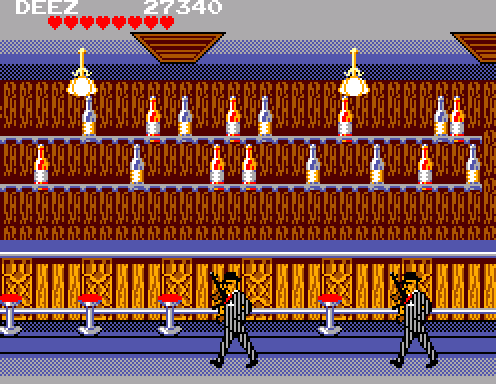 The game starts you off in a training simulator to help you learn how to shoot. It parades outlines of human shapes for you to shoot, specifically in the brain or heart as highlighted by a red target in those specific areas. Of course, if you're using a Light Phaser and not a mouse, stand as close to the screen as possible and fire at will. At the end of each round, the game shows you a record of your shots fired, your hit ratio, and the amount of points collected. If your numbers surpass the minimum of what the game expects from you, your playing ability will go up a level and you'll gain an extra heart. Fail, and your hearts will stay at the minimum five and your abilities will be average. This judgment of your performance comes at the end of every level, and since each level trots out more and more gangsters, the requirements go up. Shoot to kill, then shoot again – but make sure your shooting is accurate. By the time the level ends, you'll have more than enough points to earn a heart.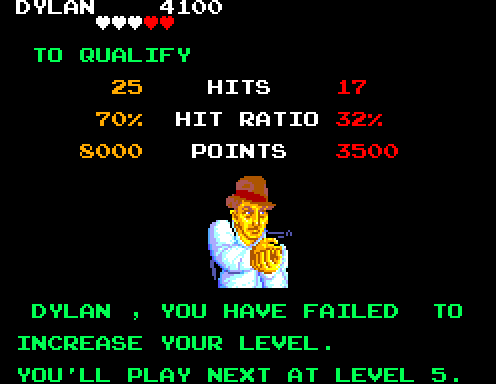 Each level is an extravagant set piece, beginning with a car chase and ending with a Harbor shootout. The car chase in particular is extremely well-executed. You're chasing a clown car filled with an unlimited supply of gangsters who stick their heads and tommy guns out the window to shoot at you. Shoot them first, naturally, then shoot their disguised angels as they try and float up to heaven ("Nuh uh, bub, you'se ain't gettin' off dat easy"). Halfway through the chase, the infamous Red Baron plane will swoop down and launch bombs at your car, while gangsters continue to plug away at you. Despite the unreasonable amount of events happening – tommy guns, World War I references, gangster angels – the Master System never misses a beat with silky smooth scrolling throughout the entire level.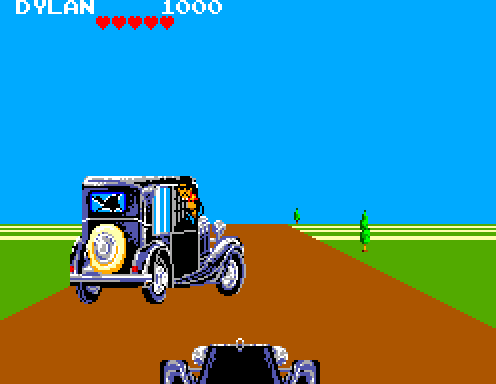 Once the car chase ends, the rest of the environments come fashioned after your stereotypical gangster film locations: the aforementioned Harbor, the Night Club, Downtown (twice! – gangsters love downtown), and in a tip of the hat to Bank Panic's Western setting, the Saloon. The levels scroll automatically and enemies appear where they will. With the exception of the white-suited thug that takes several hits to kill and appears at the end of each level, the rest of the gangsters wear black-and-white suits with hats and only take one shot to kill. But with each subsequent level, more and more of them show up at any given time. They might appear from a second story window, the sewer, an attic, behind the bar: wherever good times and aimless murder are had. Shoot them all and get your score up. Better score means more hearts means more courage for the continuous evil that you have to deal with.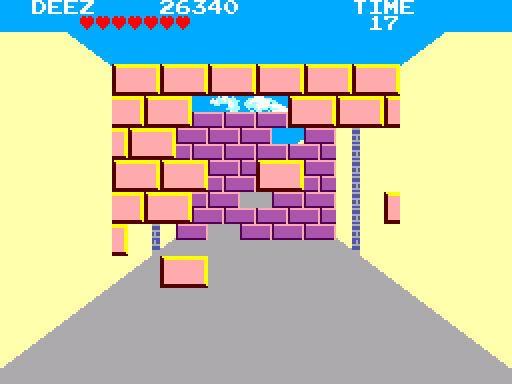 Light gun games are by their very nature limited, but Sega seems to recognize what a light gun game should be: a fast-paced romp through some long forgotten genre film. There's never a dull moment. Gangster Town keeps your eyes looking in all directions for the enemy, your finger on the trigger. And if you're able to pause for a moment, you'll also see the exquisite attention to detail in the stages. Mice run along the floor of the saloon, signs advertising sleaze are dropped onto passing gangsters, beautiful blonde-haired women are taken hostage (and subsequently saved, assuming your chivalric code hasn't expired). For the previously lowly bank sheriff, this is a far cry from your dusty, God-fearing town in the Old West. Gangster Town is Chicago during the Prohibition, where money and violence are gods and nothing is off limits.
B+