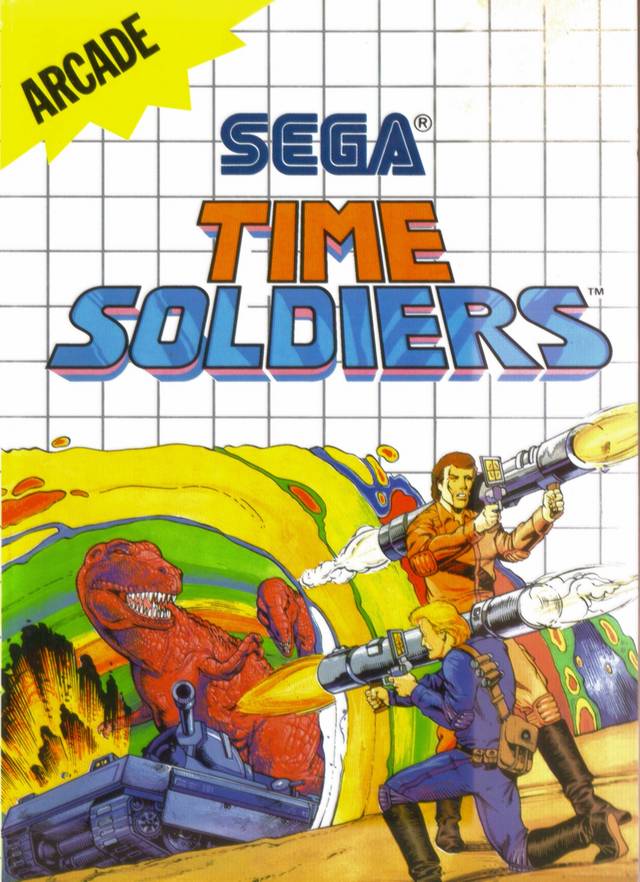 PLAYERS: 1-2 simultaneous
PUBLISHER: Sega
DEVELOPER: SNK (port by Alpha Denshi)
GENRE: Shooter
RELEASE DATE: 05/1989 – (US), 1989 – (EU)
In Time Soldiers, you travel through different periods in history in order to save your war buddies from being eternally melted by a giant robot warlord from the future (sounds like a Iron Maiden concept album, eh?). Transporting between ages and places in history makes you feel invested in recovering the five captured POWs, but the top-down, run-and-gun gameplay is marred by bipolar difficulty and generic action.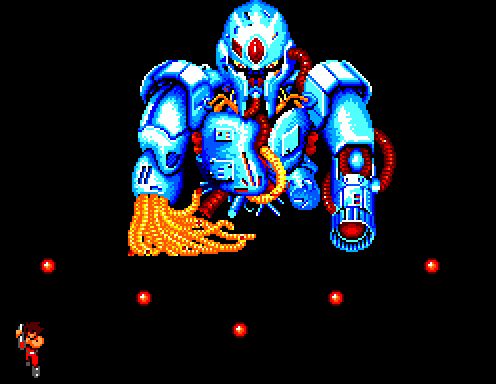 Before you even start a level, Time Soldiers will inform you where your buddy is located. Even if the text states that your buddy is in Ancient Rome, the game will start you in World Wars or Prehistoric Age – anywhere other than Ancient Rome. To get to the latter, you shoot/walk your way through a short piece of a level, defeat the mid-boss that appears after about 30-60 seconds of play, and go through a time tunnel that will transport you to the next time period. You have no say as to where the time tunnel will take you, so while you'd like to go straight to Ancient Rome from the World Wars, the tunnel might spit you out in the Prehistoric Age for kicks. Usually after a couple different levels in the wrong era, you'll be taken to the correct era. Once here, continue forward until you run into the main boss. Defeat it, and you'll get your buddy back. This roundabout progression continues until you've acquired all five lost warriors.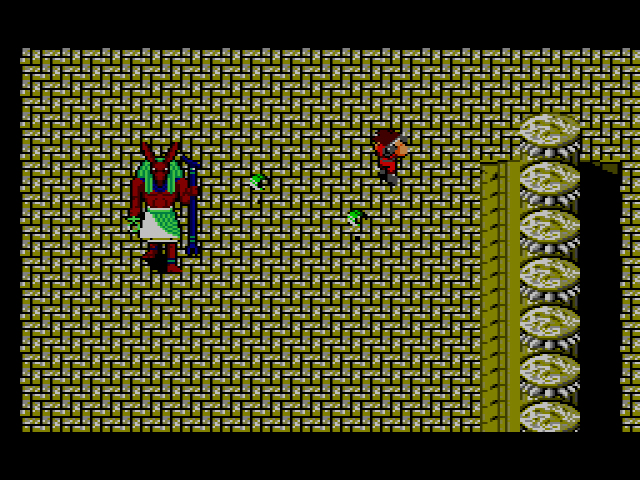 The back-and-forth level hopping mostly serves to make Time Soldiers seem more in-depth than it actually is. Even so, the game's non-linear framework is the only aspect that keeps you moving forward. You want to see where the next time tunnel will take you, even though you won't care what happens when you get there.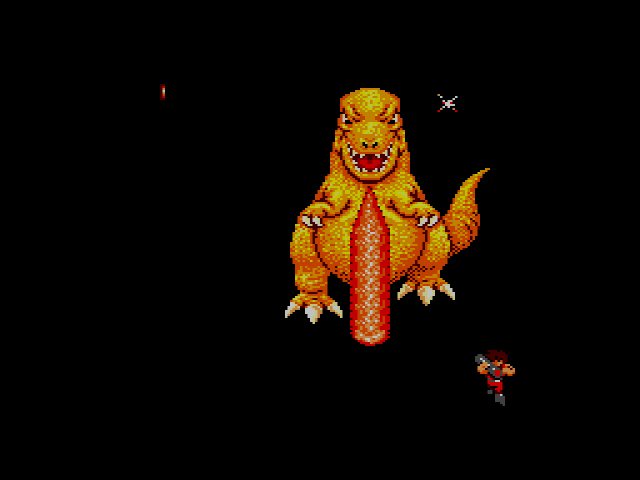 In most run-and-gun shooters – Ikari Warriors, Guerilla War, heck, even the arcade Time Soldiers – you're forced to take out as many enemies as you can, as quickly as you can. Not so here. Enemy placement is not only sporadic, but many of them don't care whether the protagonist is there or not. As such, it's completely possible (and recommended) to walk through the levels quickly without hitting more than a couple enemies.
This doesn't mean the levels are easy. Depending on the era you're in, enemies can shoot up to four projectiles towards you at one time; yet another reason why it's often wiser to walk past them. Yeah, you might miss the occasional power-up they drop, but you'll have your health. Unfortunately, this makes for some boring levels where all you do is maneuver around rocks and buildings and shoot the occasional enemy. Admittedly, the further you progress into the game, the more you'll have to actively participate in the war going on around you. But aside from the swarms of projectiles, you'll rarely feel overwhelmed by your surroundings.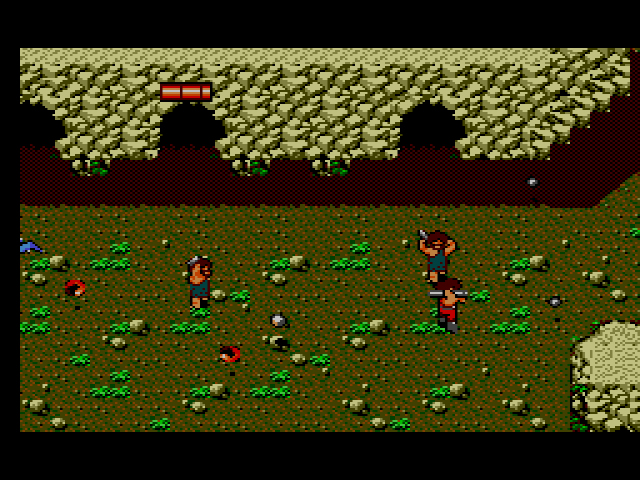 Time Soldiers is also a game where the mid-bosses can be harder than the main bosses. Main bosses are often slow, have a weapon or attack that can be easily avoided, and can be eliminated without much trouble. Mid-bosses zip around the screen, spew tons of projectiles, and will involve the loss of a life or two. In fact, unless you use a secondary weapon (missiles, energy guns, and tri-shot guns are all fantastic and necessary against mid-bosses), you will lose more lives on the mid-bosses than you will on the bosses or in the levels.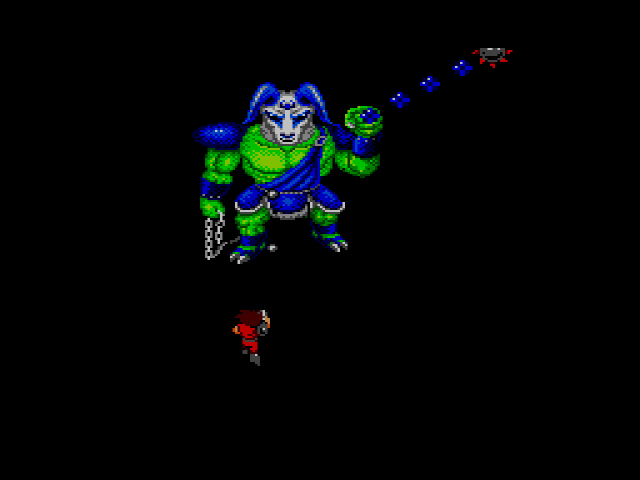 When I played the Time Soldiers arcade after the Master System version, I saw what the game was intended to be: a beautiful, chaotic onslaught of aggression that required more strategy in a minute of play than the Master System port as a whole. The enemies don't just haphazardly meander through the level. They care that you're in their territory and will do everything in their power to stop you. Also, the levels are gorgeous and feel like authentic worlds that you're walking through. While I can't fault the Master System port for having lesser graphics than the arcade, Alpha Denshi could have taken more care and interest in the port's level design.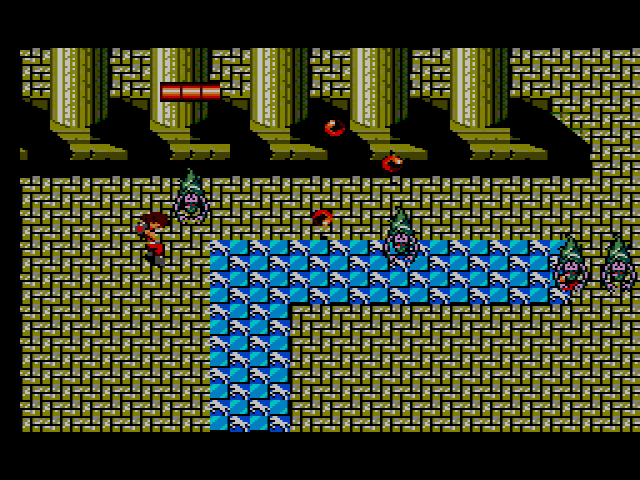 Even with the port's numerous flaws, I kept playing like a man possessed. I wanted to get further in the game to see the different time periods, even though I knew they would disappoint. They always disappointed and I never stopped playing. Time Soldiers for the Master System might not be a great example of the top-down run-and-gun shooter, but it does show that a unique concept can elevate otherwise generic action.
C+