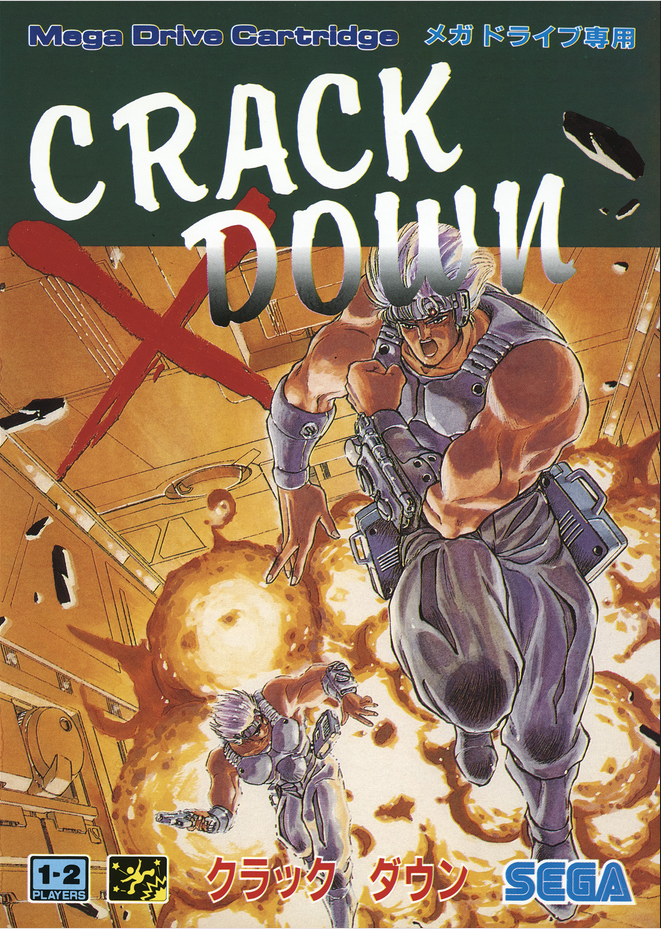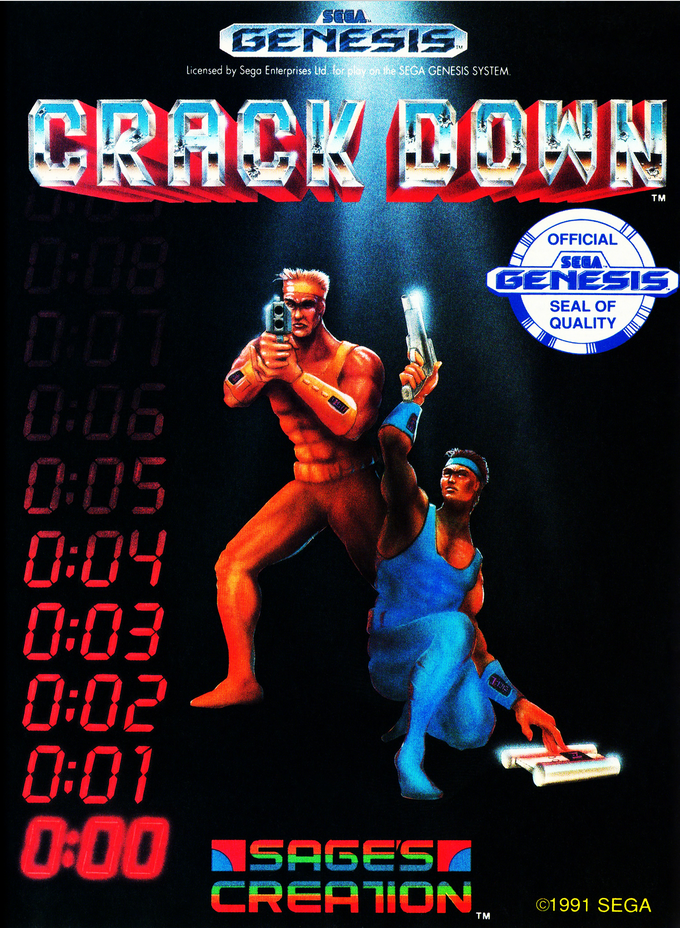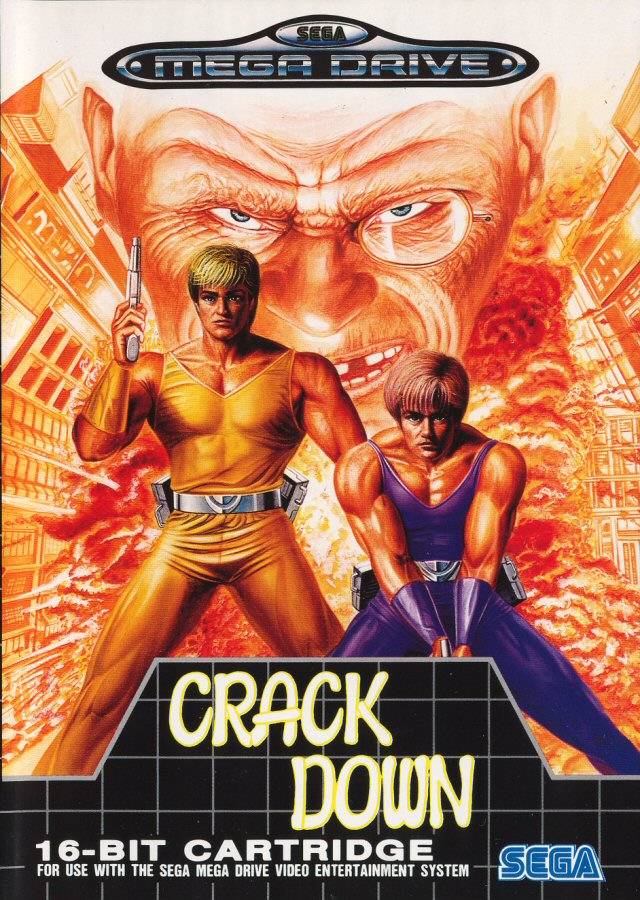 PLAYERS: 1-2 simultaneous
PUBLISHER: Sega (JP, EU), Sage's Creation (US)
DEVELOPER: Sega (port by Hot-B)
GENRE: Arcade run-and-gun
RELEASE DATE: 12/20/90 – (JP), 01/91 – (EU), 03/91 – (US)
Sega made so many arcade games in the 80s and 90s that, every so often, one slipped through the… cracks. Crack Down is one such forgotten title, a top-down, run-and-gun that's more methodically paced than other games from this genre.
You star as either Ben Breaker, and a friend plays as Andy Attacker, two sunglasses-wearing, muscle-bound street cops who have to drop off timed bombs in marked locations, all while avoiding/killing gun-wielding strongmen. You have a machine gun, a cannon (!), and a few screen-clearing super bombs to handle your business. Machine gun bullets clean house faster, but don't always take down stronger enemies. On the other hand, one shot from a cannon can blow apart several dudes in a row. Tough, but fair.
The top half of the screen is dedicated to the map of the current level, including red dots for where you need to lay the bombs, and Ben and Andy's stats – remaining bullets, remaining lives, etc. In one-player mode, you view Ben's whereabouts in the bottom left corner, while the bottom right corner shows the enemy types that are in the level and their specific attacks. If a second person plays as Andy, the bottom right corner is his portion of the screen.
The maps for each stage are grid-like, filled with bad dudes and other obstacles like pendulums and electricity currents. You can't just run through the level, drop the bombs at the red Xs, and expect to live very long. Enemies respawn often and have itchy trigger fingers, and you can only take a single bullet before you die. Thankfully, you have an ace up your sleeve: the ability to lean back against any surface and avoid bullets, even in the most narrow of corridors. Lean back, fire, drop bombs, move on. Not too slow so the timer runs out, not too fast so you get shot. Crack Down's all about balance.
Most of Sega's successful arcade titles are feasts for the eyes, and excel at giving the player a quick rush while depriving them of precious laundry quarters. Crack Down doesn't do either. With its top-down perspective, cluttered screen, and chunky character models, you'd be forgiven for thinking the game looks messy, if not downright ugly. Crack Down also asks the player to be deliberate with their actions as they progress, eschewing any rush factor. Slower, visually questionable titles aren't typically what arcade players looked for, so it's unclear who this game's target audience was.
Perhaps even Sega didn't know what to make of Crack Down. All Sega-developed arcade ports to their home consoles were generally published and developed by Sega themselves. Crack Down is the only example I've seen thus far of the company not bothering to port a game to their own system. Instead, Hot-B handled the porting duties, and while the game was published by Sega in Japan and Europe, it was published by Sages Creation in the U.S.
I appreciate how different Crack Down is. If nothing else, it's not a shoot-em-up. Thank God! Still, there's a tension in its gameplay that keeps me from loving it more. I see the game's arcade leanings in the one-hit deaths, relatively short levels, and lack of objectives. The fact that you're forced to approach each level strategically, however, lends it more of a sit-down, console feel. I really wished the game would have embraced a more straightforward shooter style or added more objectives to lend it some extra substance. As it stands, Crack Down remains an interesting experiment, but I understand why Sega's allowed it to languish in obscurity.
C+