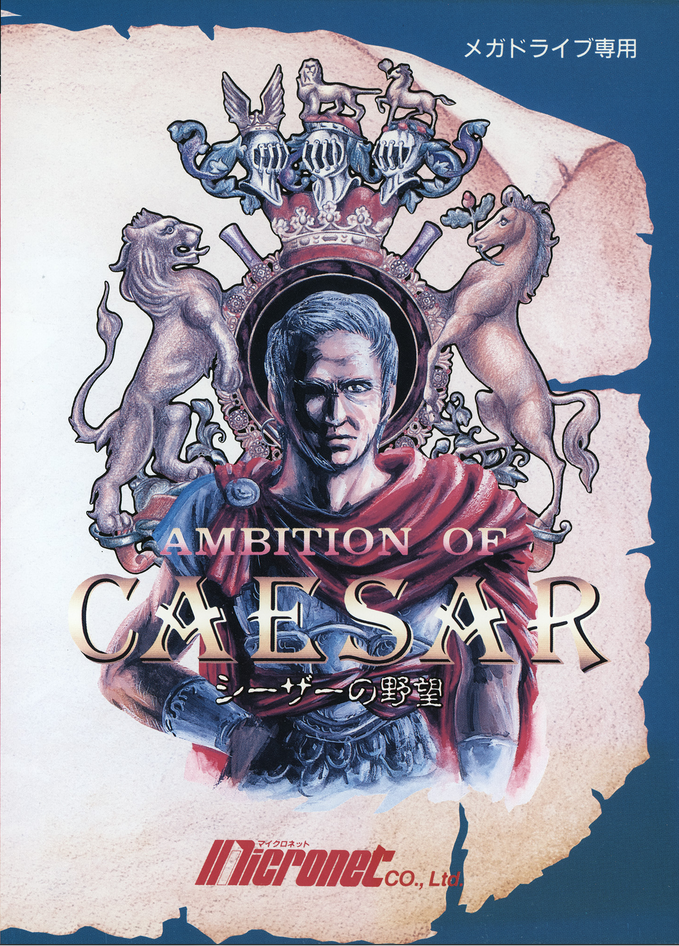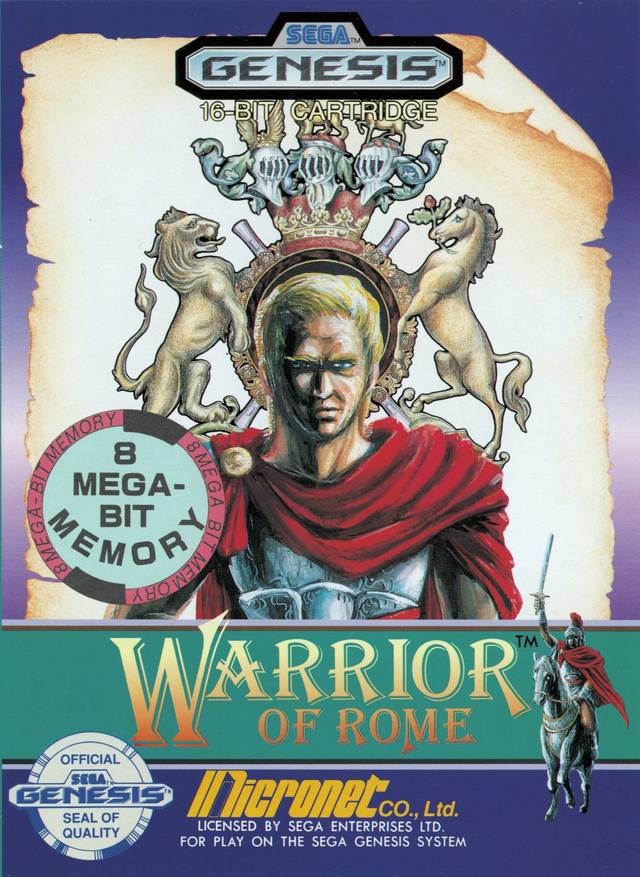 PUBLISHER/DEVELOPER: Micronet
RELEASE DATE: 02/24/91 (JP), 05/1991 (US)
THIS IS: Another real-time strategy game that's Mega Drive/Genesis-exclusive (the other is Herzog Zwei).
When Warrior of Rome debuted on the Genesis in early 1991, the real-time strategy genre was in its infancy. Blizzard had yet to release any version of Warcraft or Starcraft. Westwood Entertainment's landmark Dune II was still a year away. Herzog Zwei was available and amazing, but the game's at-the-time complex mechanics (and awkward title) insured its niche status.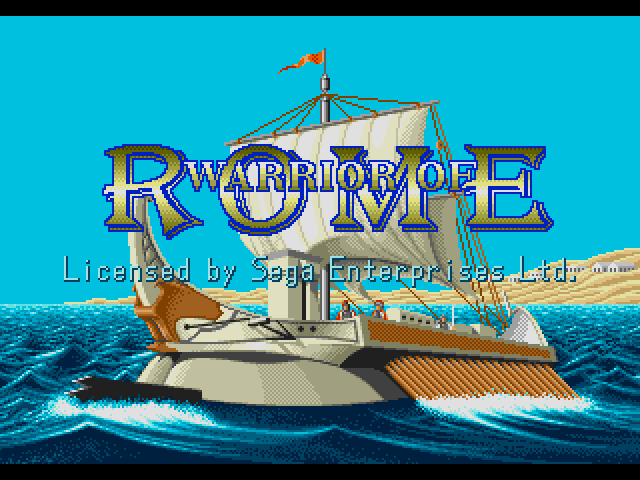 Warrior of Rome doesn't ask as much of the player as Herzog Zwei. You have limited troops and resources. There are few actions that you assign to your troops. The maps are small. And compared to Herzog's intense action, Warrior of Rome moves at a languid pace.
Despite these seeming concessions to players, Warrior of Rome is a frustrating game to slog through. You control Caesar's army across vast swaths of the ancient world. And while you might think that one of the world's greatest armies would plunder and conquer with little need for a break, you'd be wrong. Each unit's stamina depletes quickly, which means you'll have to give them time to rest. Resting to recover stamina takes ages, while the enemy advances upon you with a continuous spring in their step. Perhaps they stocked up on stamina potions.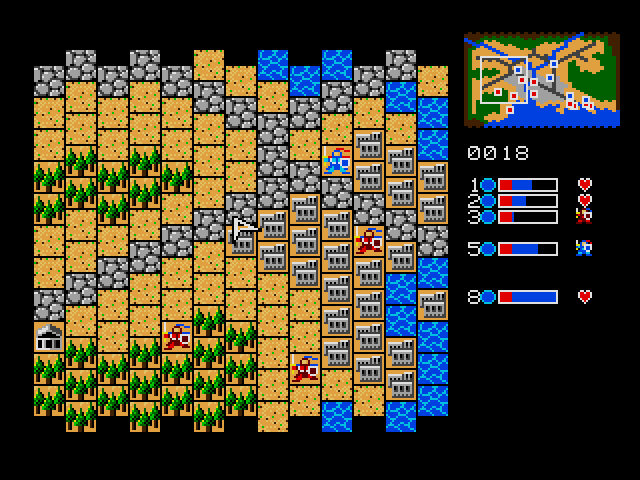 Caesar's units are not created equal either. Units 1-4 are your elite warriors. Units 5-7 are your B team; not as good as your top warriors, but decent in a pinch. Units 8-10 set traps, build barriers, and remove any obstacles; they're thinkers, not fighters. I have no problem with how the units are structured, but my top units often failed to hold their own in combat. Even when I got the jump on an enemy unit, I couldn't beat them. Fight harder, Units 1-4, you're supposed to be the best! I understand that RTS skirmishes are trial-and-error and that not each battle will proceed like you imagine. Still, there's no option to train your troops or increase their strength in any way. At least if my B team or engineers fall, I know why. My top units should be formidable.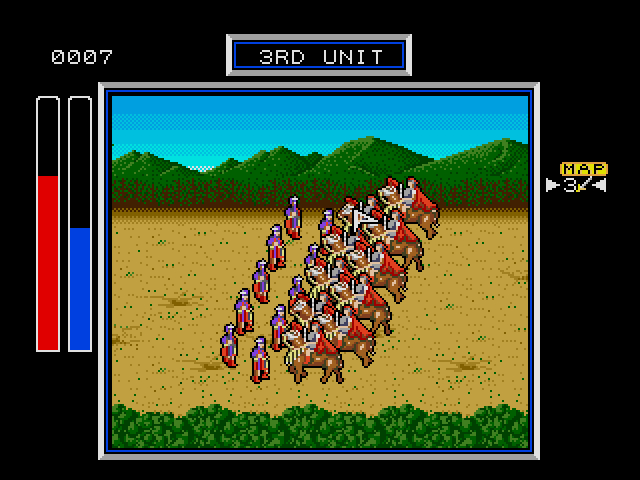 Each stage has its own objective – and its own issues. In stage 1, you move all your units from one end of the map to the ships at the other end. You're initially outnumbered 2-to-1 until, eventually, reinforcements arrive. If you do happen to defeat an enemy unit, the unit does not disappear. Rather, once "defeated," it reappears where it started on the map and proceeds forward again. This goes for stages 3 and 4 as well. How does this make sense? In just about every video game ever, once an enemy is defeated, they're gone. No resurrection allowed!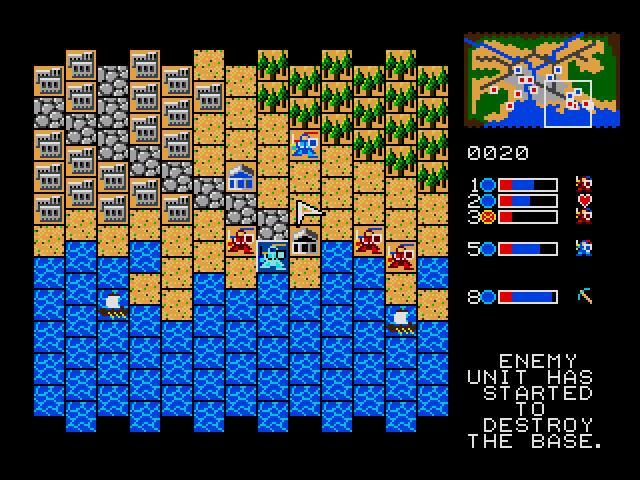 Stage 2 is a sea battle that takes forever to finish, due to your ships' slow movement. I get that Roman ships didn't have motors to propel them forward to their destinations, but that doesn't mean they barely moved at all. My thoughts: without the snail's pace movement, this level would be over far too quickly.
Stage 3 is an all-out assault on Alexandria. Problem is, there are numerous blockades in your way, the enemy wants to destroy your bridges, and as mentioned before, your troops get tired way too easily. Finally, in stage 4, you assault the Alexandrian palace to rescue Cleopatra and… it's a mess. Enemies attack from the shadows. Spiked fences halt your progress. It's overwhelming and obnoxious and makes you realize, wow, Warrior of Rome kinda sucks.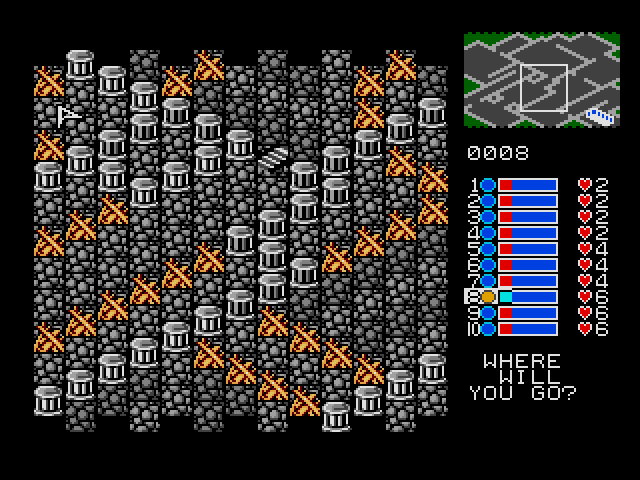 Truth time: I failed to clear any of these stages. It's not that I didn't want to. Each stage is either ruthlessly challenging or boring or both. I felt simultaneously intrigued to press forward and overcome, but also frustrated that my warriors couldn't hold their own against the enemy. The manual tells you to use two of your own units to attack one of the enemy units. Good advice… unless, as in the first stage, the enemy has twice as many units as you and is able to overcome your assault.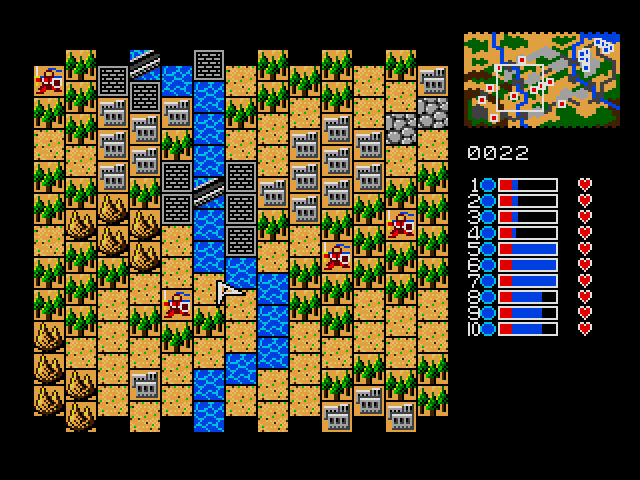 I come back to Herzog Zwei, an arguably more challenging RTS than Warrior of Rome, but also a better one. Herzog Zwei expects you to understand the mechanics from the get go, but the game is so fun, that you want to learn how to play, even as you die over and over. The more you play, the more you grasp the concepts presented, the more you enjoy yourself.
Warrior of Rome does no such thing. Its intentional design limitations irritate. Why do my best units feel so weak? Why do they run out of stamina after moving a few squares? Why does resting take forever? Why are the enemy soldiers so capable compared to my men? There are no answers and no way to get around what the game wants you to experience. These limitations turn potentially engaging "historical" skirmishes into mind-numbing patience exercises. The RTS genre would go on to launch countless games of incredible worth. Warrior of Rome is not one of them.
D+