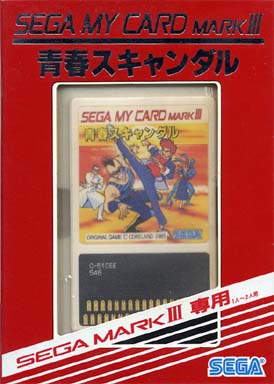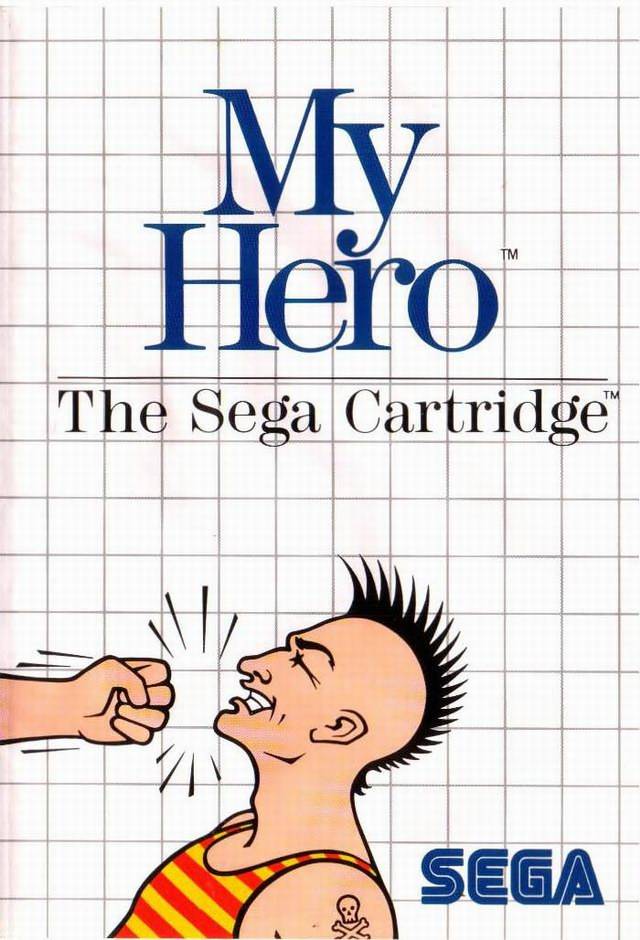 PLAYERS: 1-2 alternating
PUBLISHER: Sega
DEVELOPER: Coreland (port by Sega)
GENRE: Brawler
RELEASE DATE: 01/31/86 – (JP), 09/86 – (US – on Sega Card), 1987 – (EU – on Sega Card and Cartridge)
My Hero, huh? More like "My Poor Shlub who can't protect himself or his girlfriend to save his life." Of course, if I were to hold the "can't protect girlfriend" attribute against the protagonist of My Hero, that would disqualify pretty much every male protagonist in the beat-em-up genre from being considered a hero. The problem with My Hero is that the main character is called a hero from the outset before he's been given a chance to prove himself.
When the game starts proper and hordes of mohawked thugs come after him, one lone punch sends him reeling. One punch! The easy thing to do would be to call the guy "My Zero" and move on, but that's not really fair. The protagonist isn't calling himself a hero. The game is making a bold statement, perhaps echoing what his girlfriend might say once he eventually rescues her. How presumptuous: both to assume that the girlfriend would utter some cliche' phrase like "My Hero!" upon rescue, and to saddle the "hero" tag onto a guy who may or may not stop at nothing to save his beloved.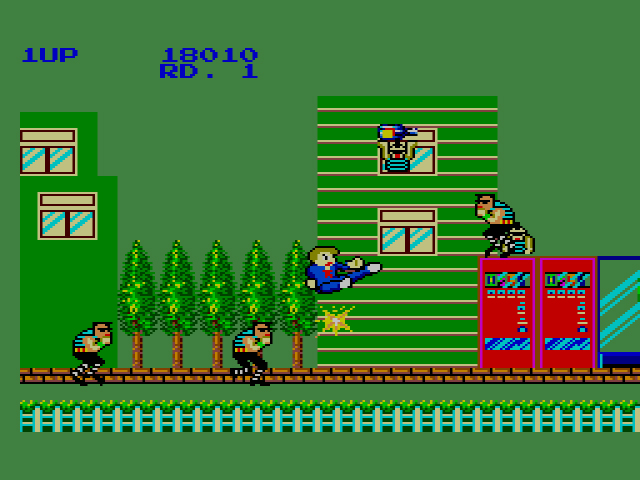 But My Hero isn't an in-depth case study on people, their relationships, and how they respond to kidnapping situations. It's an early beat-em-up, and a bad one at that. It places you in the role of a guy who has to take on the world of Mohawk Gangs with two attacks: a punch which doesn't work and a jump kick which works some of the time. The Mohawk Gangs have a limitless supply of thugs, while you are just one guy who has to "overcome against all odds." Unless, of course, you're brought down by these magical death punches, which happens more frequently than it should.
As I mentioned previously, your punch doesn't work at all. Use it, and you will die because the enemies' punches will overlap yours. Now, if the thugs just came at you from the front, the game would be over quickly. You could jump kick the lot of them, regardless of their number, and make it to the end in a few minutes. No, the problem lies in the dual attack: thugs in the back, thugs in the front. Which group will you focus on? Once the thugs swarm you, it doesn't matter what direction you're jump kicking towards, one of them will get a punch off and you'll be waylaid.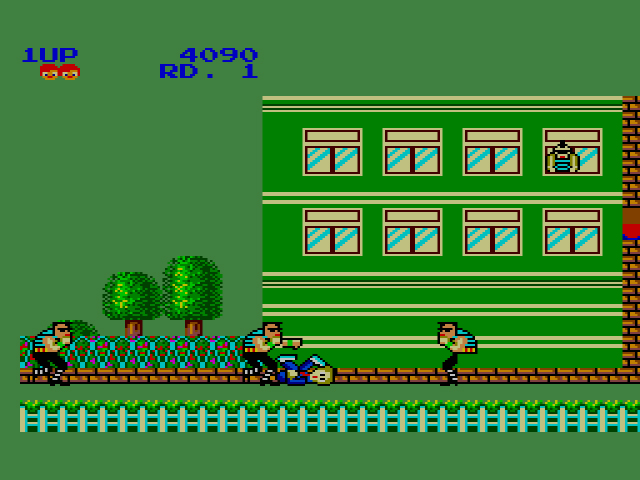 My Hero supposedly has three levels which repeat ad infinitum once defeated, but I couldn't get past the first stage. This poor heroic shlub has no life bar and no real way to protect himself outside of jumping like a clown across the city boardwalk. Even then, there's no guarantees that some cretin won't just land the right jab to your shin and knock you out of commission while you're jumping. Early beat-em-up My Hero might be, but even Irem's Kung Fu Master (released the year prior in 1984) included a life bar which allowed you to absorb a few hits. No, My Hero is Sega showing that they have no idea how to handle the side-scrolling beat-em-up genre in 1986. Given the newness of the genre, I can't blame them for not knowing what they're doing, but I can blame them for releasing the game at all. A valiant first attempt, My Zero is not.
F