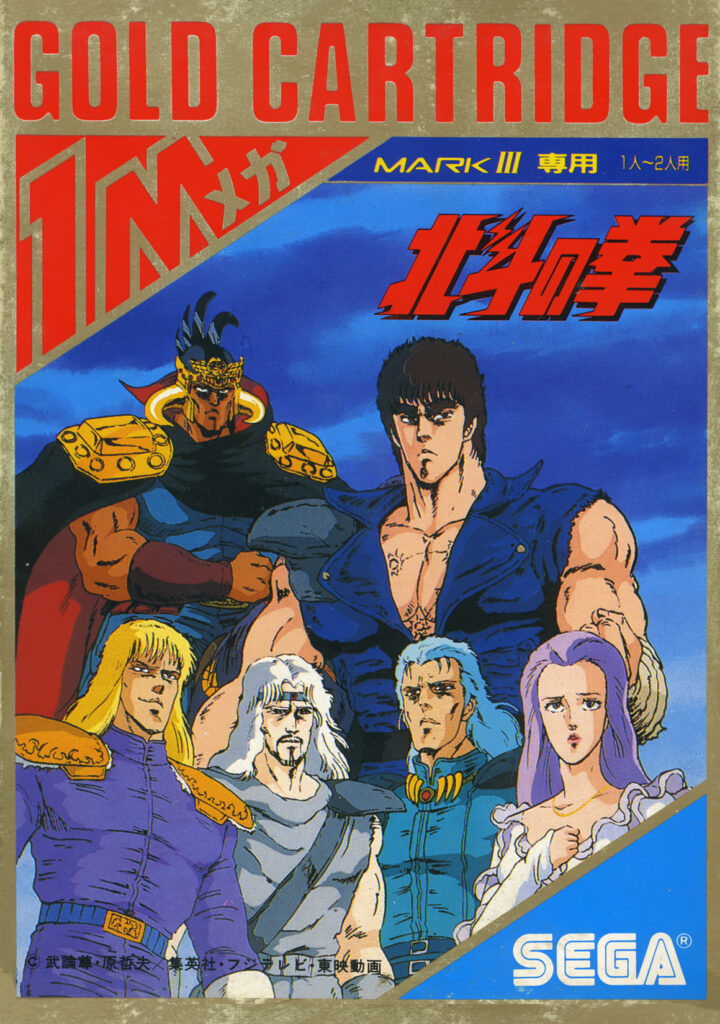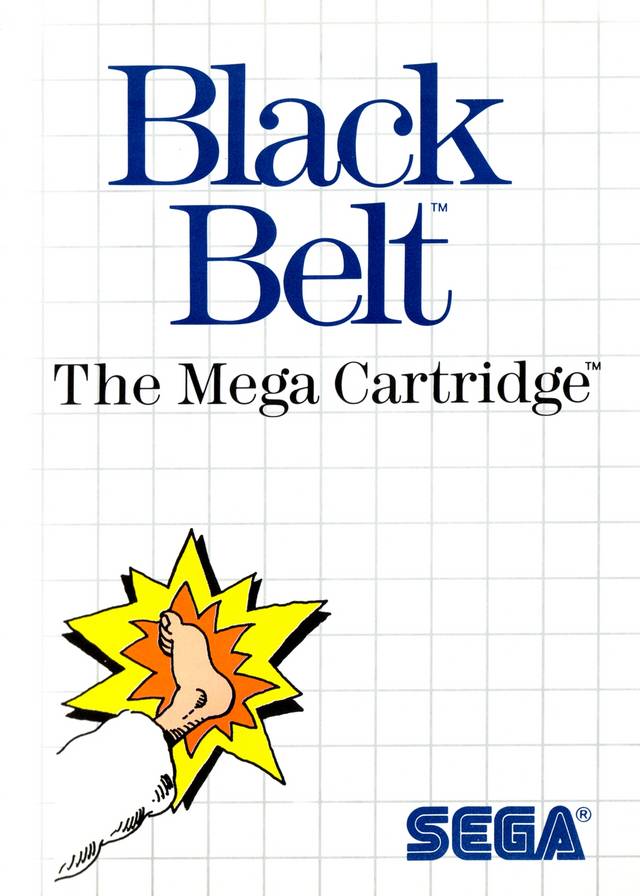 PLAYERS: 1-2 alternating
PUBLISHER/DEVELOPER: Sega
GENRE: Beat-em-up
RELEASE DATE: 07/20/86 – (JP, as Hokuto no Ken), 11/86 – (US), 08/87 – (EU)
Black Belt is otherwise known as Sega's response to Nintendo/Irem's Kung Fu for NES. Both games are early beat-em-ups that center around stereotypical martial artists plowing through waves of stereotypical Asian enemies that don't know when to say when. Both games started out with different titles and protagonists, but contained the same side-scrolling beat-em-up action: Kung Fu was originally Spartan X, a tie-in for a Jackie Chan film, while Black Belt was called Hokuto no Ken or "Fist of the North Star," based on the anime' of the same name.
What separates Irem's creation from Sega's, then? Kung Fu is light and fast-paced, as if it was meant to be beaten quickly (given its original arcade status, it probably was). Black Belt, however, is more methodical and forces you to consider how you attack the absurd amount of mid-bosses and bosses the game throws at you. I personally prefer the straightforward action of Kung Fu, but for an early console-only beat-em-up, Black Belt has a surprising amount of moxie.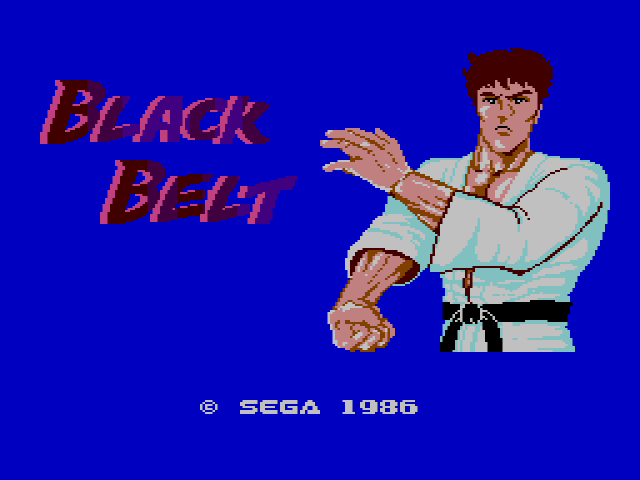 Black Belt begins like any other beat-em-up: men without shirts come at you, you kick/punch them away, they break apart into tiny chunks. This fist/foot connection continues until you come to your first mid-boss, an axe-thrower who doesn't want to die after one punch (how selfish). Avoid his axes, hit him four times, he explodes, and you get some bonus points. More shirtless men run towards you, you kick them, then the next mid-boss, a staff-wielding dynamo.
This back-and-forth continues until you've felled four mid-bosses, each with specific attacks and weak points. Then, as if four mid-bosses wasn't enough, the end boss appears. He's a dandy named Ryu, and you can't hit him unless he's in the middle of an attack; when he's just moving around, your attacks go right through him. His attacks have greater range than yours and are stronger than yours by at least a two-to-one margin. He's one of the hardest beat-em-up bosses I've ever faced, and he's only the first main boss out of six on Black Belt (never mind the mid-bosses you've yet to face in future levels). After about eight times or so, I gave up without beating Ryu. Call me a quitter who just wants to go home and be a family man, but nobody deserves that much frustration.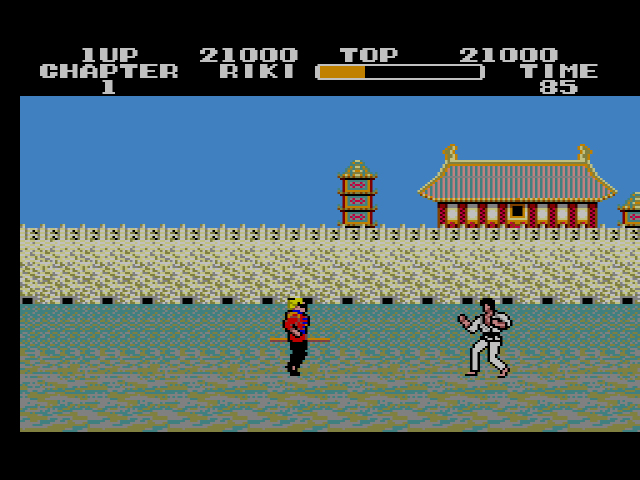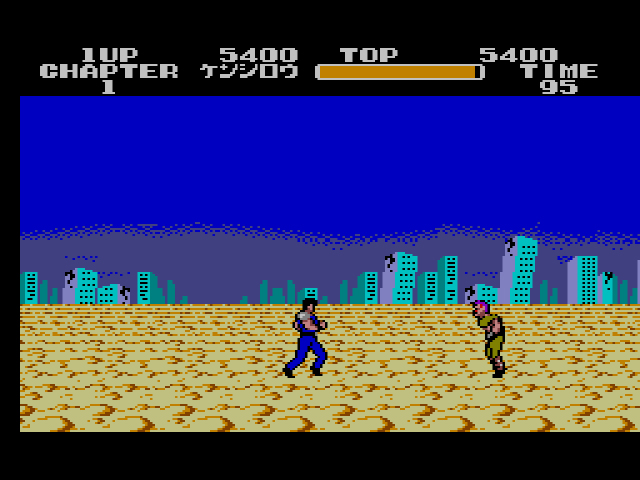 Which is a shame 'cause Black Belt has potential of sorts. While the stages are full of the same repetitive punch/kick nonsense critics of the beat-em-up genre hate, the mid-bosses inject the game with much-needed strategy and timing. If you don't analyze the mid-bosses' attack patterns and react accordingly, you risk destroying yourself. On the flip side, though, even if you flail your limbs akimbo, you're bound to hit them a couple times. The main bosses, however, require Super Saiyan levels of skill and patience. There's Ryu, who I already mentioned, then Gonta, the Sumo Master who will decimate your life bar by jumping on you, and Oni, a Ninjitsu Master who will duck at every attack you throw at him. The only way to hit him? Punch his mask while he's attacking you. No thanks. Black belts should be achieved through hard work and gumption, not cheap hits.
D