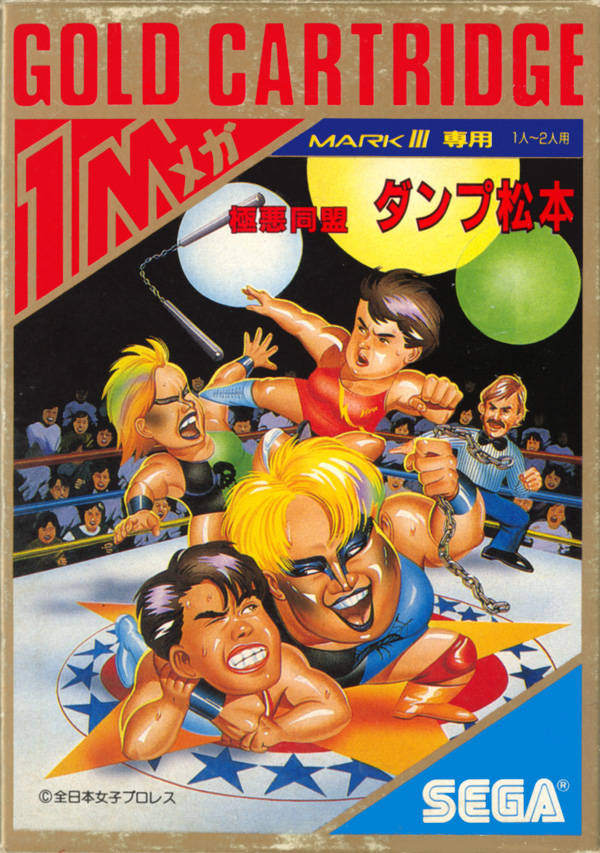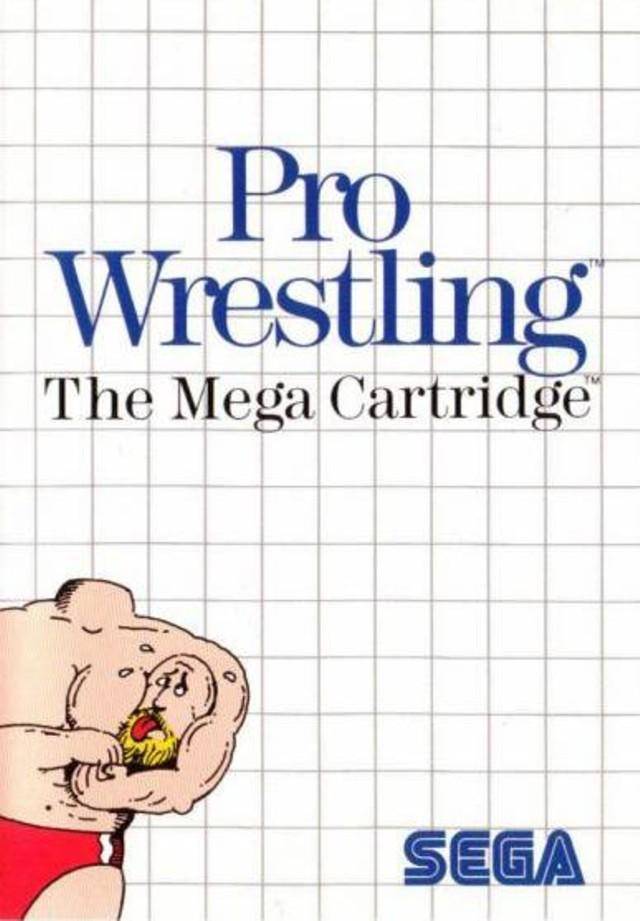 PLAYERS: 1-2 simultaneous
PUBLISHER/DEVELOPER: Sega
GENRE: Sports/Wrestling
RELEASE DATE: 07/20/86 – (JP), 1986 – (US), 08/87 – (EU)
What did wrestling fans hope to see in 8-bit wrestling games? Both the Master System and the NES only had a D-pad and two buttons to work with, so extravagant move-lists were out. Playing as your favorite television wrestlers would have been great, but licenses cost money and, strangely, only the crappiest companies could afford them. Rich graphics, solid mechanics, and a two-player mode might be all a wrestling gamer could ever hope for. Then again, Pro Wrestling has all of these and it's still not a very good game. Sega hides a lack of content behind a pretty presentation, in hopes that players won't notice they're repeating the same matches over and over.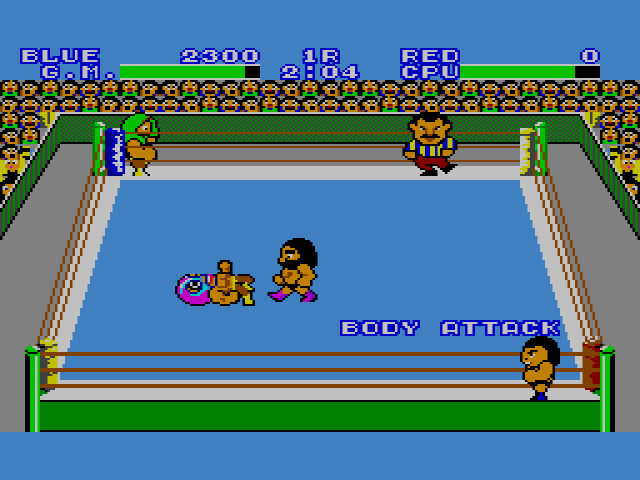 Choose from one of four tag-teams on the menu screen: The Great Maskmen, Orient Express, The Crush Brothers, and the Mad Soldiers. The wrestling teams are stereotypical, yes, but they're also exaggerated and comical, particularly with their over-sized melon heads. Each wrestler can punch and kick their way to victory, but the best way to take out an opponent is to knock them on the ground, fling them into the ropes, and take down a large chunk of life with a special move, like a Karate Kick or a Flying Head Butt.
All of the wrestlers have three specific-to-them special moves, but thankfully, the intuitive control scheme doesn't change between teams. Buttons 1 and 2 are punch and kick respectively, while the special moves are always performed either when your opponent is lying on the mat or after they've been tossed into the ropes. Two of the four teams can climb the turnbuckle to perform certain moves, and chairs do eventually find their way into later matches, but otherwise, Pro Wrestling doesn't venture too far into outlandish theatrics.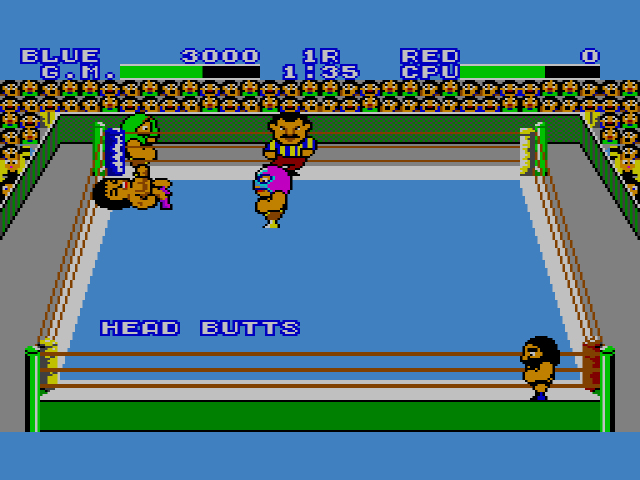 Pro Wrestling does a great job at capturing the spectacle of over-the-top wrestler entrances. Once the actual wrestling begins, though, the game takes several elbow drops to the groin. You only have three minutes to pin one of your opponents or the game's over. Even if you have more health than the other team, once those three minutes are up, you're back to Round 1; all those hours in the gym and busted thumbs were for naught.
The worst part about Pro Wrestling, however, is having to fight the same opponents for ten rounds before you take the belt. That's right: after you beat the first tag-team, you don't automatically move on to the next. You have to fight a team for ten rounds or up to thirty minutes each. The difficulty doesn't increase as the rounds progress, either. I used the same basic moves on the same opponents round after round, and they went down every time. Cool, I guess, but how about some challenge? Lastly, the two-player mode is ok, but it's limited to one three-minute round. After the overabundance of one-player wrestling, I would have liked to have the option to keep fighting a friend past the scant three minutes.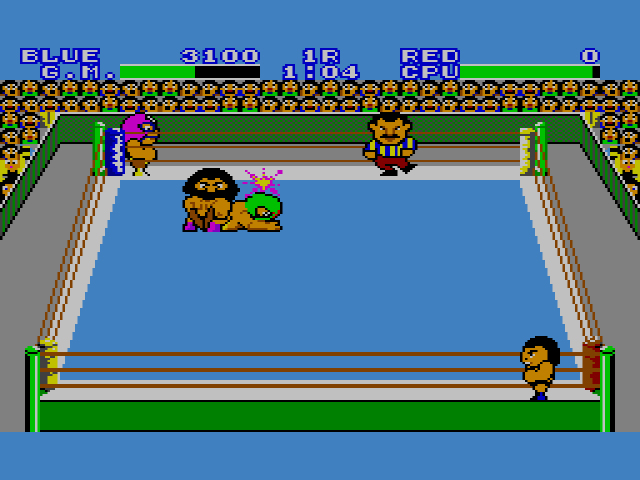 Was it even possible to make a good 8-bit wrestling game? Perhaps not, and I think wrestling fans knew this and were ok with it. They took what they could get, knowing that their "sport" was going to be tarnished in some way. Pro Wrestling is probably one of the best 8-bit wrestling games around, and even it is marred by tedium. If Sega had thrown a couple more tag-team wrestlers in, expanded the two-player mode, and scaled the one-player mode back, Pro Wrestling would be shorter, but it would be purer. Better to provide a compact, richer experience than to hide a lackluster product behind neon lights, big heads, and luchador masks.
C-