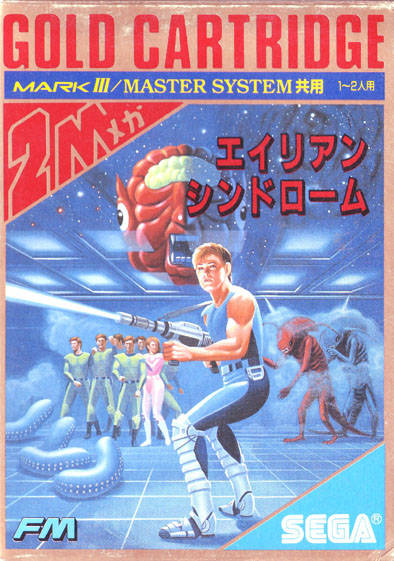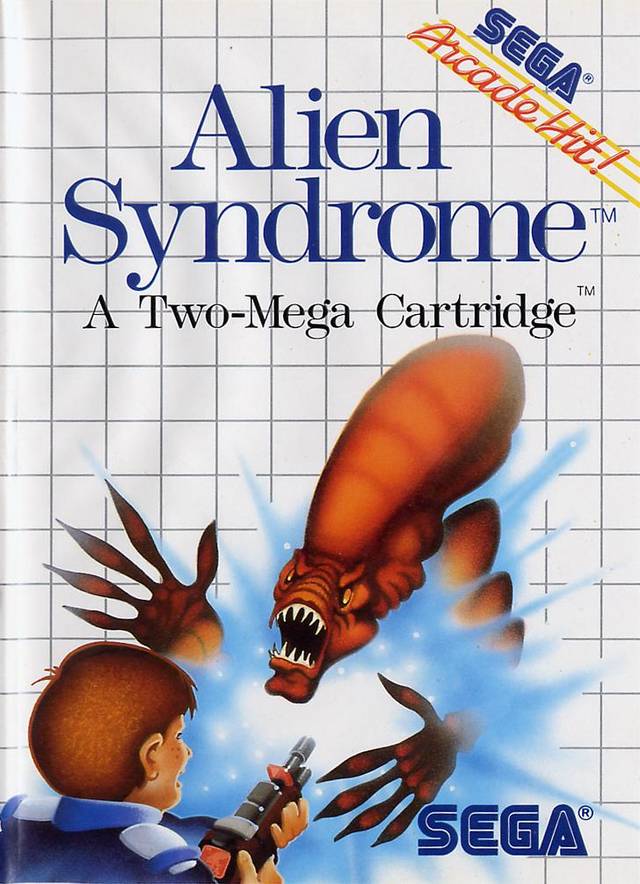 PLAYERS: 1-2 simultaneous
PUBLISHER: Sega
DEVELOPER: Sanritsu
GENRE: Arcade
RELEASE DATE: 10/18/87 – (JP), 03/1988 – (US, EU)
Alien Syndrome or That Time Sega Saw James Cameron's 'Aliens' and Thought, "Me too!"
In the game, you play a renegade Earth soldier named Ricky (second player controls Mary) who's tasked with rescuing hostages from a series of alien cruiser ships. Each ship is a labyrinth of sorts, with winding passageways, claustrophobic corridors, and the occasional dead-end, all viewed from a top-down perspective. Now, Alien Syndrome is an arcade port, so the levels aren't as complex as the first-person "where the hell am I?" dungeon excursions of Phantasy Star. But Ricky and Mary aren't equipped with a map, and the goal is to find all the human hostages before time runs out. In other words, quick moving and quick thinking are a must. Once all the hostages have been saved, the music changes from dull toneless blats to reserved optimism. The exit door located near the top of the ship opens, and a grotesque alien boss creature straight out of Giger's private reserve emerges. Beat it, and you're rewarded with points and the next ship of nightmares.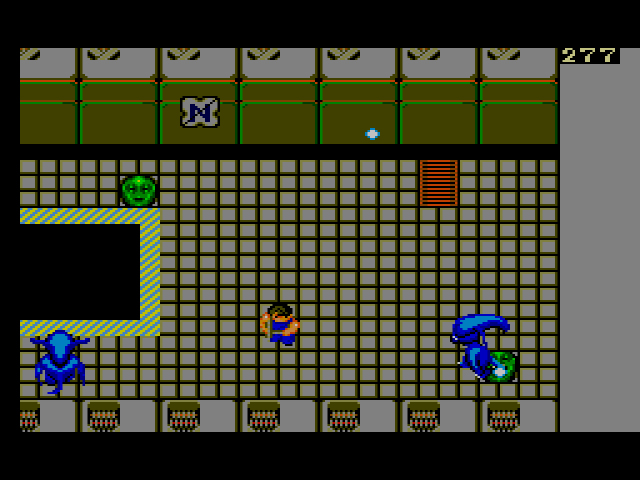 As you wander through the ships, take notice of the following aspects if you want to live. Whenever you enter a room, aliens will blink before they appear fully generated on screen. If you walk through them while they're blinking, you won't be hurt. This is really important during later levels when you're looking for that final hostage. There are several different alien designs on display throughout each level, but only two types: ones that move and roll around the room and the stationary heads that fire blasts at you. The ones that move are generally slow and easy to avoid, but there's up to four of them in each room. Shoot them, and more will take their place. The stationary aliens can't be killed, only shut down after they've been shot. Ricky and Mary can aim in eight directions a la Contra, and the controls are sound, so there's no reason why you shouldn't be able to move through the rooms with gusto. Our Earth heroes start with generic pea shooters, but weapon upgrades – which come in the form of letters L, F, N, etc. – are found on the walls of the ship and transform your standard issue snooze-fest into a laser gun or a flamethrower.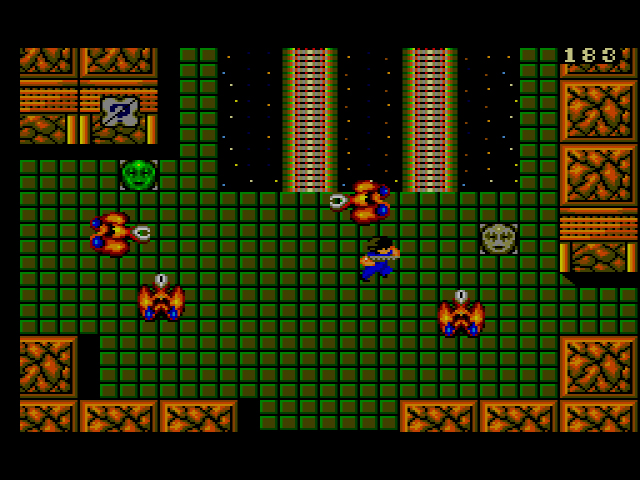 Mary and Ricky might be part of Earth's finest, but they take only a single hit before succumbing to death. Were this a harder game, I'd rage against such warriors losing their lives so quickly, but at best, Alien Syndrome is a challenging, but not impossible, game. Once you understand the basic arcade mechanics, your only concern is running out of time or making a careless mistake, like grazing an alien.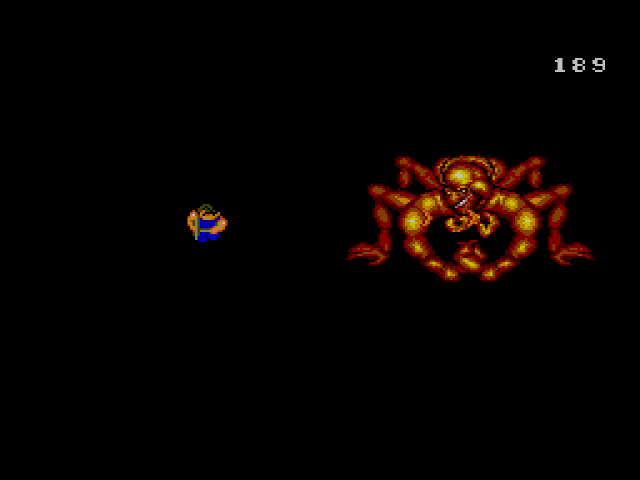 Alien Syndrome has an awful droning soundtrack, and it's about the ugliest Master System game I've ever seen – each of the alien ships are colored by leftover Famicom browns, grays, greens, yellows, and blood-clot reds – but by gar, I enjoyed my afternoon with it. While the kill-aliens-find-hostages gameplay is simplistic compared to some other post-arcade 1987 Master System games, finding all the hostages and hearing the music shift from darkness to sunlight is reward enough. More importantly, Alien Syndrome began Sega's love affair with aliens, for better and for worse. Cheers to Mr. Cameron for making this possible.
B-