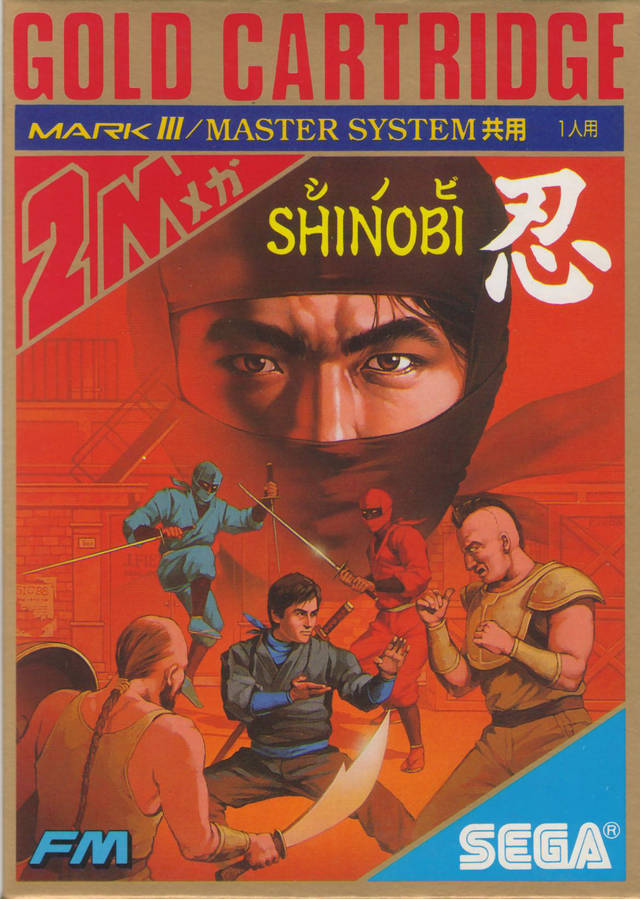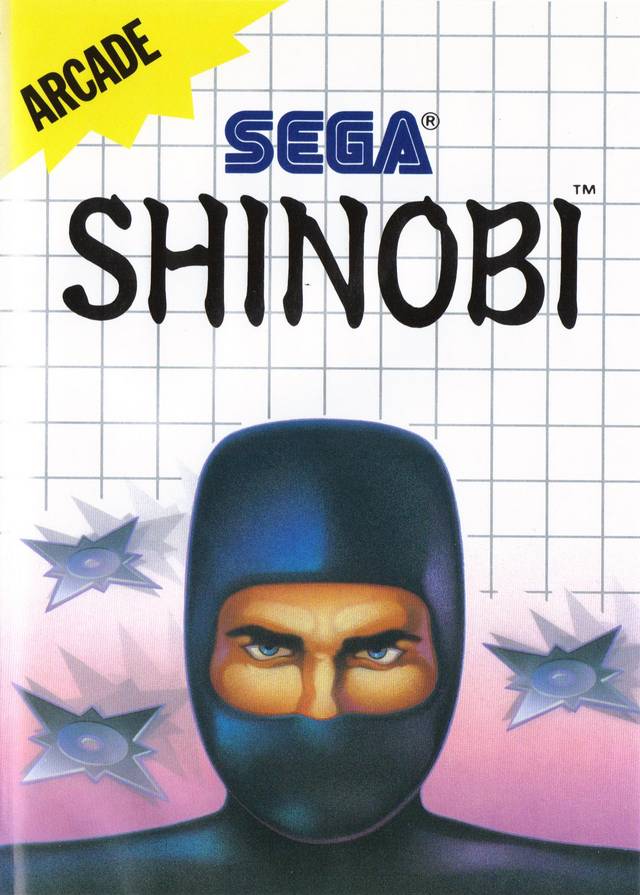 PLAYERS: 1
PUBLISHER/DEVELOPER: Sega
GENRE: Action
RELEASE DATE: 06/19/88 – (JP), 09/88 – (US), 1988 – (EU)
As I played Shinobi, I realized a startling truth about myself: over the last year or so, I've gotten significantly worse at video games. Maybe not all video games, but certainly older ones that have sharp difficulty spikes as Shinobi does. This is not limited to Shinobi either. My recent playthrough of Yoshi's Island confirmed that I'm not nearly as adept at platforming as I was six years ago when I last beat it (and got 100% – never again). This probably has to do with me a) not playing games as often anymore, Sega blog aside; and b) just plain ol' getting older and losing some of my once sharp reflexes. Perhaps the start of a review seems like an odd place for such a confession, but it's necessary for Shinobi's sake. Despite not destroying the Black Turtle helicopter at the end of level 2*, I acknowledge that Shinobi's subtle refinements of the arcade action genre make it a small masterpiece.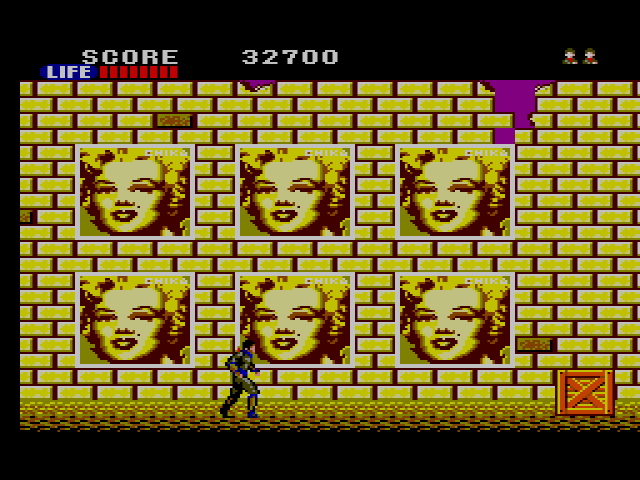 In Shinobi, you play as martial-arts-instructor-turned-renegade-ninja, Joe Musashi. A group of terrorists has stolen your students from you and spread them across five dangerous missions. The missions consist of about four stages a piece, with the end stage resulting in a boss fight with one of the terrorists (naturally, the terrorists have great random names like Lobster, Ken Oh, and Masked Ninja). Joe begins the game with an infinite supply of shurikens and a mighty kick for enemies who get too close for comfort, but as he progresses and rescues his students (who look like adorable clones in red gis), he acquires different power-ups, both for close combat and long-range. The sword is best for close combat, while the knife, shuriken or pistol are all great for long-range.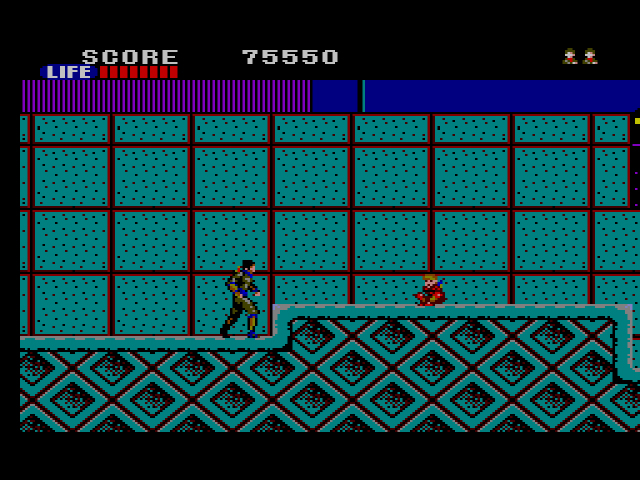 Systematic pacing and above-average enemies distinguish Shinobi from similar arcade action games. There is no time limit or flashing index finger pointing you forward, nor are there infinite amounts of stupid enemies flying toward you (ninjas and other mindless thugs rush at you occasionally, but they are not being constantly created off-screen a la Sega's earlier Black Belt). The smarter enemies crouch and shoot you from behind cover, lay on the ground so it's harder to reach them, or can only be killed on higher planes that require Musashi's patented ninja leap. Their intentional placement gives them more intelligence and personality. You feel like you're killing a terrorist who's considered his enemy's approach versus instantly forgettable kamikaze clones. Once you get to the boss battle, the pace increases, as does the difficulty. Staying alive becomes more about bouncing around the screen and shooting projectiles than considering how to approach the enemy. These anxious duels aside, Shinobi's otherwise standard action benefits greatly from the game's deliberate pace and thoughtful enemy positions.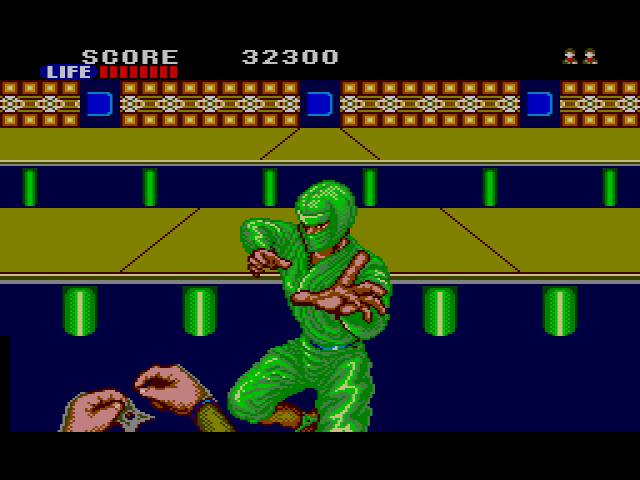 If only Shinobi looked as good as it played. The sharp colors and distinct environments of the arcade port have been replaced with unsettling purples, reds and blues that only give a vague hint as to where you might be. Questions I had during my playthroughs included: what's with the red intestine wall in the background? Is this level supposed to take place at night or is the sky just dark blue? Why is pink in this stage when it clearly doesn't match the rest of the stage's color scheme? I've seen the Master System generate better graphics with lesser games, and considering Shinobi's status as a highly regarded arcade game, one assumes that Sega would have tried harder to make the port look as pretty as possible.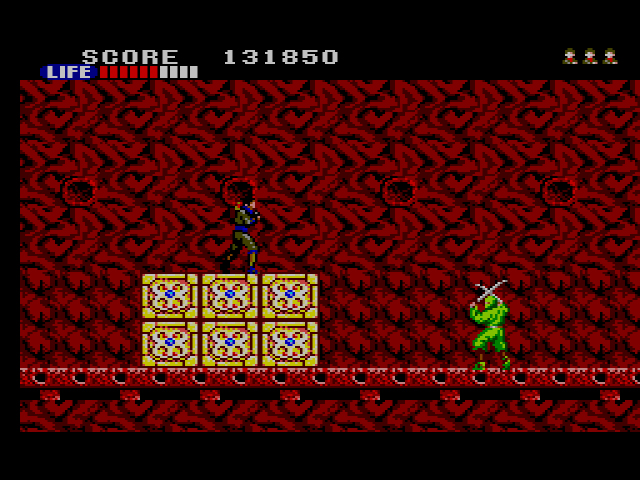 I know there will be harder games than Shinobi to come. I also know that not all of them will be as good as Shinobi, and thus, I will have to force myself to play the game for the sake of the review. Shinobi's difficulty is the best kind of difficulty, though: the kind that makes you want to get better and weather the repeated game overs because the game is so fun. I say this with all humility: it is my fault that I did not defeat the Black Turtle helicopter, not Shinobi's. But it is Shinobi's "fault" that I want to return for more Black Turtle punishment. Go get 'em, Joe.
B
*I am aware that there is a level select code, but I could never get it to work properly. And anyway, playing the game sans cheats was a brutal reminder that I'm not the spry young gamer I once was.