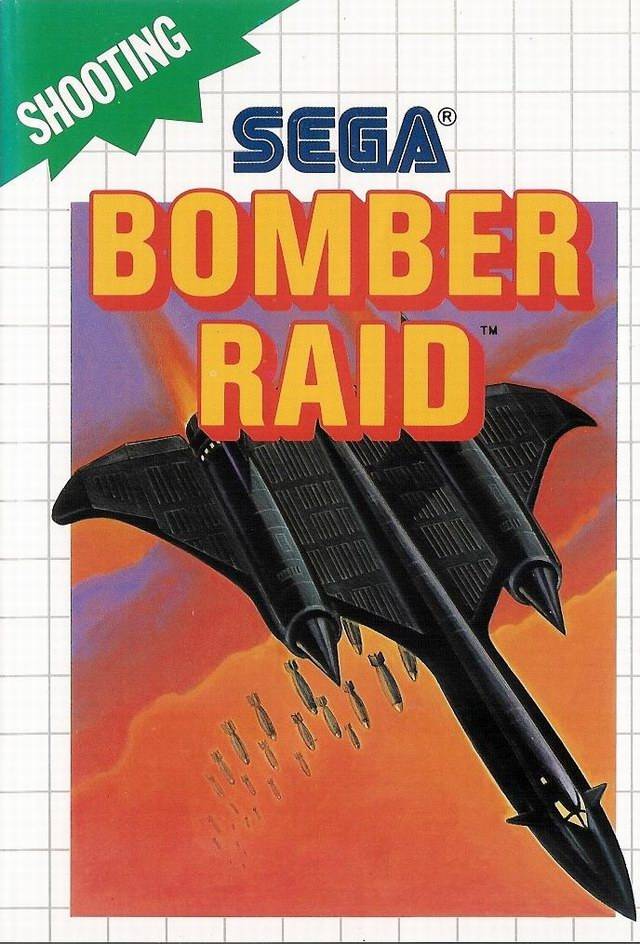 PLAYERS: 1
PUBLISHER: Sega (Japan, Europe), Activision (US)
DEVELOPER: Sanritsu
GENRE: Shoot-em-up
RELEASE DATE: 02/04/89 – (JP), 01/1989 – (US), 1989 – (EU)
Sega's first console, the SG-1000 received the groundbreaking RPG The Black Onyx as its final game in 1987. And while the port wasn't very good, the fact that it existed on the system at all was a testament to Sega's development teams. An honest-to-goodness first-person dungeon crawler with a four-person party should not have been possible on the SG-1000, but by gar, Sega pulled it off.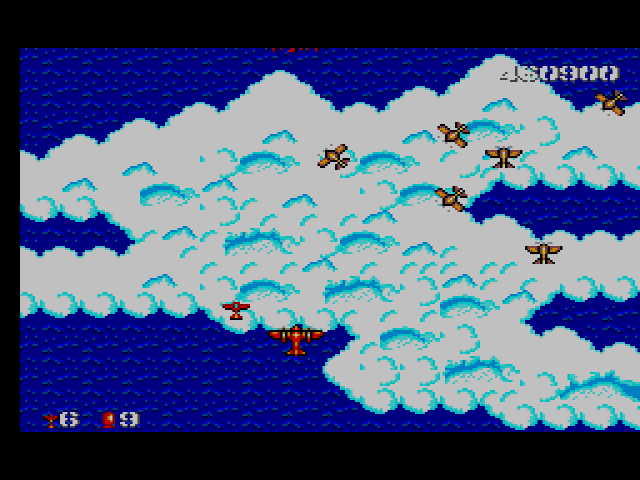 Despite the Mark III being Sega's main focus in '87, The Black Onyx's release implies that they cared enough about the SG-1000 to bless it with a parting gift. So what to make of Bomber Raid? As The Black Onyx was the SG-1000's final game, so too was Bomber Raid the Mark III/Master System's last game released in Japan (America, Europe, and Brazil would see many more years of Master System releases). Compared to The Black Onyx's ambitiousness, Bomber Raid – an inauspicious shoot-em-up that shamelessly cribs its style from Capcom's 19XX series – feels tired, like Sega couldn't have been bothered to put forth real effort into the Master System's final game.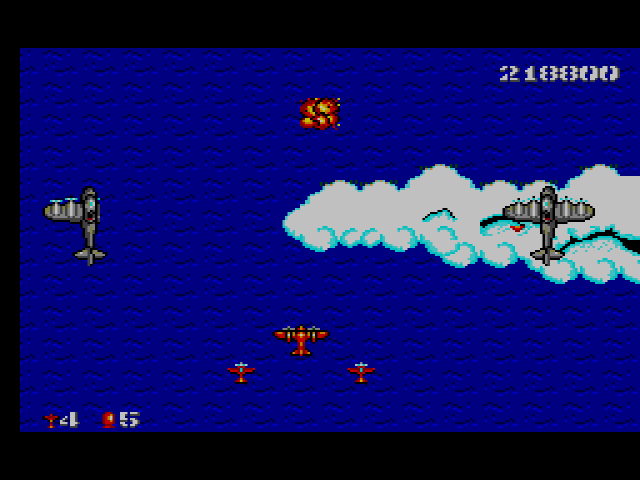 In Bomber Raid, you're a fighter pilot attacking other planes, tanks, and helicopters in the wild blue skies of wherever-the-hell. When you first start the game, your plane moves slowly, like it just got out of bed. Your pea shooter is pathetic, and your secondary weapon – a bomb blast that destroys anything in front of you – has a limited amount of uses. Shoot the multi-colored UFOs that appear every other second to gain weapon upgrades, additional speed, and the occasional special power-ups. Your speed tops out pretty quickly, but it will take at least three stages (out of a mere five) to fully max out your weapon. The special power-ups – red pellets numbered 1 through 4 – give you an extra smaller plane that attaches to your side, diagonally in front or behind you, or on your bumper, depending on the number you collect. These little planes shoot in different directions than you and function as both extra firepower and a shield, of sorts.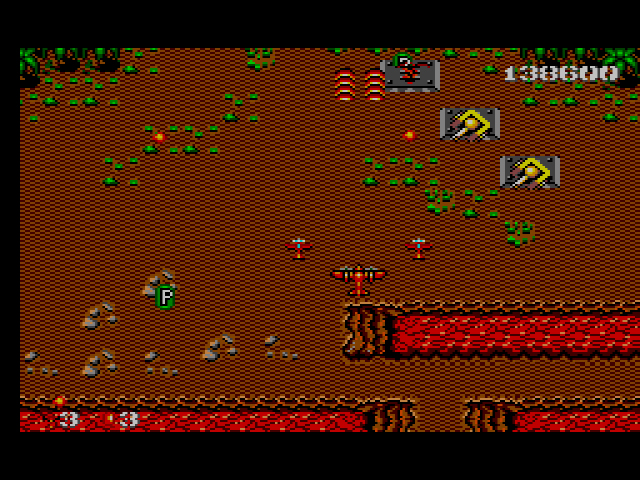 The bosses are essentially enlarged versions of the enemies you fight in the game. Aircraft carriers, naval ships, extra large bombers, the gang's all here. You've fought these types of bosses before in 1943. They're uninspired, and if your weapon is strong enough, they will die very quickly.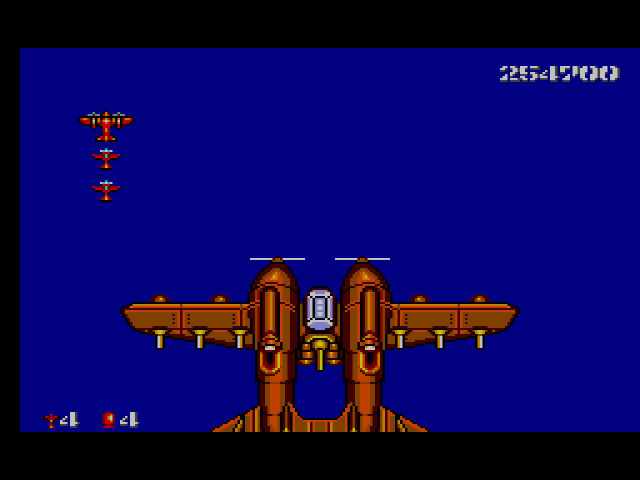 At first, Bomber Raid plods along without much activity. Enemies are sparse, only occasionally shooting at you before you kill them or they fly off the screen. The power-up UFOs come so frequently that it's impossible to not be somewhat powerful. Around level three, however, the game gets ridiculous. Enemies start mingling together, emerging from all corners of the screen with different movement patterns. UFOs emerge at the same rate, but power ups are often lost within the constant enemy swarms. While the extra enemies liven up proceedings, the increased difficulty coupled with Bomber Raid's lack of creativity means that only diehard shmuppers will have the strength to finish the final raids.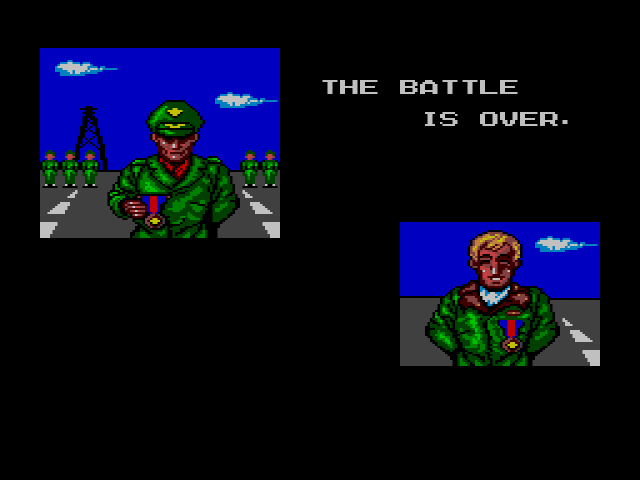 Bomber Raid is completely playable, but there's nothing that makes it stand out from similarly playing shoot-em-ups of its day. And compared to other Sega shmups like the cutesy Fantasy Zone or the unrelenting Power Strike, Bomber Raid does nothing for one's imagination. But the game wouldn't be such an affront if Sega hadn't positioned it as a sendoff for the Master System in Japan. The console may have never achieved widespread popularity in its home territory, but it still deserved better than this nondescript farewell.
C-