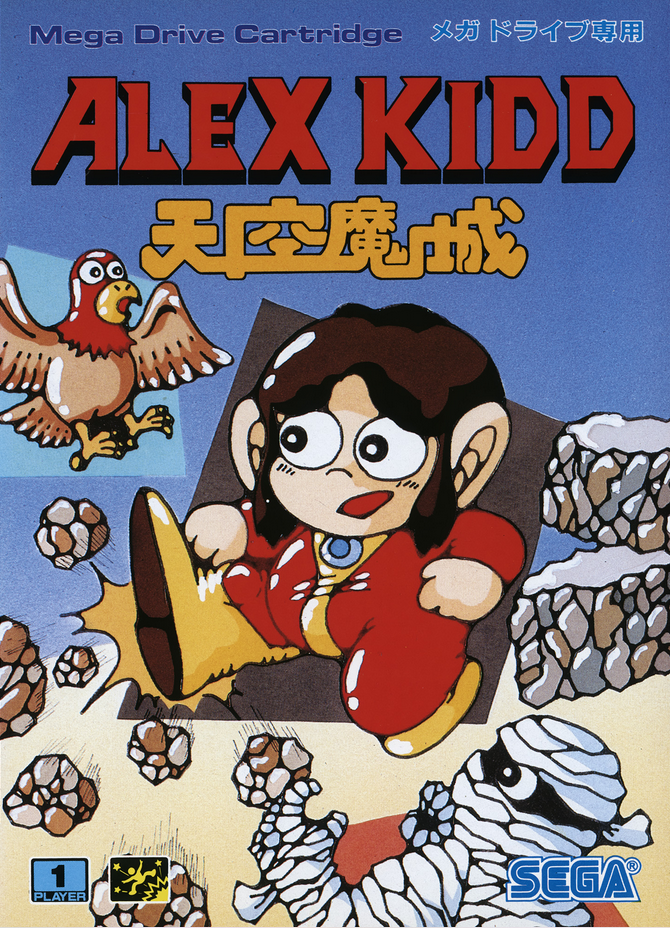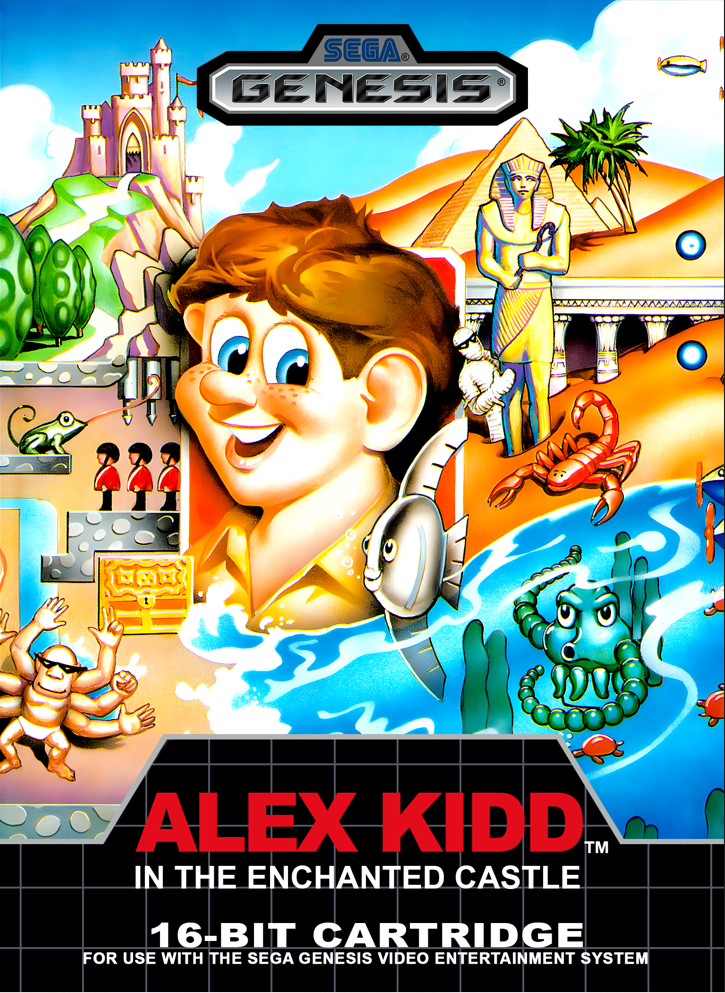 PLAYERS: 1
PUBLISHER/DEVELOPER: Sega
GENRE: Platformer
RELEASE DATE: 02/10/89 – (JP), 08/14/89 – (US), 09/90 – (EU)
In 1986, Alex Kidd in Miracle World stretched the boundaries of the run-fast-and-hit-things platforming formula established by Mario. Alex bought items to help him in his quest. He rode vehicles. Lack of a time limit allowed him to leisurely explore the vast levels. From Miracle World on, however, Sega truly had no idea what to do with the character. They threw him into a Japan-only BMX game. They crafted a more Mario-like platformer with The Lost Stars. And they did a sprite switch for Alex Kidd in High-Tech World, originally titled Anmitsu Hime. Finally, with the advent of the Mega Drive/Genesis in 1989, Sega gave Alex Kidd fans what they assumed they wanted: a proper Miracle World sequel.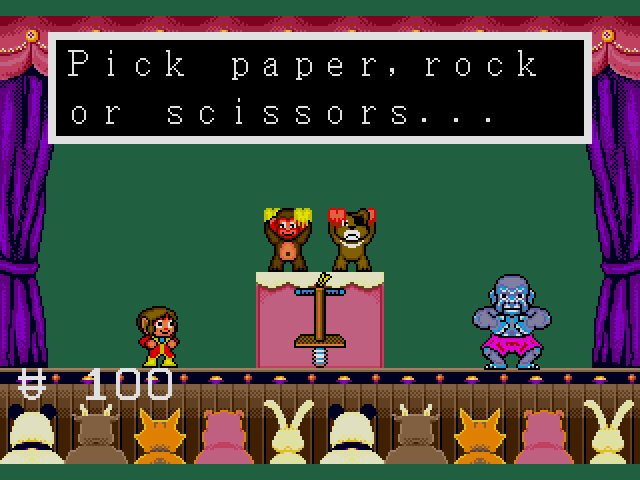 Now imagine that, for Super Mario World, Nintendo released a prettier, watered-down version of the original Super Mario Bros. This is Alex Kidd in the Enchanted Castle. Enchanted Castle has almost all the features that make Miracle World unique: Rock, Paper, Scissor boss matches, methodical platforming, and a variety of locales. But the inspiration and depth that made Miracle World such a singular work in 1986 are gone.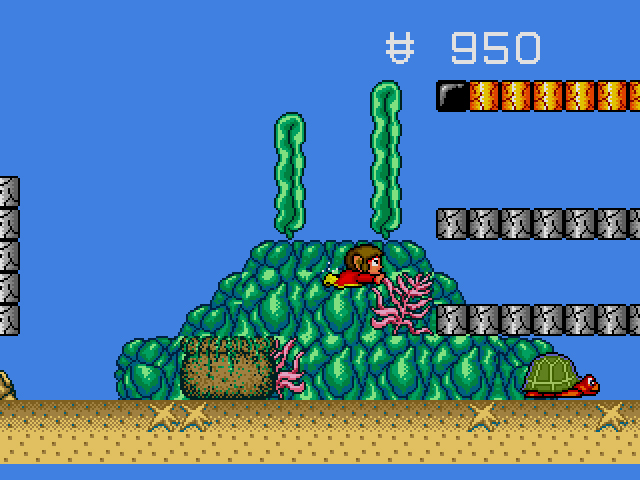 Check the title: Alex Kidd in the Enchanted Castle. Sounds like you're gonna be wandering through a castle for most of the game, right? Well, ten of the game's eleven levels take place outside of this Enchanted Castle. These levels are short and uninspired. They involve nothing more than jumping from block to block, punching the occasional enemy and treasure chest, and collecting the rice ball at the end. There is little in the way of varied gameplay, and while there are hidden underground areas and alternate paths, the levels aren't memorable enough to warrant repeat visits. Only when you arrive at the Enchanted Castle – with its significant length, incredible difficulty, and innovative room design – does it feel like Sega gives a damn about the game.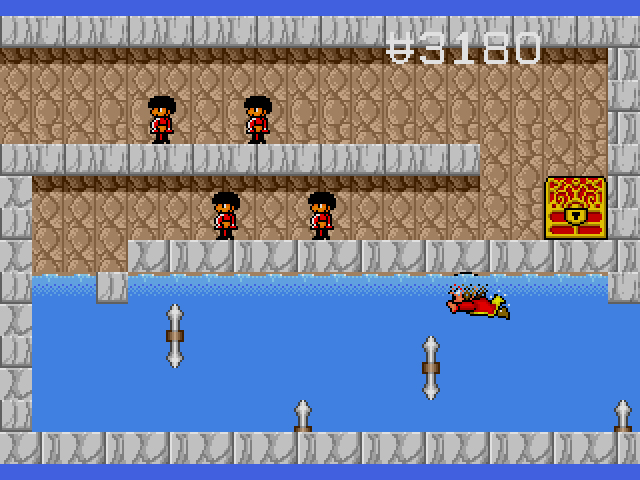 Alex is still the same old gangsta. His fat head keeps him cute, his big fist helps him attack and win Rock, Paper, Scissors matches, and his weak frame means he only needs one hit to die. As in Miracle World, you have to get right up in an enemy's personal bubble to hit them unless you have the projectile-spewing Power Bracelet. Alex does have one new move, an automatic power kick that occurs every time he jumps. While not a terrible addition, it makes for some awkward maneuvering when you're trying to land on brick platforms that can be destroyed by said kicks. The kicks don't seem to register very well as attacks, either. During my playthrough, nearly every time Alex jump kicked towards a flying enemy, the enemy didn't feel the weight of his foot in its face and Alex died.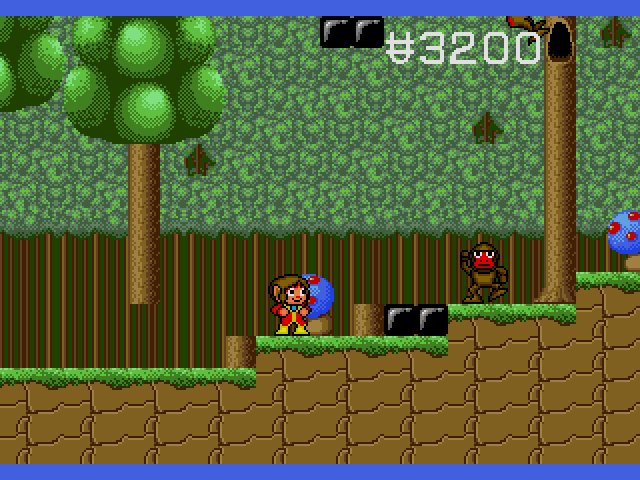 The biggest change between Miracle World and Enchanted Castle feels like a failed ploy to extend the game's length. Instead of shopping for items and using them as you go, you now pay to play Rock, Paper, Scissors matches for items. If you fail a match, you have to pay again for a chance to win them. To be fair, money is everywhere in this game. You could enter into an RPS match, exit out of it, collect some money from treasure chests, then go back to the match and repeat until you have a bundle. This grinding shouldn't be necessary, though. In Miracle World, you walked into a shop, bought the item, and used it instantly; no wasting time/resources on matches of chance.
Also, unlike Miracle World where every item had a purpose, I never used any items outside the Power Bracelet (shoots projectiles out of your fist), the Invisibility Cape (perfect for Ashra, the final boss), and the Pedicopter (much harder to control than in Miracle World). Perhaps the other items (like the new Pogo Stick) aren't useless, but I didn't need them to beat the game.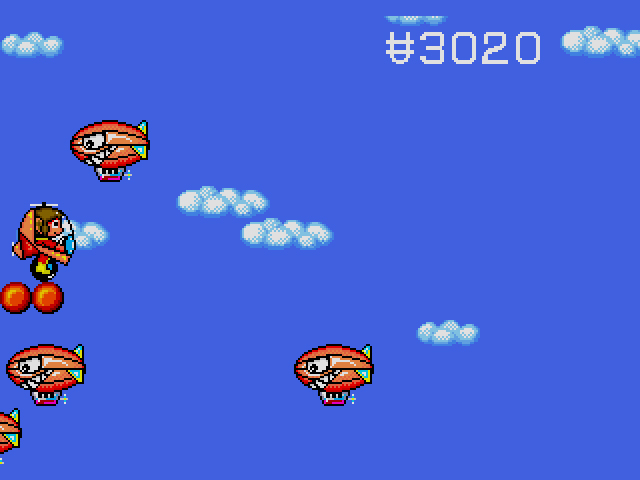 Now check this title: Alex Kidd in Miracle World. In Miracle World, you explored all of Miracle World (otherwise known as Planet Aeries). Better still, all seventeen levels of Miracle World are worth exploring. If I may quote my Miracle World review: "Planet Aeries' landscape is more colorful and varied… with no two levels resembling each other. Mt. Eternal has Alex progressing downwards through a mountain and into a body of water, then swimming his way out. The Blakwoods is a dense forest where monkeys throw seeds at you. Radaxian Castle is a puzzle-filled, non-linear maze, while the Kingdom of Nibana forces you to ride your Peticopter through dangerous red-orbed filled skies." Even amidst a relentless difficulty, Miracle World consistently engages you and leaves you wanting more.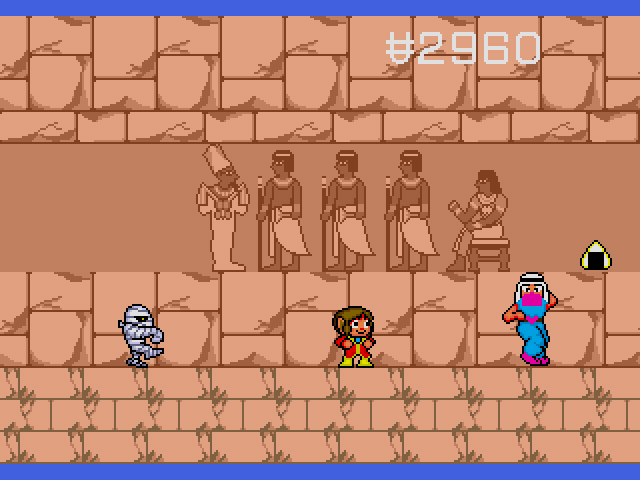 Alex Kidd in the Enchanted Castle isn't a horrible game, just a disappointing one. It has uneven difficulty, it's surprisingly ugly even for an early Mega Drive game, and the halfhearted gameplay is several steps backward for the franchise. Miracle World was a carefully crafted platformer designed to sell the Master System to wary consumers. Enchanted Castle was a rushed afterthought, designed to keep early adopters of the Mega Drive/Genesis preoccupied until Sega could come up with something better.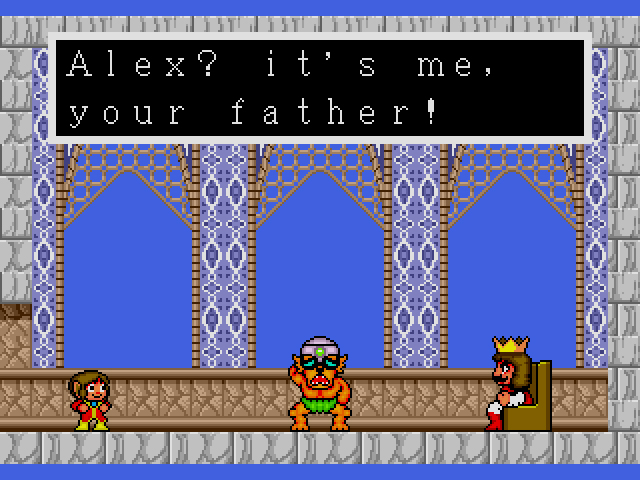 After the 1990 title Alex Kidd in Shinobi World, Sega never bothered with the series again, outside of the occasional cameo. For a character that was four years old and had several games, yet never rose above cult status, it's easy to see why Sega felt the need to start from scratch with Sonic. Enchanted Castle is a sad sort of failure: an exhausting stab at continued relevance from a mascot that, despite his youth, already seemed washed up.
D+