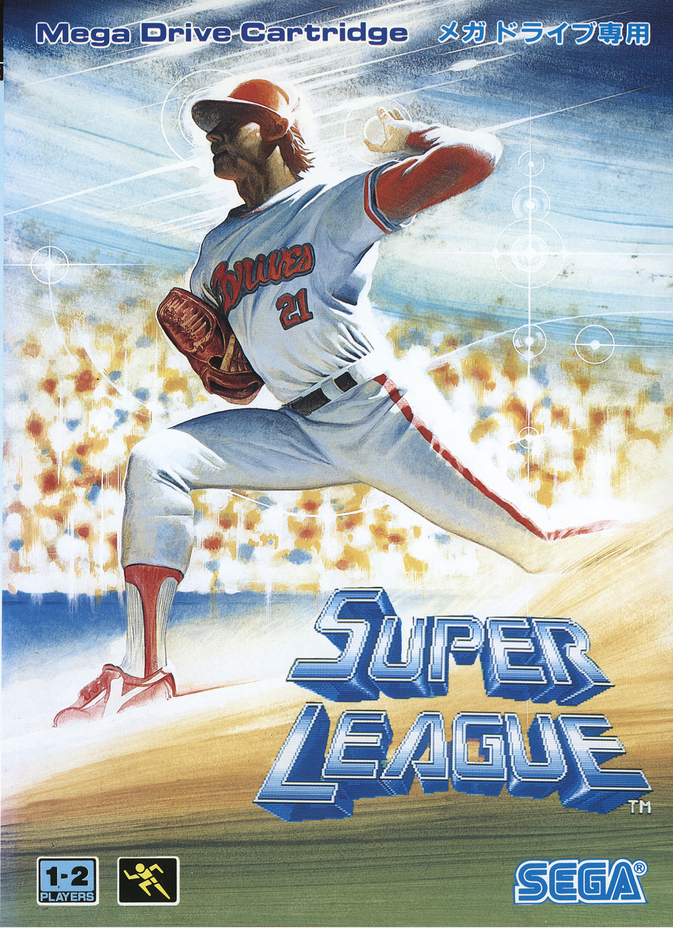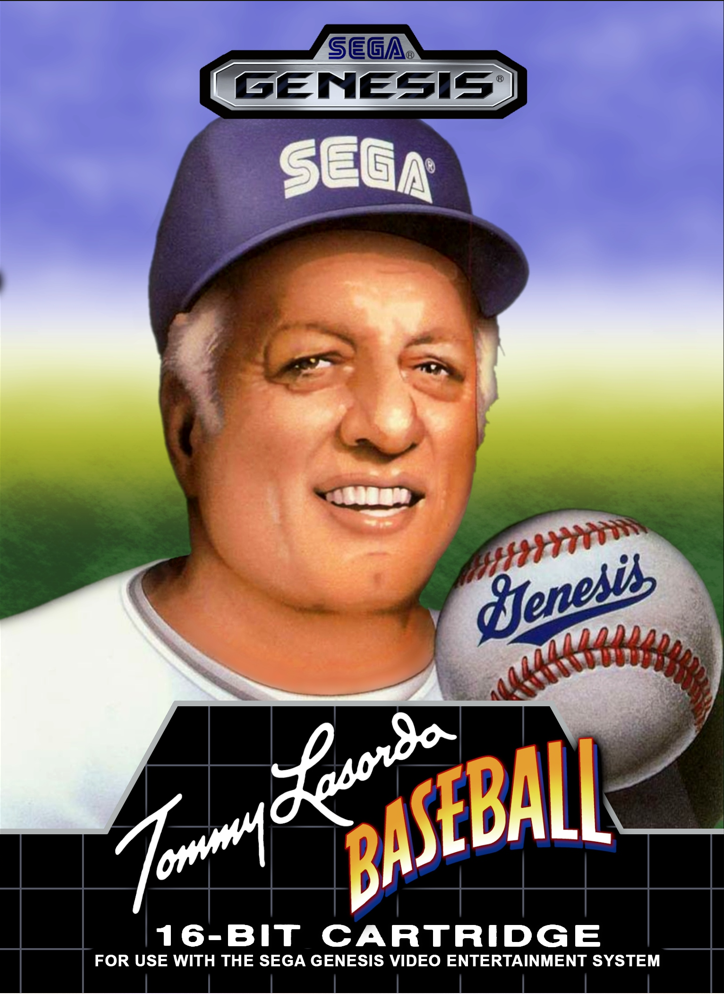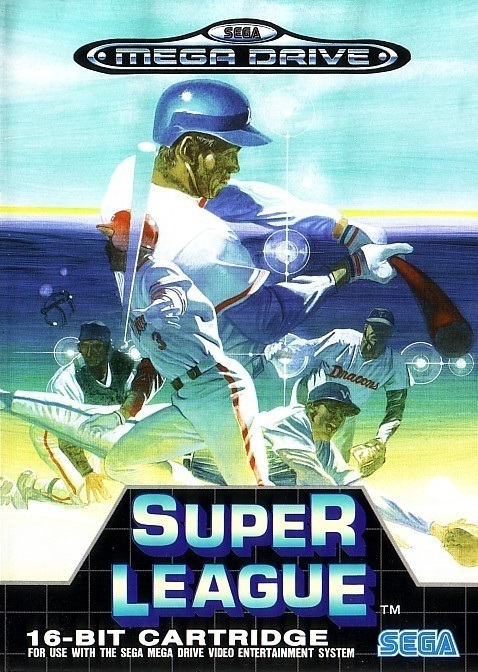 PLAYERS: 1-2 simultaneous
PUBLISHER/DEVELOPER: Sega
GENRE: Sports
RELEASE DATE: 04/22/89 – (JP), 1989 / 1992 – (US / US re-release), 1990 – (EU)
Super League invites you in with outstanding 16-bit player models, then kicks dirt in your face with the obtuse batting/pitching interface.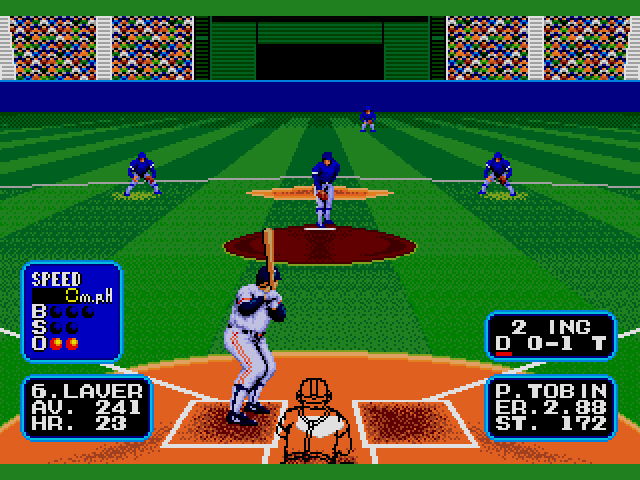 When you first start a game, you'll be placed in a standard behind-the-plate view, regardless of whether you're batting or pitching. In this view, the batters are huge, nearly life-size. The detail – like the subtle beer bellies and the crinkle of their uniforms – is leagues beyond what we've seen on 8-bit systems. The smooth, fluid animation when the players bat and pitch is excellent, as well. Once someone gets a hit, however, the camera switches to a top-down view over the field and the players no longer look human. Their Greek physiques switch to stubby sprites that are more akin to 8-bit baseball. While this is an understandable transition – a top-down view makes sense when the ball is in motion over the outfield – the juxtaposition between the two viewpoints is jarring.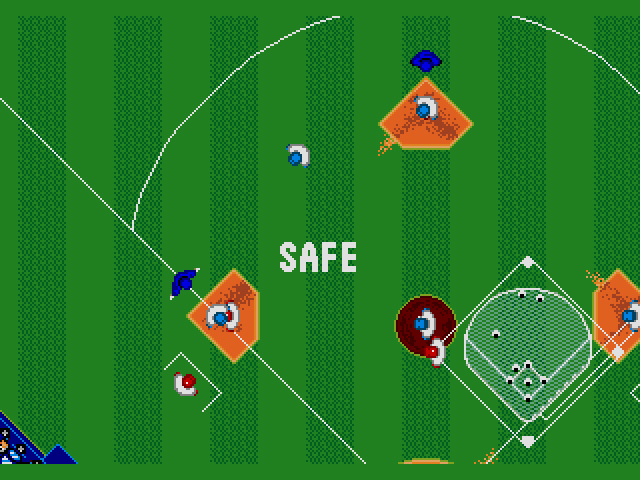 Super League also has the worst batting/pitching interface I've ever experienced in any baseball game. Hitting a ball is almost impossible. Even when it looks like the ball and the bat should have connected, the ball will soar past your bat and into the catcher's mitt. I'm convinced this is because of the perspective. The pitcher is much closer than he appears to be, thanks to some visual trickery on Sega's part. This means that his pitches take less time to reach you, even when the ball looks farther away. While this can occasionally work in your favor – I've gotten balls when I should have gotten strikes – the end result is often strikeouts. The only way to hit anything is to swing early and hope for the best.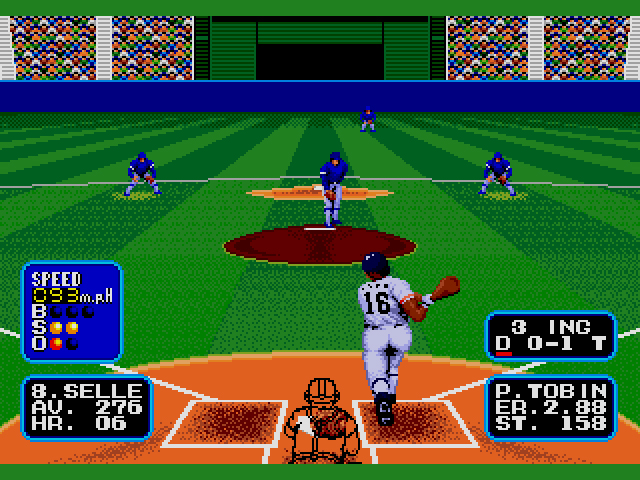 Even if the interface worked smoothly, you'd still have to wrestle with pitching and the outfield. You pitch either fast balls (straight) or curve balls, with little variation between the two types. The gigantic batter box dwarfs home plate, so it's easy to pitch inside the box and give the computer a ball – unless you throw a straight fast ball. If you do throw a fast ball, expect the computer to at least hit it, if not get a home run. If a ball happens to get knocked into the outfield, expect a double or triple. Your outfielders take forever to get the ball and throw it back to the bases.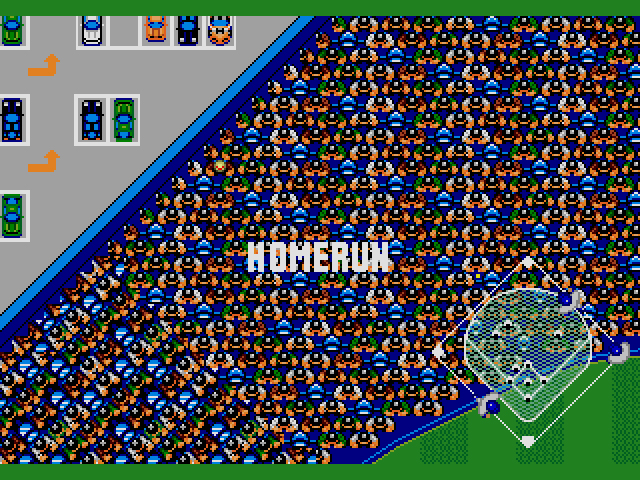 Tommy Lasorda Baseball is Super League with the former Dodgers baseball coach serving as figurehead. Lasorda doesn't do anything besides lend his smiling, unnerving visage to the game, but I'm sure he got paid well for his endorsement. Lasorda Baseball differs from Super League in play options only. Rather than playing a Central League or Japanese Baseball League tournament, you can play tournaments in either the U.S. or the World, have a two-player Exhibition game, or an Open Game.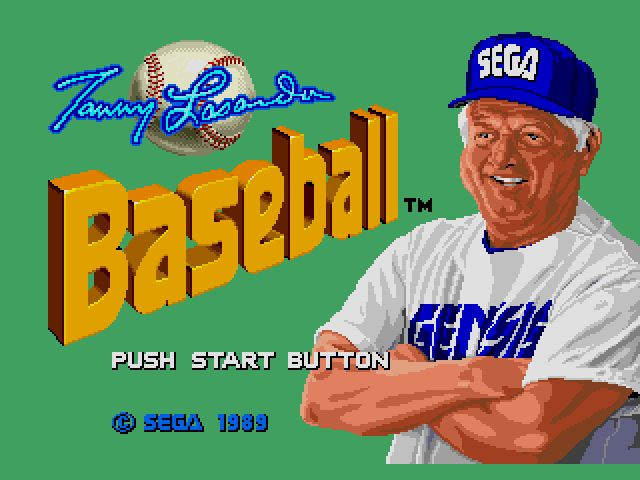 The European version of Super League is Tommy Lasorda Baseball sans Tommy Lasorda. The additional features found in the latter make their way over to the European version, but because Lasorda's contract was only good in America, the game was renamed back to Super League.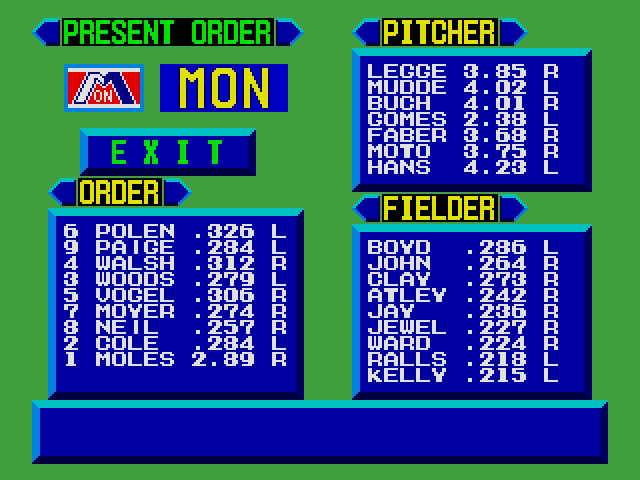 Whether you call it Super League or Tommy Lasorda, this is a baseball game that may or may not require immense skill to play. Since I could never figure out how close/far away the pitches were, I racked up dozens of strikes. I played several different games with different fake teams and none of my players could get a hit beyond first base. Either I'm right crap at Super League – a possibility – or Sega needs to sit in the dugout and think about what they've done.
D-