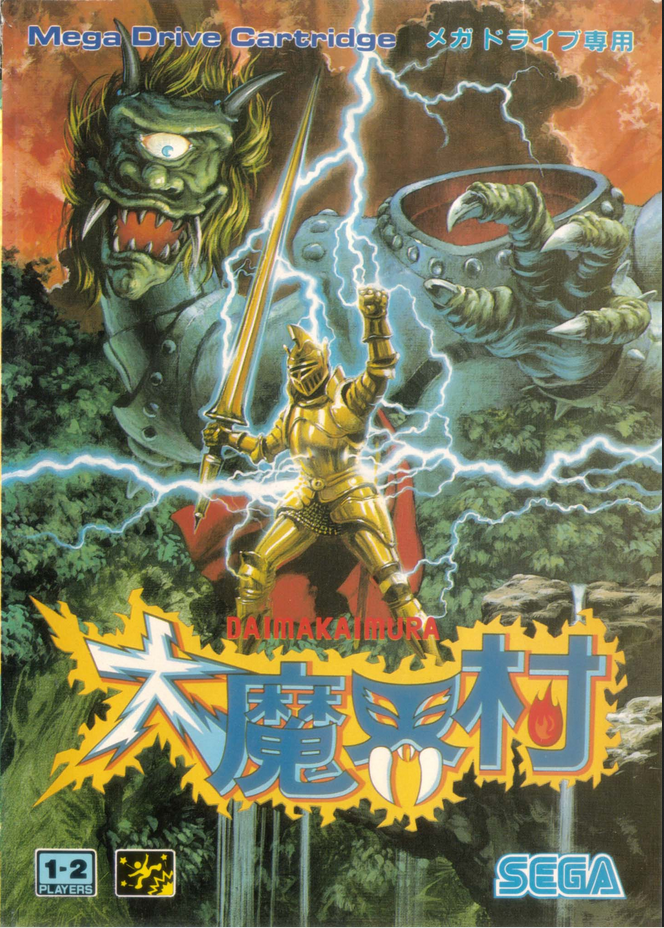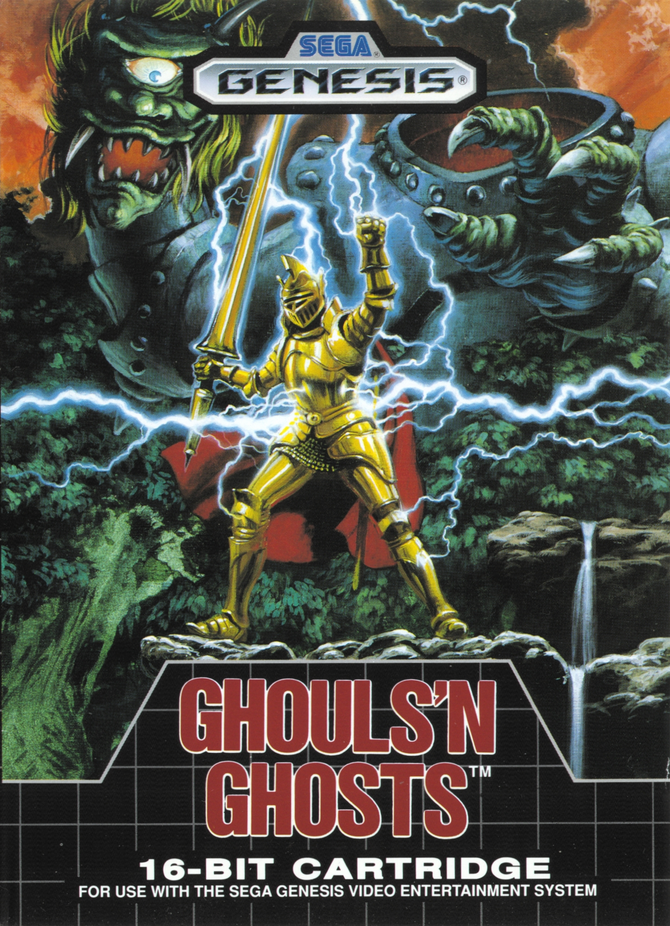 PLAYERS: 1-2 alternating
PUBLISHER: Sega
DEVELOPER: Capcom (port by Sega)
GENRE: Action
RELEASE DATE: 08/03/89 – (JP), 10/89 – (US), 11/90 – (EU)
With all respect to Phantasy Star II, Ghouls 'N Ghosts was the landmark title for the Genesis in 1989. Besides being the first Capcom game on any Sega system, the Genesis version was the best looking, best playing port of the arcade game and fully justified Sega's claim that playing the Genesis was akin to the arcade at home. The demonic difficulty certainly ostracized those not willing to virtually flagellate themselves through limitless Game Overs, but even today, Ghouls 'N Ghosts rich Gothic visuals and unrelenting action still hold up next to later platformers on the console.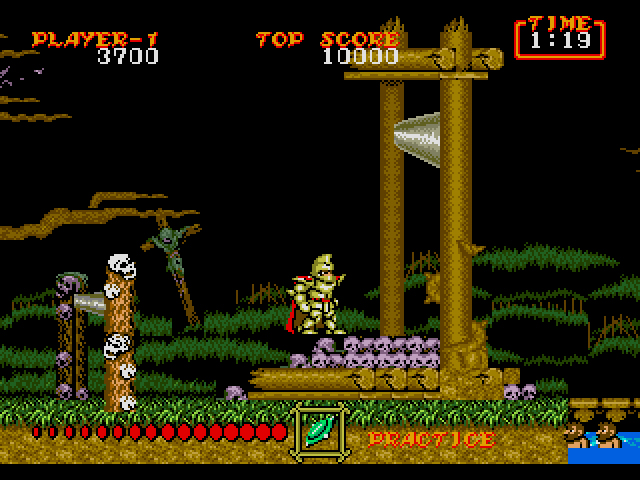 You control Sir Arthur, a knight tasked with taking on the Prince of Darkness and his evil minions. Arthur's an interesting bloke. Despite what appears to be strong armor, one hit will rip it off and leave him trembling in his skivvies, while one additional hit turns him to bones. The game occasionally graces you with golden Magic Armor, which allows you to perform magic attacks that differ depending on the weapon you're holding. The armor is elusive, however, and can only be found in treasure chests. Arthur begins his adventure with a sword (looks more like a lance to me, but hey) to skewer all manner of Grim Reaper, Depraved Vultures and Vomiting Pigs. Other weapons like Fire Water, Axes, and Daggers eventually make their presence known, but the sword remains one of the best weapons in the game, due to its flexibility and speed. That said, boss battles will sometimes be more easily won with different weapons. Experimentation is key.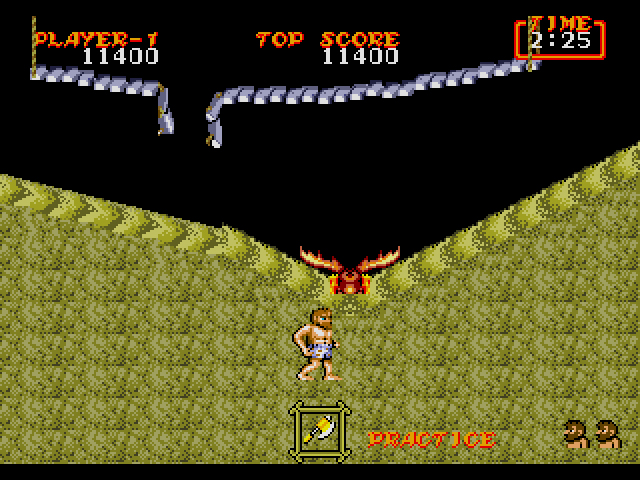 If you've never played Ghouls 'N Ghosts or any other Ghosts 'N Goblins game, imagine a platformer with the pace of a shoot-em-up. This might sound like a refreshing amalgam, but Capcom doesn't get the blend right. Enemies are ruthless and surround you with little room to maneuver, while Arthur's sprite is large and slow. As with shoot-em-ups, enemies constantly emerge and re-emerge out of the dark landscapes, but since Arthur can't navigate around the entire stage like a ship could, you have to be constantly alert and/or lucky to avoid the majority of the chaos.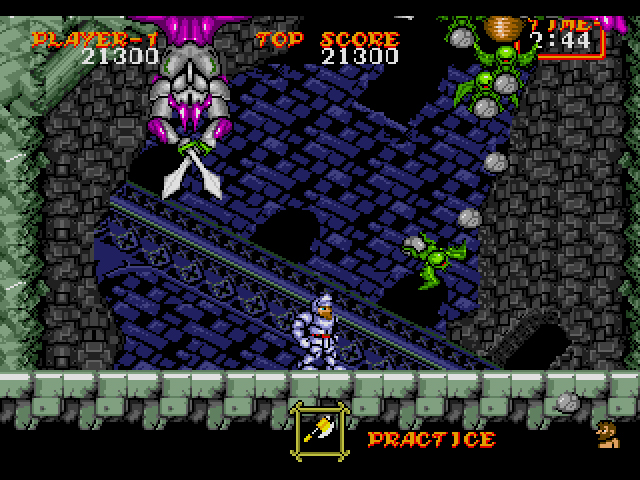 To its credit, Ghouls 'N Ghosts has some incredibly innovative stage portions and outlandish boss designs. Few will forget riding the tongues of the gargoyle statues in the Horrible Faced Mountain (actual name), sliding down the sides of the Crystal Caves, or avoiding the bouncing Rock Turtles in the Village of Decay. The multifaceted Worm is one of the most challenging bosses I've ever faced, while the final boss – Satan himself – is a massive beast bigger than the screen itself. If you're interested in Ghouls 'N Ghosts but aren't sure if you can take the oppressive beatdowns, I highly recommend a Youtube runthrough. If nothing else, you'll be able to appreciate Ghouls 'N Ghosts visual splendor in peace.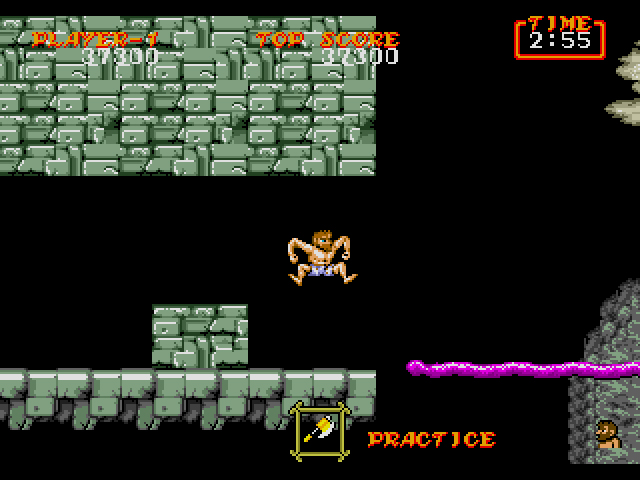 I've tried repeatedly to delve into Arthur's sordid world via the original Ghosts 'N Goblins, Super Ghosts 'N Goblins, and now Ghouls 'N Ghosts, and I just don't get the same enjoyment that others do. Yes, the game's aesthetics are top-notch, but the game contains some of the hardest, cheapest platforming found on a 16-bit console. Enemies appear out of nowhere. Arthur, the main protagonist, is a weakling in knight's armor with unintuitive controls. Trying to venture forward with caution? Forget it. The stages have a strict 2-3 minute time limit. And just like Ghosts 'N Goblins, you have to beat Ghouls 'N Ghosts twice, and the second time is harder than the first. If you're committed to Arthur's cause, you'll beat the game eventually, thanks to the unlimited continues. Even with this generous concession, Ghouls 'N Ghosts is less a game to enjoy than a trial to endure. Sounds like hell to me.
C-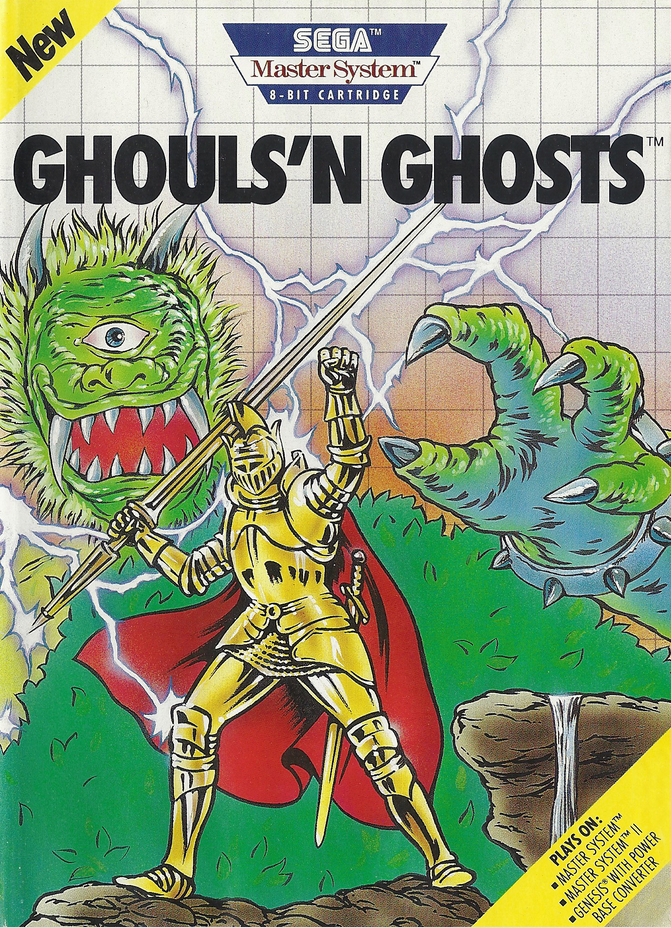 PLAYERS: 1
PUBLISHER: Sega
DEVELOPER: Capcom (port by Sega)
GENRE: Action
RELEASE DATE: 01/91 – (US), 04/91 – (EU)
If Ghouls 'N Ghosts for the Genesis is Cannibal Corpse's 'The Bleeding,' then its Master System counterpart is Metallica's 'Black Album.' They're both classified as metal, but they're worlds apart in tone and edge.
Make no mistake, though: Master System Ghouls 'N Ghosts is a considerable technical achievement; so much so, that in order to get the game to run, Sega had to sacrifice much of the challenge. The areas are sparse, despite being divided up into two stages and a boss fight rather than the long thoroughfare found in the Genesis version. Enemies emerge infrequently. Certain sections, like the bouncing head portion in Level 2, have massive slowdown, despite the relative lack of on-screen activity. There are also secret areas (accessible only by destroying a treasure chest) where you can upgrade different pieces of your armor for additional health (Red Armor as opposed to Gold), even though you won't really need it. And for the knight that has everything: brand-new magic spells that range from stronger attacks with Arthur's current weapon to regenerating armor. All of the aforementioned adds up to one smooth ride through the underworld. If you've had any experience with platformers, you'll have the Prince of Darkness pulverized by brunch.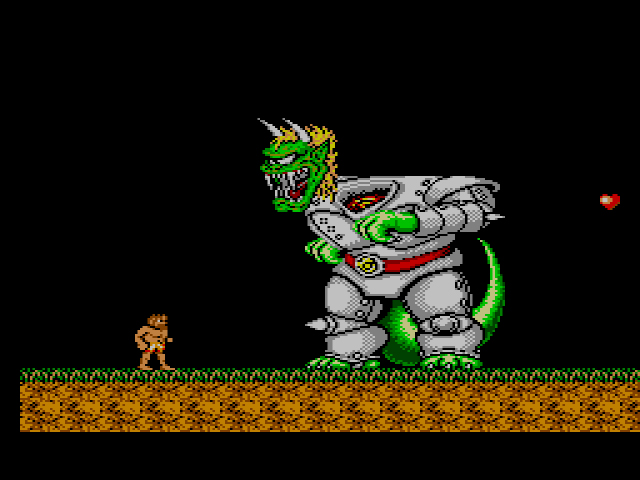 And is that such a bad thing? Ghouls 'N Ghosts for the Master System certainly isn't the essential experience for diehard fans. But for those who waver on the series' obnoxious difficulty, this port might be the only way to enjoy the game's otherwise ghoulish sensibilities.
C+