Read Part One. All things in order!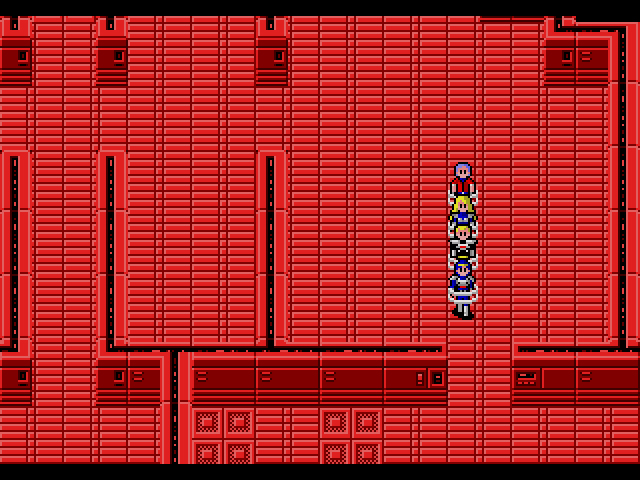 After a solid forty hours, Phantasy Star II is bested. I disabled the dams on Mota, explored Dezo's frosty hellish landscapes, collected the eight Nei items, fought more biomonsters and robots than I thought possible, and – through sheer luck and overreliance on save states – defeated Dark Force and Mother Brain. In the end, the game's surprisingly rich story is worth experiencing, even as the adventure itself is little more than a series of neverending battles.
Let it be known that writer/director Akinori Nishiyama knows how to keep an audience engaged. While the initial plot – figure out why there are a ton of monsters on Mota – evolves slowly over time, it's the surprises that hook you. The death of a major character (one of the best and most beloved) occurs halfway through the game, while another major character from the first Phantasy Star makes a surprise return on Dezo. The shocking ambiguous ending was also one of the strongest I've seen in a long time. I'm still not sure it was worth the forty-hour investment, but the resolution felt earned and I was not disappointed.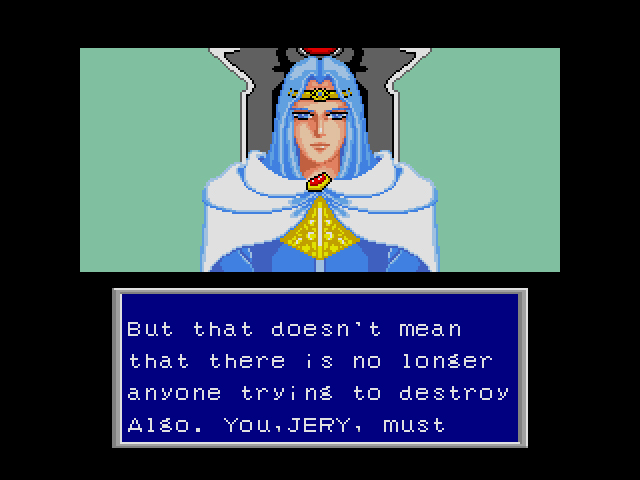 Despite the powerful story, if you've read Part 1 of this review, you probably know why Phantasy Star II disenchanted me: about 80% of the game is grinding. Grinding for experience points, grinding for money to buy must-have equipment, grinding your weary soul into the ground. The remaining 20% is divided unevenly between exploring and story – though even as you explore new areas, you'll fight more than you want to. Admittedly, after you arrive on Dezo, you don't have to fight as much as you did on Mota. For me, however, the damage was already done. Even with a week-long break between play sessions, I had no desire to battle any more than was necessary for progression.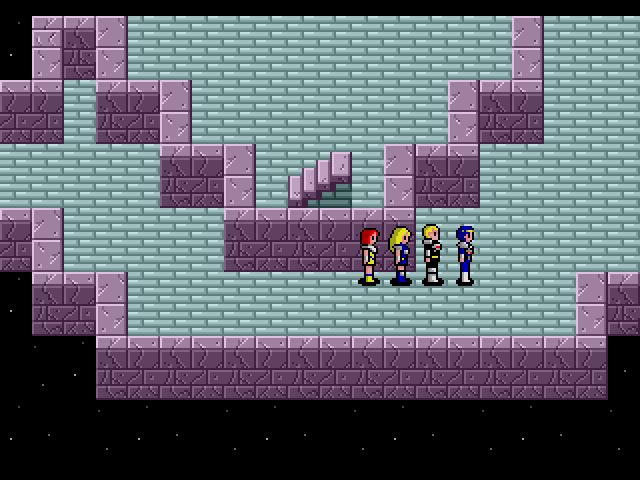 I also mentioned in Part 1 that each of the game's eight characters is important to getting through the game. This isn't entirely accurate. My party for the last half of the game was Rolf, Rudo, Anna, and Amy, and I didn't need to switch out characters. In fact, I don't see how you could beat the game without the aforementioned. Rolf is your main and an all-around powerhouse, Rudo has one of the strongest attacks in the game, Anna's slashers can hit multiples of the same type of enemy at once, and Amy is the only significant healer (Nei and Rolf have healing powers, but they're limited). Compared to these folks, Hugh the biologist, Kain the robot destroyer, and Shir the thief were inessential.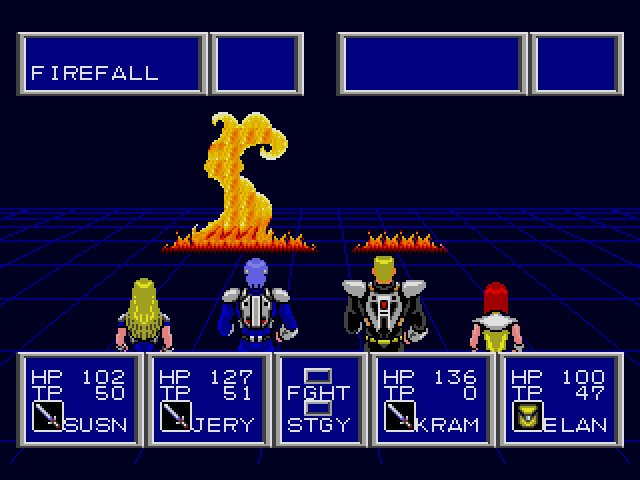 Dungeon-wise, Dezo's ancient Roman-esque temples were a refreshing change from Mota's boring robotic structures, but they were no less of a pain to trudge through. Particularly Ikuto, which has five stories and endless holes that mostly plunge you down in the wrong direction. Unless you have a map to guide you through the dungeon or a well-written FAQ, you could spend hours in one place figuring out the correct route.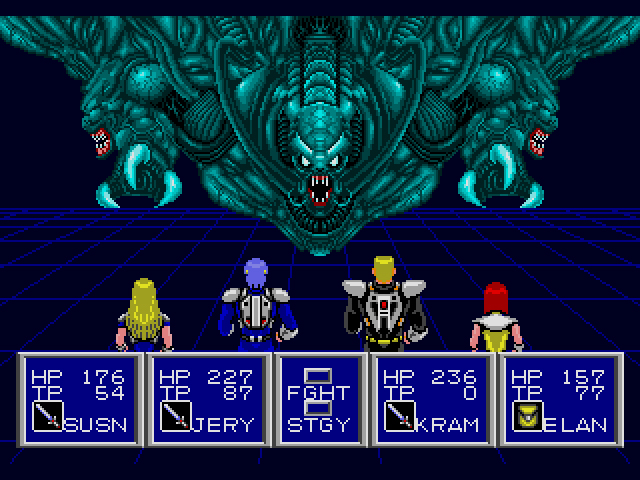 In most RPGs, the final battle will be hard only if you've failed to properly level up your party. Phantasy Star II is the opposite. The Dark Force/Mother Brain battles are difficult, even if your team is at sufficient levels. The battles fought in the game are standard turn-based – you manually decide your party's strategy, then each character, good or bad, carries out one attack/action before the cycle starts again. Dark Force and Mother Brain will often override this and force you to go through one or two additional turns without allowing you to choose your actions. Your party members' default action is attack, so they will still attack the entities during these automatic turns. But your inability to choose your actions means you won't be able to heal during these extended rounds. This makes these last battles harder and more luck-based than any others in the game. If the wrong character dies – the one with all the Trimates – because the game wouldn't let you heal them, you may as well start the battle over. Beating Dark Force/Mother Brain depends not on your skill, but on whether the AI inadvertently allows you to heal and attack accordingly.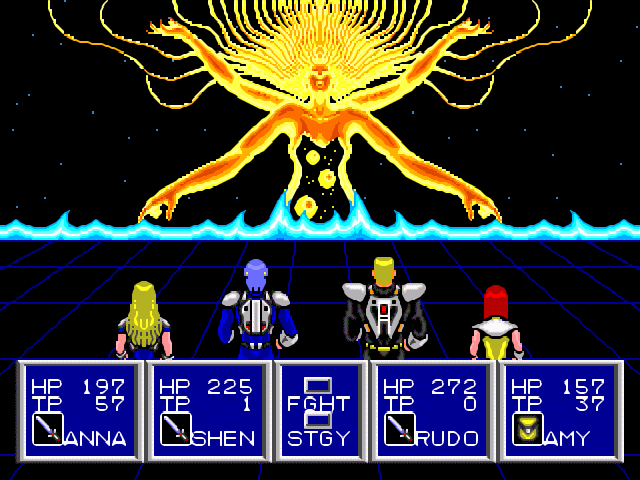 When Phantasy Star II released in 1989/1990, games were smaller. They were played, beaten (if we were lucky), then put into the pile. There was no such thing as a backlog; games were expensive and we were broke-ass kids reliant on birthdays, holidays, and allowance money. We cherished each of our games – not because we only owned good games, but because they were all we had. In such a landscape, Phantasy Star II must have been a welcome respite – a colossal adventure filled with hours upon hours of battles, dungeon exploration, and a honest-to-goodness story with truly shocking twists and turns. You could stretch the game out for months if you wanted to: level up every character, map out each dungeon, get lost in Mota and Dezo. I don't think it's hyperbolic to say that the game was the best, most ambitious console RPG of its day.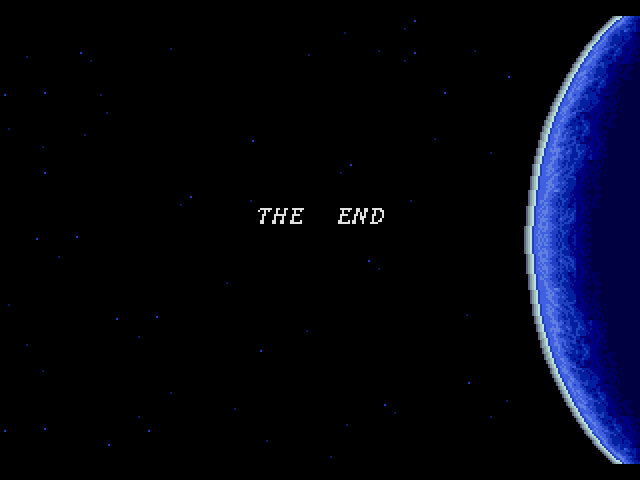 Phantasy Star II is a towering artifact that deserves to be studied rather than experienced. Its accomplishments are legion: numerous cast of characters, mature themes and social commentary, streamlined, if overbearing battle system. The RPG genre wouldn't be the same without the game. But unless you're teaching your children about your past, there is little reason to return to the game's tedious grinding and massive, confusing dungeons. "This is what I had to put up with, son/daughter. Graph paper. Detailed notes. For hours on end, I'd sit in front of the TV fighting the same monsters over and over again. And why? Because it's fun…. well, it was fun, anyway."
1989: A
Today: C
*cheers to ShadowFoxSW