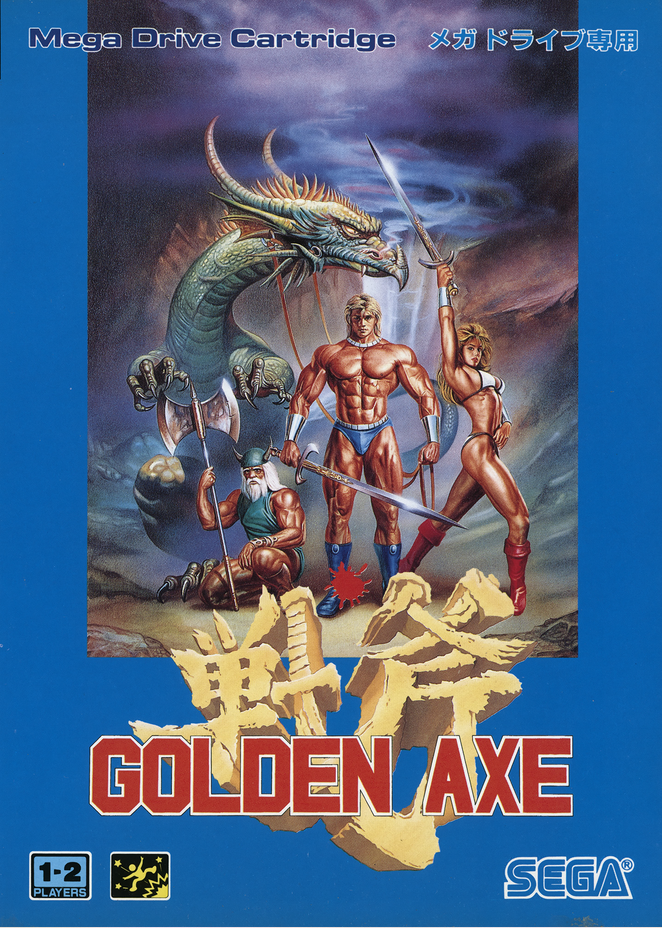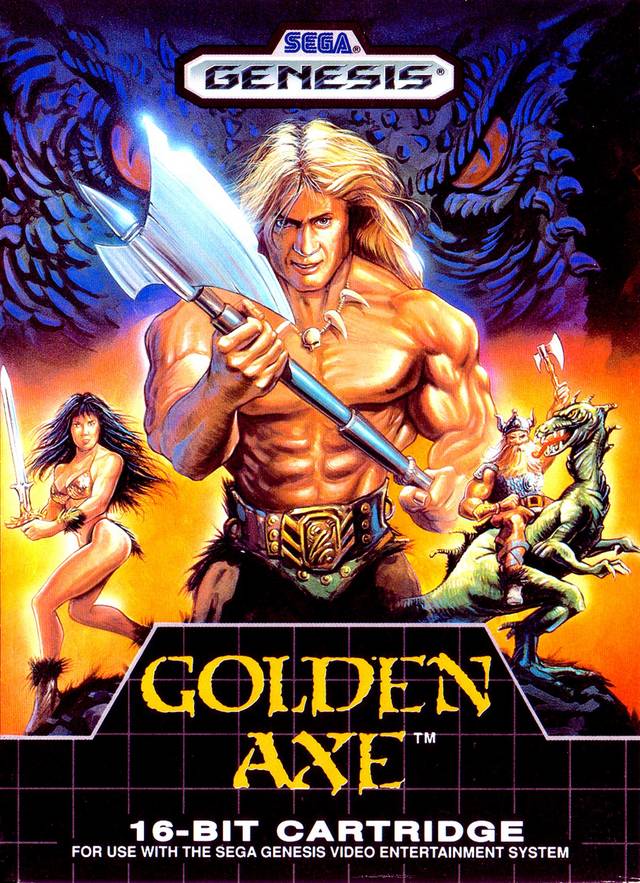 PLAYERS: 1-2 simultaneous
PUBLISHER/DEVELOPER: Sega
GENRE: Beat-em-up
RELEASE DATE: 12/22/89 – (US), 12/23/89 – (JP), 11/90 – (EU)
I used to love mashing buttons and beating up greasy thugs back in the day, but as I age, the appeal of the beat-em-up lessens more and more. The classics – Streets of Rage 2, Double Dragon II, River City Ransom – will always be classics, but the majority of the genre is either unplayable or overly repetitive, even with friends. Golden Axe is often championed by the Sega faithful as an untouchable (Sega must agree, as they've re-released it about a dozen times for various platforms over the years), and while it is a completely competent beat-em-up, its cliché fantasy trappings are in want of a soul.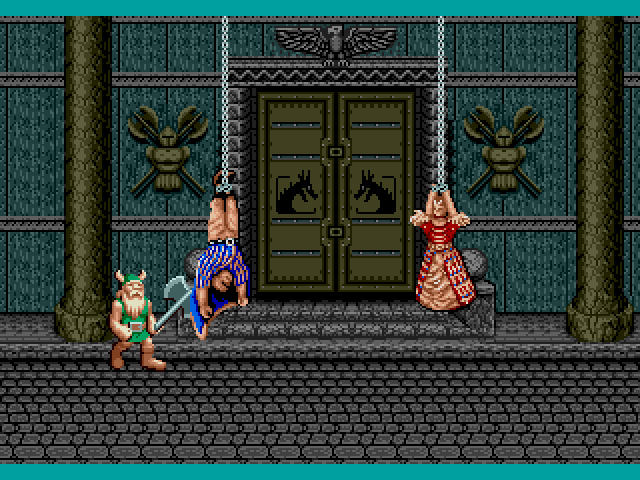 You guide one of three warriors through eight stages to destroy the evil Death Adder and retrieve the legendary Golden Axe. Warrior # 1 is Ax- Battler (his legal Christian name, no doubt), a barbarian with a mighty wallop and unbearably slow movements that leave him open for beatdowns. Warrior #2 is Tyris Flare, an Amazon babe who fights in revealing clothing for the good of her tribe. She's fast and has a strong Fire magic attack, but her slice is weak. Warrior #3 is Gilius Thunderhead, a dwarf who's both limber and strong. What he lacks in Lightning Magic, he makes up for with his mighty ax. For an all-around powerhouse who'll get you to the Death Adder battle with little trouble, Gilius is your man.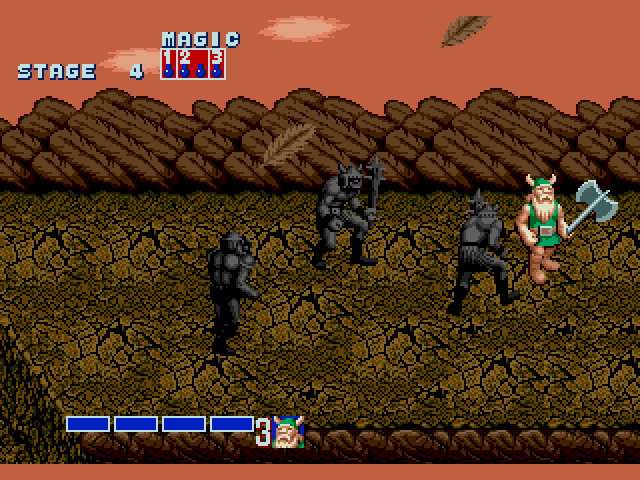 Each warrior has a surprisingly wide range of moves: jump, attack, jump-attack, run and headbutt, roll around on the ground, and magic. Your attacks are standard beat-em-up procedure: punch, knock on the head, throw backwards, stab, etc. The jump-attack is a swift hit that causes little damage, but allows you to run away before the enemy gets up. Rolling around is an evasive maneuver that's tricky to pull off, but much needed for later boss battles. Magic is acquired by kicking the smiling blue elves and collecting their precious blue pots (in a strange bit of generosity, Golden Axe conveniently halts battle when they appear so you can kick them). You can unleash a small magic attack with as little as one blue pot in your reservoir, but the more pots, the stronger your attack.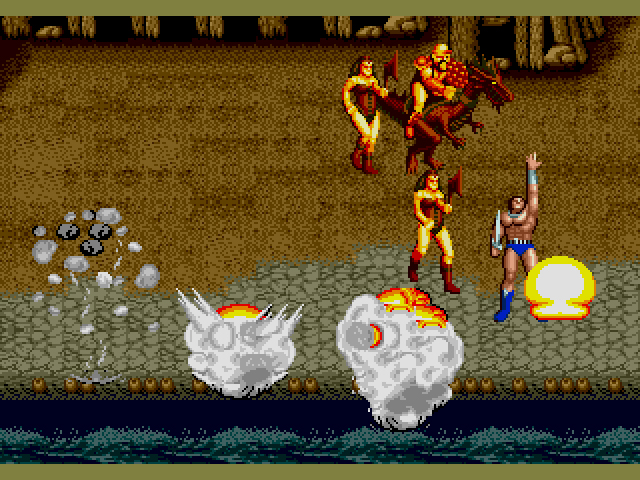 Getting an enemy into a pattern is easy, but even the weaker enemies take a bunch of hits to kill and if you stray too far from them, they'll run towards you. Enemies usually bring a partner, and they're more than willing to double-team you, so watch your back. Surviving in Golden Axe is as much about maneuvering around enemies and lining them up, as it is attacking them.
The majority of games in the beat-em-up genre take place in urban cities, so kudos to Golden Axe for straying into the fantastical. Still, compared to Revenge of Shinobi's cyberpunk/neo-Japan and Mystic Defender's nightmarish environs, Golden Axe's imagery is downright conservative and boring. The creature designs are rote – knights, skeletons, mace slingers, all repeated ad nauseam – as are the level layouts, most of which are walkways with no interesting foreground or background elements. Even the levels that supposedly take place on a turtle and an eagle, are little more than straightforward paths with eagle and turtle heads attached. Along with the aforementioned kickable elves, the rideable dinosaur/bird creatures named Bizarrians are the most memorable element in the game. While it's easy to get knocked off of them, their strong tail/fire attacks will lay waste to all who oppose you.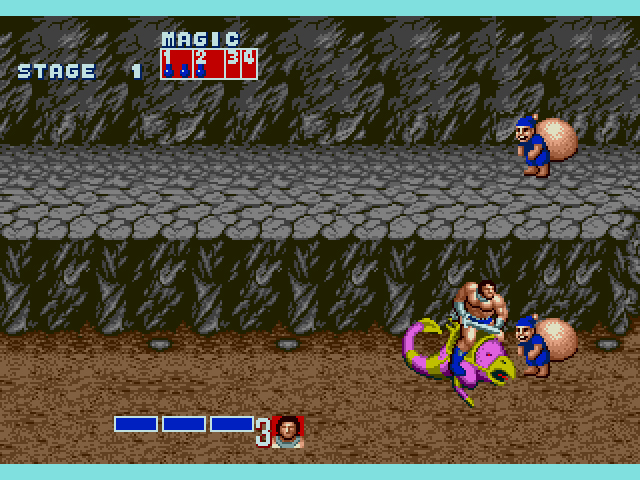 Naturally, the Genesis port of Golden Axe suffered some changes from the arcade version. The ridiculous and amazing ending where the main characters escape from the arcade and wreak havoc in the real world, has been replaced with a 'Thanks for beating Death Adder!' note and a cast lineup. The majority of the levels are shortened, but Sega added another level and a final final boss battle with Death Adder's father, Death Bringer that's just bonkers hard. There's also a new mode called "The Duel," where either two players face off against each other or one player takes on twelve rounds of increasingly challenging enemies. It's a nice gesture to extend the game's replay value, but unless you want to see a shortened version of the end credits, don't even bother.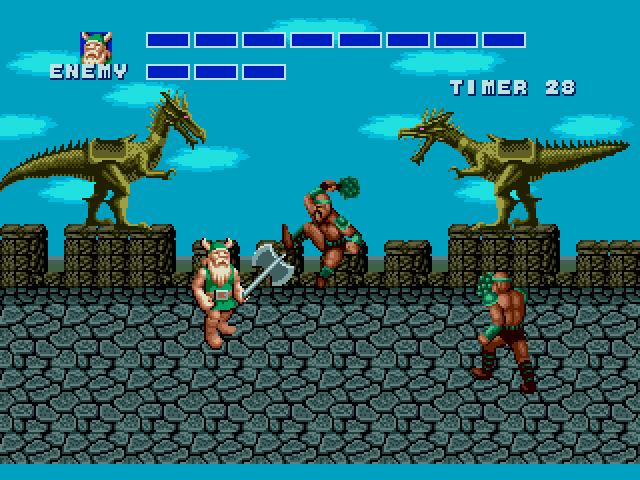 When Golden Axe released on the Genesis at the tail end of '89, it was as faithful of an arcade conversion as you were likely to see and solidified Sega's argument that the Genesis produced "arcade perfect" ports. This made it a crucial game in that bygone era, and Sega's constant repackaging of the game implies as much. Today, however, in an age where arcades barely exist and beat-em-ups as a genre are all but dead, Golden Axe is a reminder that nostalgia doesn't always work the way we'd like it to.
C+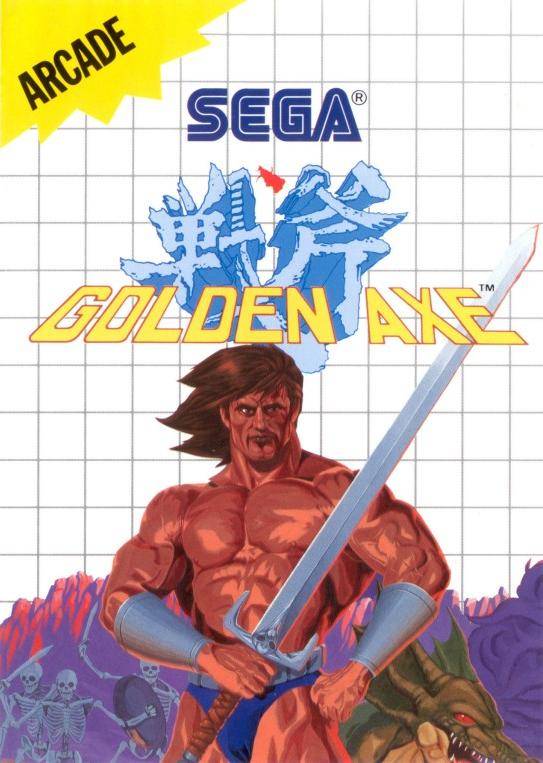 PLAYERS: 1
PUBLISHER/DEVELOPER: Sega
GENRE: Beat-em-up
RELEASE DATE: 1989 – (US, EU)
I'm sure it doesn't help that I'm less than enthused by both Golden Axe and beat-em-ups, in general, but I'm sorry, friends. Golden Axe for the Master System might be a technical achievement, but it is right and proper crap. The drab, colorless graphics are worse than most NES games, and the choppiness and slowdown hurt my focus; Sega incorrectly reasoned that the game would be stable with more than two enemies at a time. God help you if you're trying to throw an enemy. I thought the game froze during a couple battles, before I realized that my character was just trying to pick up a skeleton.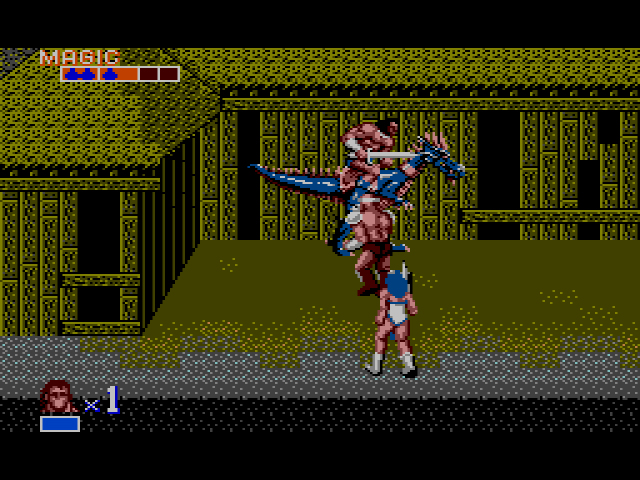 And for those who think I'm being unfair, listen, I don't care that MS Golden Axe only has five levels compared to the Genesis version's eight. As far as I'm concerned, Sega did me a favor with that choice. And I don't care that you only get to play as Ax Battler, my least favorite character. Sega increased his speed and made him control like less of a girthy barbarian. Finally, I don't care that the Master System port doesn't look and play just like the Genesis version. That would be silly, what with the 8-bit difference and all. But when a game revels in poop colors, runs at a few frames per second, and literally makes me feel queasy when I play it, I draw the line. Golden Axe for the Master System is an abomination unto my senses, and I'm completely fine with being the only one who thinks so.
F