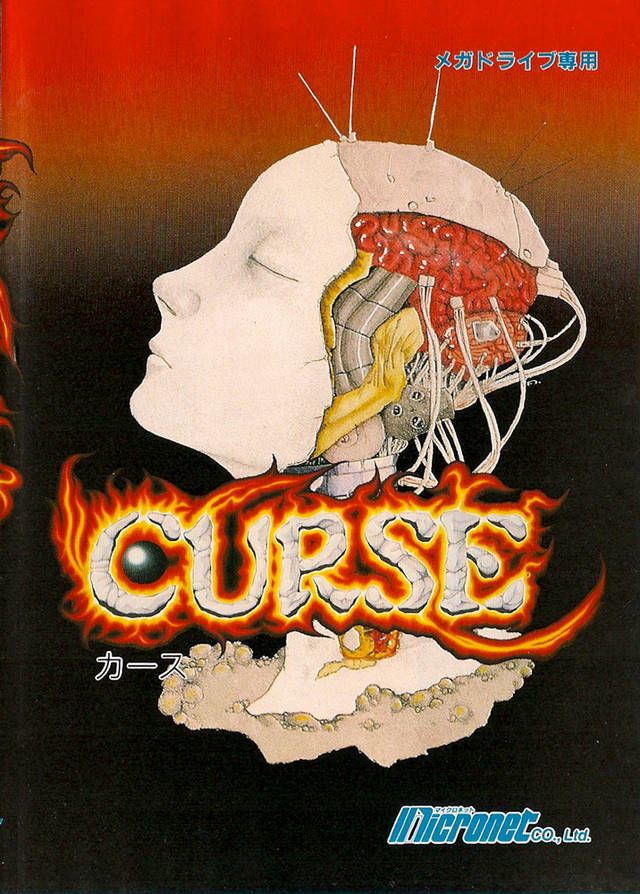 PLAYERS: 1
PUBLISHER/DEVELOPER: Micronet
GENRE: Shoot-em-up
RELEASE DATE: 12/23/89 – (JP)
1989 was a landmark year for the Mega Drive. Just look at these games: Phantasy Star II, Ghouls 'N Ghosts, Arnold Palmer Tournament Golf, Super Hang-On, Forgotten Worlds, Revenge of Shinobi, Mystic Defender, Golden Axe, Sword of Vermilion, Herzog Zwei. I don't think the Master System ever had a year this good; not even '87 or '88, which were arguably the system's golden years. Not all of the aforementioned games remain classics today, but their presence within the Mega Drive's first year shows Sega's ambition to be the G.O.A.T. or at least until they could top Nintendo.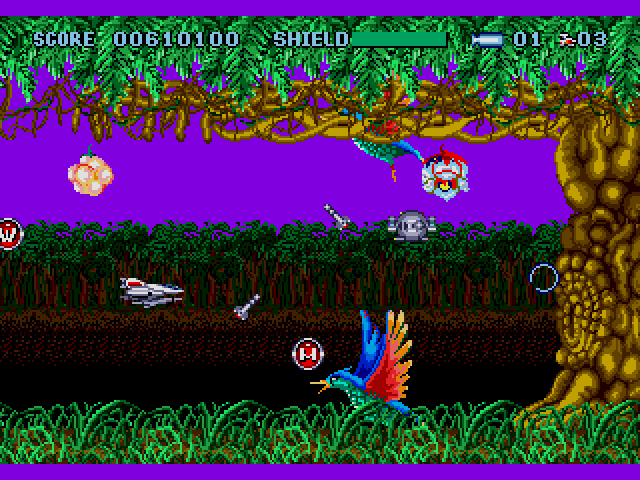 While there's nothing particularly offensive about Curse, the shoot-em-up was clearly positioned as the dregs of Sega's banner year. Both it and Golden Axe were released two days before Christmas in Japan. "Gee, Shinya-kun, which game do you want for Christmas? The Golden Axe port that looks just like the arcade or some random shoot-em-up?" Curse was also universally panned upon release, with an average of 47 out of 100 based on 8 reviews collected on SegaRetro. And despite an announced Western release by INTV Corporation, the game never materialized outside of Japan.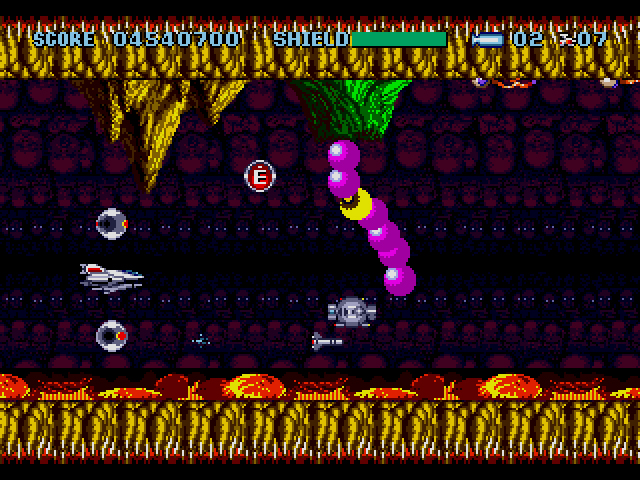 While Curse may have actually been cursed, in timing if nothing else, the shooting is more underwhelming than terrible. The game incorporates horizontal parallax scrolling, which drives the framerate down, but is actually a blessing in disguise. Despite the screen being filled by threats at all times, I was rarely overwhelmed by the vast amount of bullets and mecho-organic creatures thirsting for my ship's sweet crude. The visuals won't blast you with their processing, but there are some neat effects – like when you shoot a boss's weak spot and their bodies put on a laser light show every time they're hit.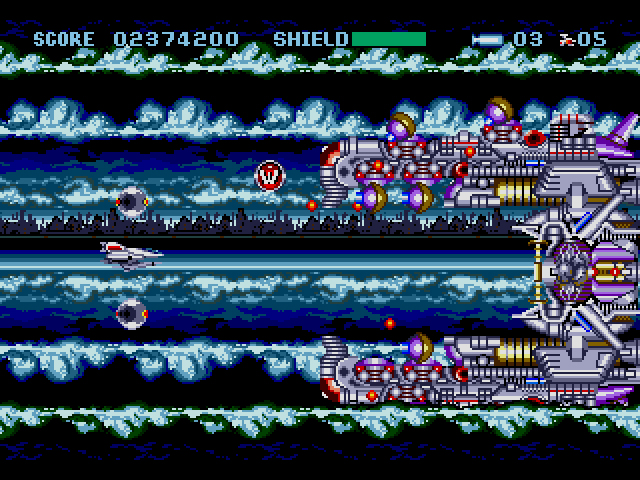 Your standard laser shot is worthless, but the game gives you a fair amount of power-ups to choose from. Two rotating satellites a la R-Type are able to absorb enemy fire and do some firing of their own. Homing missiles are also helpful, particularly for enemies that try to pull a spooky behind you. Bombs help disperse the clutter. Crash Shot sounds like a Mega Man weapon, but actually shoots slow-moving energy clusters. The Wide Shot is strong and wobbles every which way but directly in front of you, while the V-Beam fires aggressively in three separate directions. All weapons can be upgraded three times for maximum damage. Once you die, all power-ups leave you, save for the faithful homing missiles.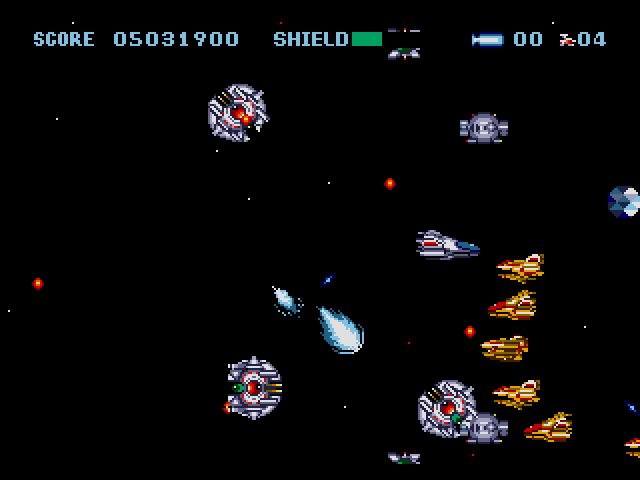 With five relatively short levels, bosses with glaring weak points, and a shield that allows you to take about three hits of damage before you die, Curse is one of the easier shoot-em-ups I've ever played. Stages 4 and 5 are a little rough if your ship isn't fitted to the nines with power-ups, but as long as you've got the goods, even novices shouldn't have a problem getting through the game.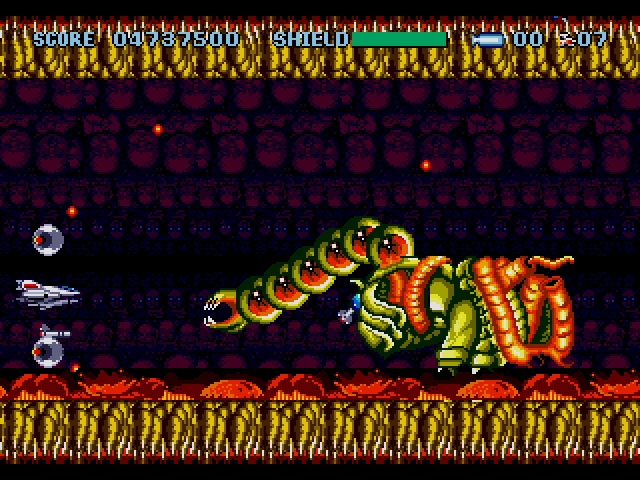 Read the game list from the first paragraph again. Curse can't compete with them. The game isn't bad in the traditional sense, just forgettable. Let's compare to two other 1989 Mega Drive shmups. Truxton was visually unappealing to me, but the game's aggressive action inflamed the masochist within. Thunder Force II's unorthodox overhead flying view both intrigued and annoyed me, but I kept playing until I got stuck in the Caverns. Both games have their flaws, but they also have defining characteristics, personalities, souls. Curse has five levels of average space shooting. While that may have been enough for the Master System, the Mega Drive is clearly capable of – and deserves – a little more effort.
C