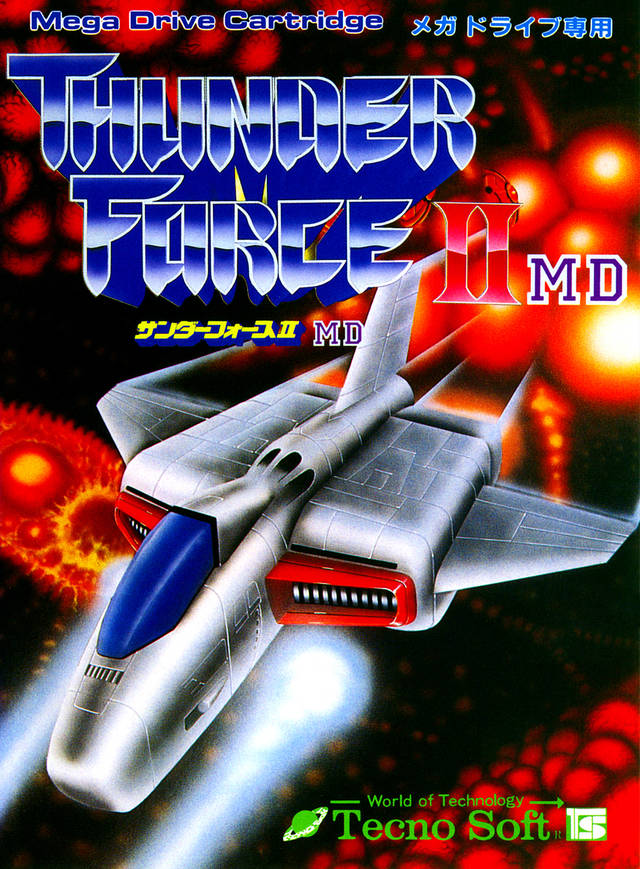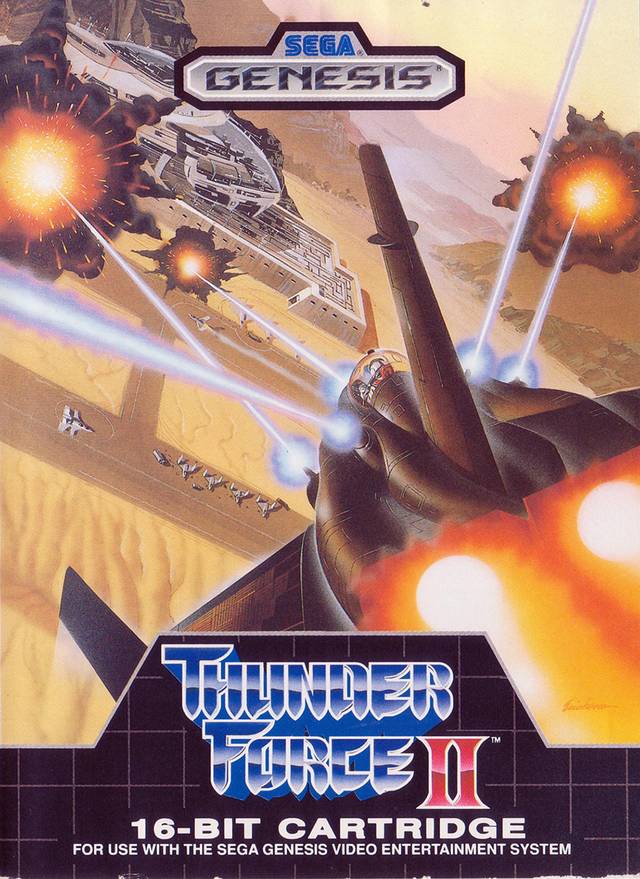 PLAYERS: 1
PUBLISHER: TechnoSoft (Japan) / Sega (World)
DEVELOPER: TechnoSoft
GENRE: Shoot-em-up
RELEASE DATE: 06/15/89 – (JP), 08/14/89 – (US), 09/90 – (EU)
If a shoot-em-up isn't challenging, fans of the genre aren't interested. From space destroyers like R-Type and Life Force to cute curiosities like Parodius and TwinBee, shoot-em-ups are known for ridiculous powerups, screen-filling bosses and unrelenting difficulty. Thunder Force II has all of the aforementioned attributes, but it's also an endurance run. How long can you survive free-scrolling overhead view stages with boundaries and regenerating enemies? And the bosses! Even as you think, "Surely I've fired enough rounds into that massive tank. Surely he'll die soon," he continues to shoot missiles like some unstoppable Abrams. Shoot-em-ups rarely make me give up and call it a game. Thunder Force II beat me into submission.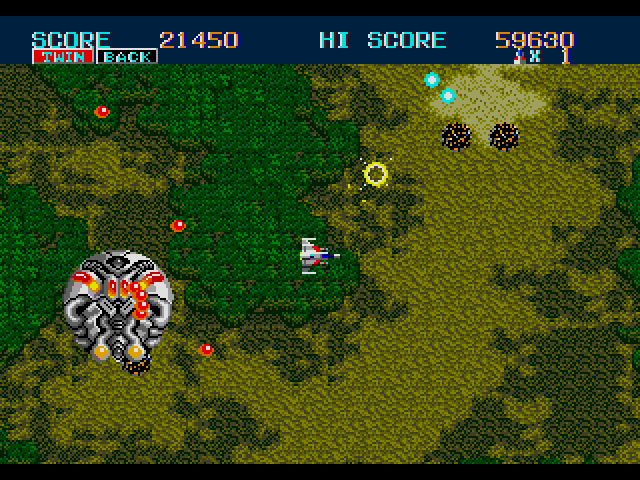 The free-scrolling overhead stages are what distinguish Thunder Force II. Rather than pushing you forward horizontally or vertically like every other shoot-em-up, the game drops you into the middle of an expansive area and lets you roam where you will. Not too far, though. Each area has walls surrounding it and if you crash into them, you die. The walls are in the foreground to distinguish them from the rest of the environment, but they still blend in enough that you'll probably crash into them a few times. The goal here is to find bases – robotic blue orbs with claws surrounding them – and destroy them. There's four per stage, and once you defeat one, one section of the wall will be opened and you can move into another part of the stage.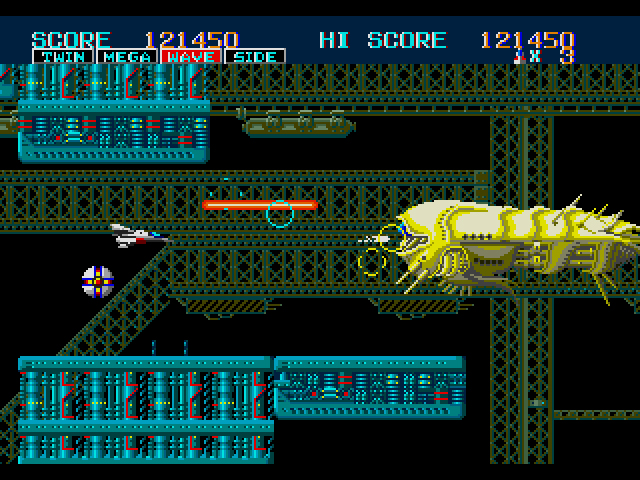 While these overhead stages are distinct, they also filled me with anxiety. Your ship never stops moving, so you're constantly having to navigate around the walls and the creatures that suddenly appear in front of you. The ship isn't the easiest to maneuver, despite having supposed 8-way movement with the controller's D-pad. The sharp turns are disorienting and can easily kill you if you accidentally turn into a stray projectile or a wall.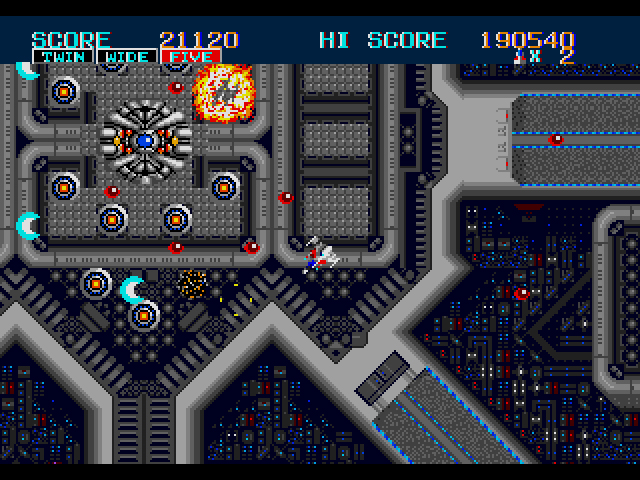 Thankfully, Thunder Force II does not leave you defenseless. In addition to your twin shot which shoots two parallel streams in front of you, you're also given Back Fire which shoots one stream in front and one in the back. The latter seemed worthless to me at first, but you will use it a surprising amount to counterattack enemies behind you; at least until you get better upgrades. There are six total upgrades you can acquire in the overhead stages, all of which vary in strength and range. My personal favorites were the Five Wave, an overwhelming five streams of crescent-shaped waves, and Clash, which generates circular beams that enclose your ship before shooting out. Unlike other shoot-em-ups, once you collect an upgrade, your previous weapons don't disappear. Once you have an upgrade, it stays with you and you can select it anytime until you die.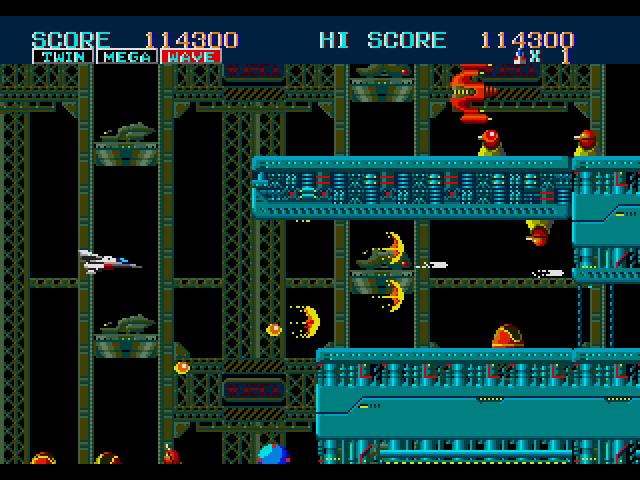 After you complete an overhead stage, you're taken to a traditional side-view, or horizontally scrolling, stage; from this point on, Thunder Force II moves back and forth between the overhead and side-view stages. The side-view stages are more akin to Gradius – closed-in environments with enemies coming from the middle, the ceiling, and the bottom of the stage. They also have their own set of power-ups, from laser beams to three-way-shots to side blasters; my favorite was the Wave Shot, which adds missiles to your normal twin shot. Bosses appear at the end of the stage, as well. I wouldn't call them hard, but you'll need patience as they do take a lot of time to kill. While the side-view stages are still fast-paced and challenging, they are down right relaxing compared to the overhead stages. After the painful freedom provided to you in the latter, being pushed forward in a straight line while robots and missiles flank your ship never felt so comforting.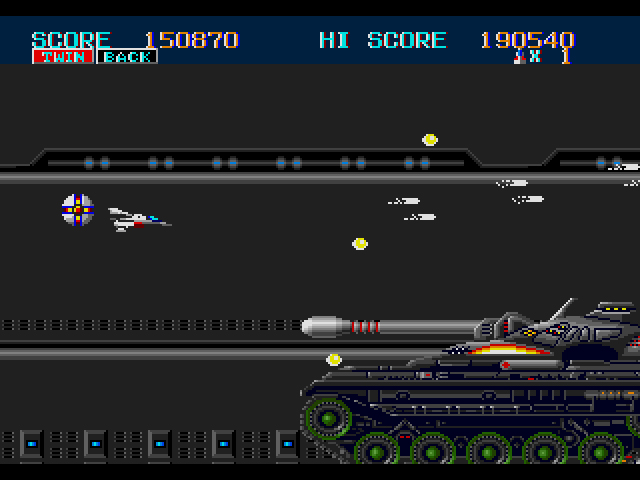 Up until the third top-down stage, Thunder Force II provided me everything I needed to survive its treacherous landscapes. Yes, the game was rock hard, but I never wanted for weapon upgrades. Even in areas where I died several times in a row, the Twin Shot and the Back Fire sustained me until an upgrade capsule floated by. The third top-down stage, however, is a series of claustrophobic caverns that require extreme precision to navigate through. No weapons can save you, only A++ grade steering. Because your ship doesn't stop moving and the stiff D-pad only allows for quick, sharp turns, it's nearly impossible to move without crashing into the cavern walls. After dozens of deaths, I couldn't play anymore. Thunder Force II was no longer an enjoyable war: it was gruesome murder on continuous repeat.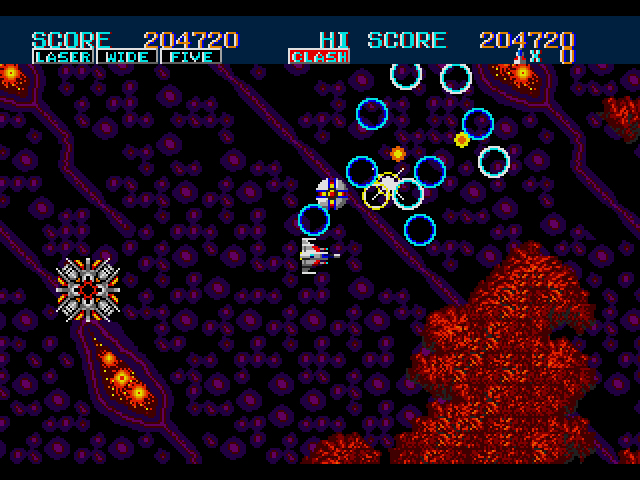 Once the caverns bested me, I questioned whether I even enjoyed Thunder Force II at all. I certainly admire its ambition and the ability to switch between any weapon upgrades you collect, but the continuous movement in the overhead stages and the crushing third stage difficulty really dampened my enjoyment. There's a difference between good pain that forces you to grow and masochism that's detrimental to your psyche. Thunder Force II walks that line.
C+