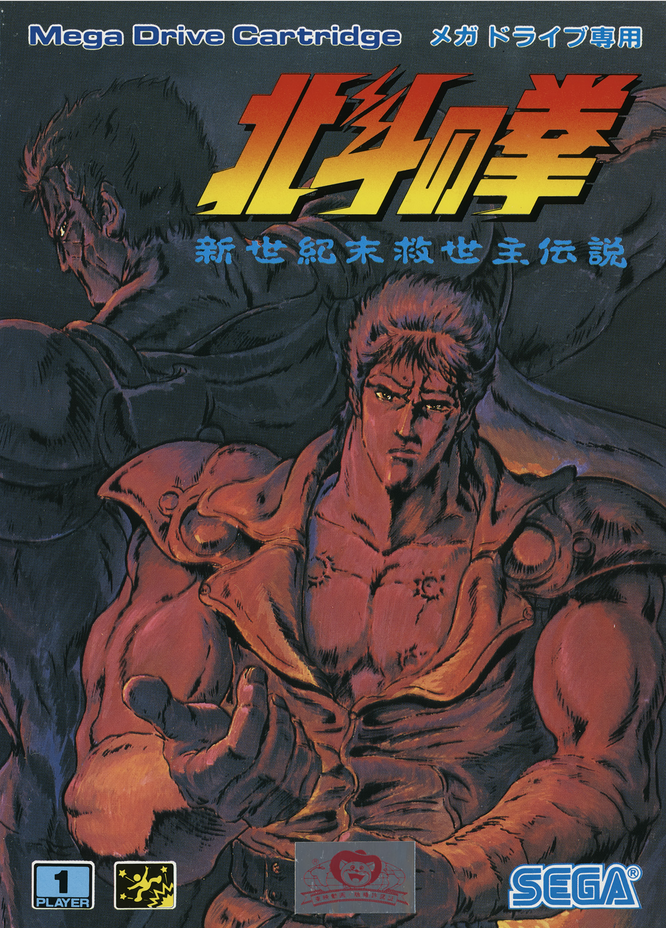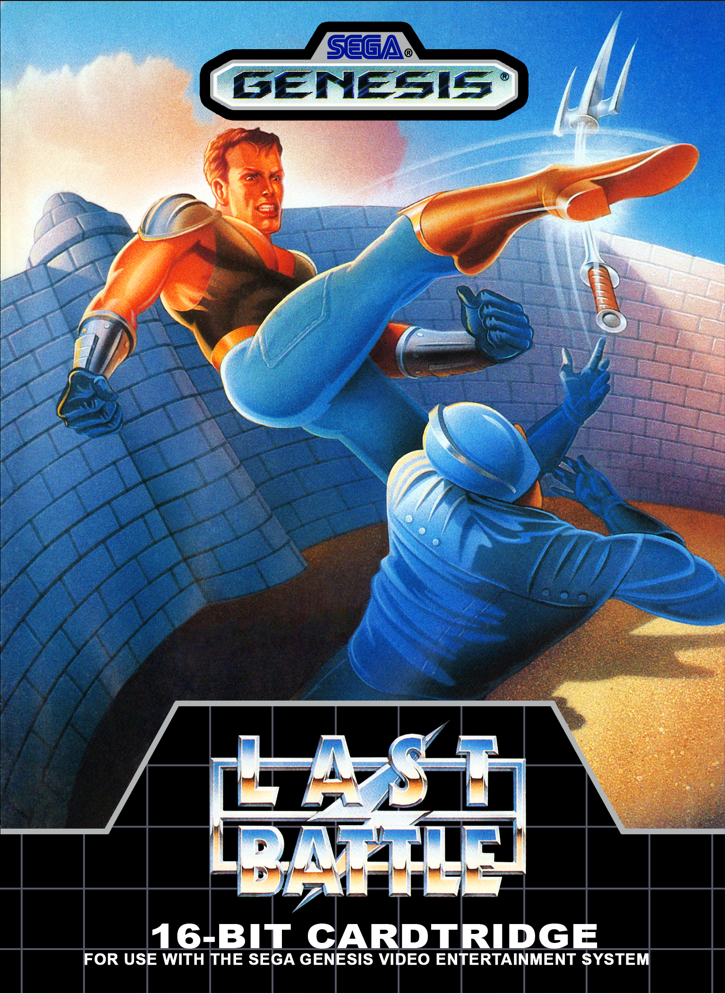 PLAYERS: 1
PUBLISHER/DEVELOPER: Sega
GENRE: Beat-em-up
RELEASE DATE: 07/01/89 – (JP), 1989 – (US), 09/90 – (EU)
Last Battle is the Mega Drive's first beat-em-up not named Altered Beast and it is ridiculous. Bad guys literally fly off the screen once you hit them. The protagonist can kick away any projectiles launched at him, including knives, axes, and missiles. When the protagonist powers up, he rips his shirt off and remains shirtless until the next chapter. His interactions with supporting characters read like mistranslated text from some ancient myth (Aarzak: "What's the matter!" Gene: "I want to become a hero!"). Bosses are destroyed with lightning punches too fast for the eye to process. While the brawling itself plays like 8-bit leftovers, Last Battle is too absurd not to appreciate.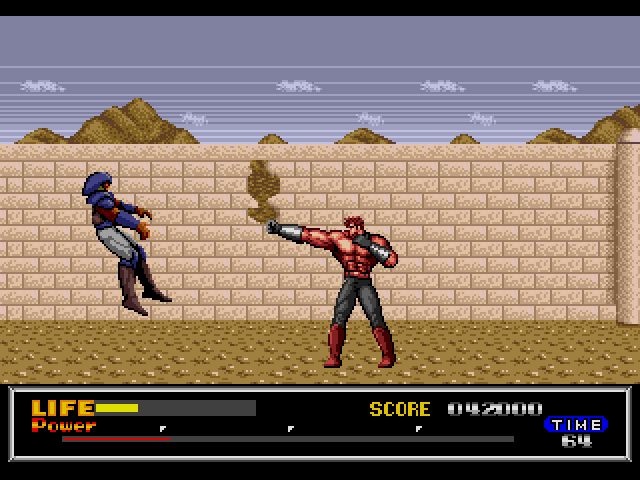 You play Aarzak, a slow moving brute with a god complex. Your mission is to destroy Garokk, one of many creatures threatening your homeland (the massive wall of text shown at the beginning of the game explains the surprisingly convoluted plot, but it's not necessary to enjoy the fisticuffs). To combat Garokk and his minions, Aarzak has a punch, a kick, and a jump kick. The more enemies he defeats, the more Power he acrues via a bar at the bottom of the screen. Once the Power bar fills up to a certain point, Aarzak tears his shirt off. His biceps and glutes are reborn with extra mass, and with additional mass comes!… a slightly stronger punch, kick, and a jump kick. If he really wants to be taken seriously as a god, he'll have to expand his move list.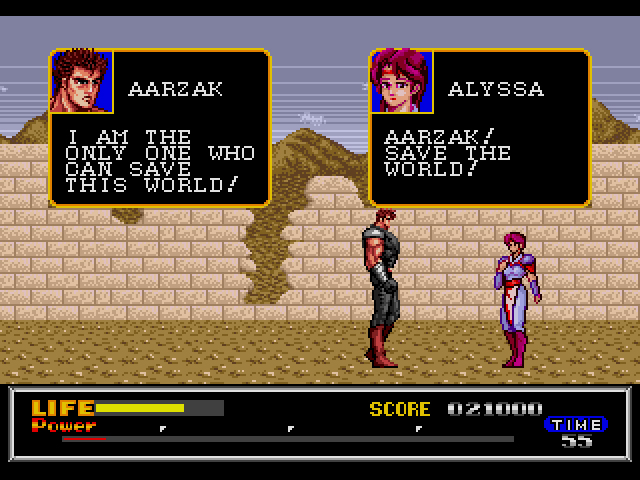 Last Battle contains four chapters, with each chapter having about 8-9 mini-stages. Each chapter has a map that's laid out similarly to the NES classic, Bionic Commando. Once you complete the chapter's first stage, you can proceed in any direction the game allows; stages do not have to be linearly completed. The majority of stages are like vignettes: short bouts where you fight hordes of kamikaze mystery men amidst Middle Eastern landscapes. There are also arena boss battles, some of which need to be fought before you proceed to the next chapter; villages where you talk to people; and labyrinths that contain deadly traps. While you can progress several different directions after you complete a stage, it's best to plot out your potential route at the beginning of the chapter. Otherwise, you risk fighting through the same stages over and over and losing precious health.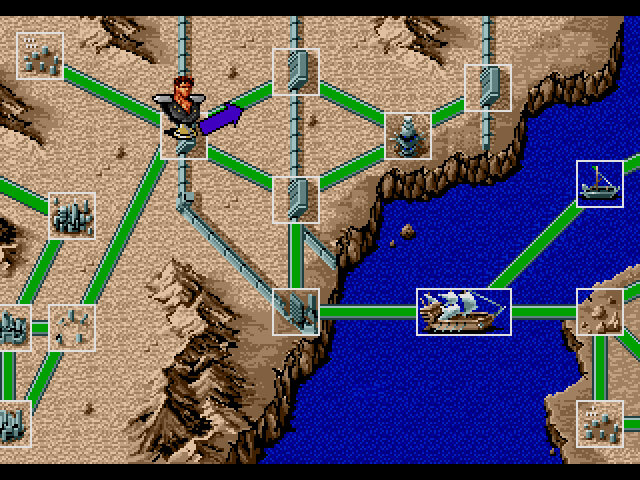 And your health is precious. You have one life, no continues (there's a code to continue from your current chapter, but you can look that up on your own). While your health bar is a decent size, your strength is considerable; enemy hits don't take off that much damage. Each stage has a lot of enemies, though, so don't fight sloppy just 'cause they're weaker than you. As you progress, you'll run into seemingly important characters who will extend your health bar and give you more defense. If you want to get your health bar completely refilled, however, you'll have to trudge through the labyrinths. Yes, they take forever to walk through, thanks to Aarzak's all-the-time-in-the-world gait, but they're also the only place in the game where your health can be restored.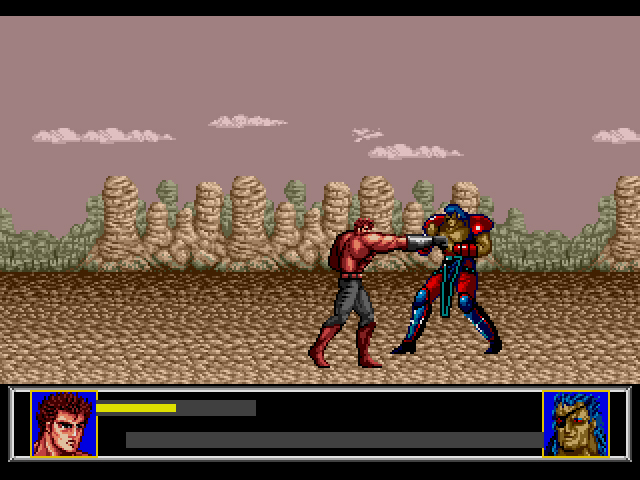 Last Battle is actually a sequel to the Master System's divisive Black Belt, though you wouldn't know it to look at them. Both games were originally Hokuto no Ken ("Fist of the North Star") titles in Japan. While Black Belt received considerable graphical and content changes for its Western release, Last Battle came over mostly intact, save for minor details (palette swaps for bosses) and one significant difference. In Hokuto no Ken, when you hit bad guys, their heads shoot off and blood spurts out their neck; in Last Battle, they go flying backwards when hit. Even though Sega was the first to include blood in their console games, this change doesn't surprise me. Last Battle was released in 1989, games were mostly clean, and Sega had yet to establish themselves in the marketplace as the "mature" gaming company.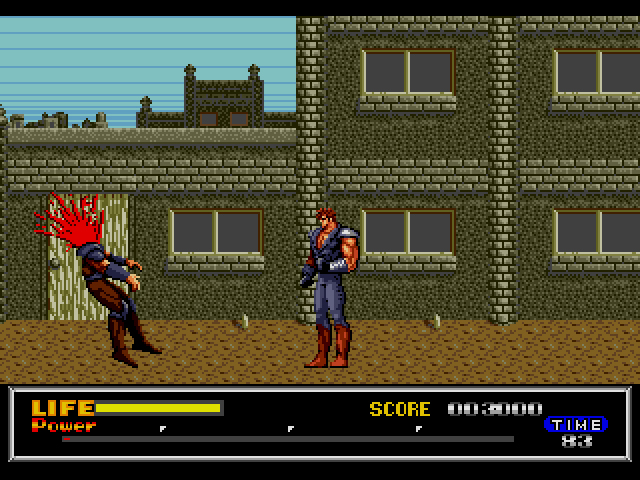 The fighting in Last Battle is clunky, and the spotty hit detection will have you occasionally bounce between enemies like some beefy pinball. Once you learn enemy patterns and accept that Aarzak is now and forever slow, Last Battle blossoms into over-the-top, nonsensical brilliance. There's no denying that the Mega Drive/Genesis would see better brawlers, but few were this outrageous.
B-