Yet another awesome (and deceiving) Japanese cover.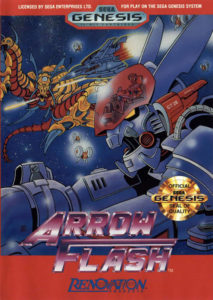 This is more like it. Generic action between a robot and a dragon.
Cindy Crawford: Now in Space!
PLAYERS: 1
PUBLISHER: Sega (JP, EU), Renovation (US)
DEVELOPER: I.T.L./Sega
GENRE: Shoot-em-up
RELEASE DATE: 10/20/90 – (JP), 01/91 – (US), 05/91 – (EU)
Arrow Flash has many faults, but its greatest might be the poor implementation of an otherwise solid concept. You play Zana Keene, a fighter pilot who has to save humankind from an alien threat. Rather than hop into a traditional ship and off she goes, Zana controls a ship that can transform into a mech at will. This sounds like a Ticket to Adventure, but the mech is a slow-moving waste of space, even when equipped with additional Speed power-ups.
I used the mech a bit in the first stage, then never again. Sorry little chub, you just weren't helpful.
Admittedly, a bulky mech would probably be slower than a sleek ship, but its size doesn't account for the shooting lag. Even with the rapid-fire setting turned on, your mech can't fire continuous streams. Your ship can, however. The ship can also move quickly when you need it to, and it takes up less space on screen, so there's less opportunity for a lone projectile to take you out. Not even a contest: the ship wins, every time.
"Yeah, I did that. No big deal…"
So the distinguishing characteristic of Arrow Flash – a mech/ship hybrid – is a bust. At least the power-ups are cool, right? There are three different types of weapons: an enhanced version of your default laser, an arrow-shaped pattern with a wide range, and a wave-form laser that's incredibly slow. There's also the titular special attack, Arrow Flash. When you're a ship, this attack is a large burst of lasers. As a mech, Arrow Flash thrusts you forward, making you invincible for several seconds.
A couple well-timed Arrow Flash attacks will take down any boss.
None of these weapons are that great, honestly, but they expand when you collect options known as Fire Claws. With two Fire Claws equipped on either side of your ship/mech, you can have a three-pronged attack that more or less fills the screen. Grab some Missile Upgrades for extra firepower and an Energy Shield which provides an additional three hits, and you're practically invulnerable.
The Great Worm Forest bows to no ship.
Indeed, if you're fully equipped with power-ups, challenge is not an issue in Arrow Flash. When you're firing like mad with two options by your side, enemies explode as soon as they enter the screen. I played through the entire game on Normal difficulty, and I didn't die once until I fought the second boss. When I started the third level and got myself powered to the nines again, I didn't die anymore until the fifth boss – which happened to be a recreation of the second boss. I consider myself pretty decent at shoot-em-ups, but this is ridiculous. Arrow Flash is just way too easy.
These alien toilets are just weird.
In addition to being easy, Arrow Flash's first five stages are banal in execution and design. The sterile backgrounds range from a standard sunset to psychedelic lines to the vastness of space, with little change. Enemies charge in, are easily executed, and the cycle continues until the stage is over. The occasional meteor shower breaks up the monotonous enemy parades, and in the first part of the fourth level, you drop down vertically rather than coast horizontally. Otherwise, this is some flat, flavorless shooting.
And they're not even good psychedelic effects.
Arrow Flash's last stage is the most challenging and the best. It's part warship onslaught, with large flying ships filling the screen and bombarding you with attacks, and part cavern infiltration, with you narrowly squeezing through tight corridors while mini dragons attack you from each corner. It's scary and exciting and not at all like the rest of the game.
Cue Super Mario Bros. 3 warship music
If the transforming ship/mech concept sounds familiar, that's because it goes all the way back to the SG-1000 with Orguss. I suppose Orguss was pretty revolutionary for its day, but like Arrow Flash, the mech was much slower and larger than the ship. Throw in a short time limit, and the mech became a liability. The idea was again revived for the early Master System game, TransBot. The latter wisely removed the time limit, but you could only transform into a mech when you acquired a certain power-up. Also, the game only had two stages, which severely limited any replayability.
It's not your fault you were paired with a worthless contraption, Zana.
When compared to its ancient forebears, Arrow Flash is a masterful achievement. It's a full-length game, for one thing. Six stages! No time limit! Mech whenever you want! When compared to its contemporaries – games like Hellfire and Thunder Force III – Arrow Flash is just boring. The Genesis has so many damn shoot-em-ups, and you need a great hook to compete with the best of them. A ship/mech combo could have been it, but the mech isn't even worth using. Add in easy difficulty and a lack of substance, and Arrow Flash is a surprising contender for worst Genesis shoot-em-up.
D-