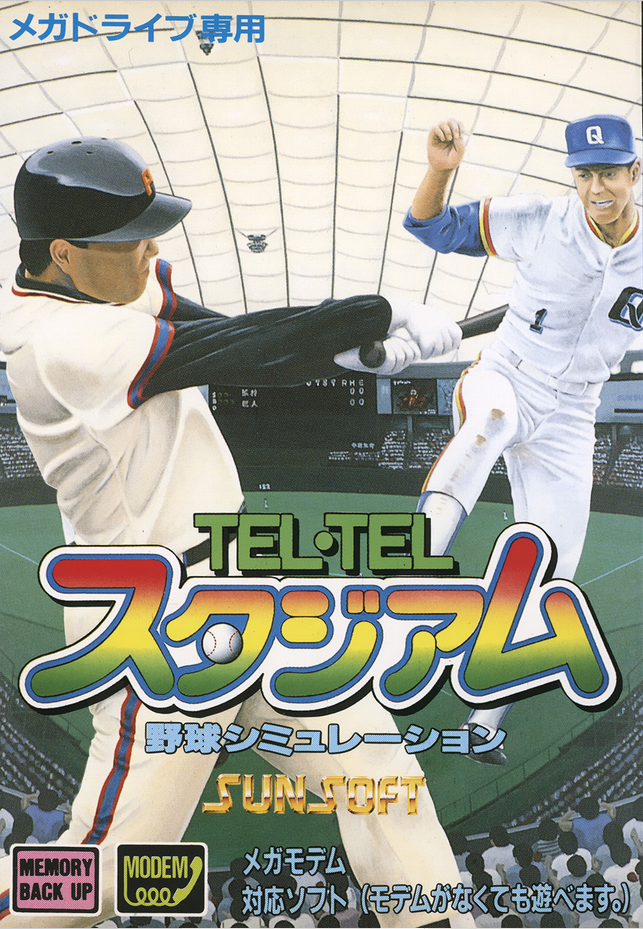 PLAYERS: 1-2 simultaneous (online, even)
PUBLISHER/DEVELOPER: Sunsoft
GENRE: Sports
RELEASE DATE: 10/21/90 – (JP)
American console gaming wouldn't go online in any significant fashion until the Dreamcast in late 1999, so the fact that Sega released a modem for the Mega Drive in 1990 is amazing. That it failed to take off, even in a more technologically advanced country like Japan, speaks volumes for how ahead of their time Sega was. Sega's online game library notwithstanding, only six games sold at Japanese retail – including Tel-Tel Stadium – featured modem support.
To play Tel-Tel Stadium as Sunsoft and Sega intended back in 1990, you would need to live in Japan; probably in a city to get a decent connection, though that's just a speculation. You would also need to own a Mega Drive and a Sega Mega Modem (approx. 30,000 yen for both), subscribe to the Sega Meganet service (4800 yen for 6 months), have a copy of Tel-Tel (6,500 yen), and have a friend with the Sega Meganet service and a Mega Drive/Mega Modem/copy of the game (priceless). If you were able to secure all the aforementioned items, then you would hook it up, cross your fingers and hope the maximum 2400bps connection wouldn't cut out after you popped a home run with your beloved Excites.
Tel-Tel Stadium is one of the stranger baseball games I've ever played. Once you make your way to the game, you pitch and bat, not by button inputs, but through a series of menus. For example: let's say you want your pitcher to throw a strike. You choose 'Strike' from the first menu, which leads to another menu that gives you more pitching options. Choosing 'Straight' leads to the options 'Inside' or 'Outside.' After you pick one of these, you can throw the ball.
Even after all that rigamarole, you're not guaranteed to strike a guy just because you chose 'Strike' from the menu. In fact, every time I chose 'Strike,' the resulting pitch was actually a ball. I have no idea why.
I had a much more successful time with batting. After wading through several option menus, I would often land a hit. Even if one of the opposing team's outfielders caught it for an easy out, who cares, at least I accomplished something.
Speaking of outfielders: you can't control them. They will move and catch and flub of their own accord. You'd think this would be infuriating, but I didn't mind it. Most early baseball games were often plagued with slowdown and awkward camera angles in the outfield anyway. With Tel-Tel, you watch cute sprites chase the ball, and all is well. You can, however, control the outfield camera to keep track of the action, which is a neat, if inessential touch.
If you don't jump into the batting and pitching menus as quickly as possible, Tel-Tel Stadium will play itself. Like, "Well, you had your chance. Now let us show you how it's done." If you allow this, then the entire game will play out for you automatically. As evidenced by the "Watch" option in many sports games, I know there are some sports gamers who enjoy watching the computer play a game against itself. I'm not one of those people, and I found it odd that Tel-Tel only gives you a brief window of time to jump into the menus.
In addition to not letting you play the game, Tel-Tel seems very keen on stat management and team/player data. I say "seems." My Japanese comprehension only goes so far. Before you start each game, you can assemble your team however you want based on their stats. If the information provided isn't enough for you to make firm managerial decisions, the 'Data' option on the main menu leads to detailed stats for each player on each of the 30 teams. 24 players per team means 720 players' information to peruse. That's a lot! Sure, they're fake players, but that's almost more impressive. Someone at Sunsoft had to make up a bunch of stats, then program them into the game.
Never forget: Tel-Tel Stadium was a baseball game that you could play online in 1990. If you were a baseball fan in Japan and wanted to play against your friend in another prefecture, would you really care about the quality of the baseball? If you didn't mind the cumbersome batting/pitching interface and the connection stayed solid, you would probably just be wowed that you were playing a game against a person that wasn't next to you. If you wanted more control over the game itself, Sega and Sunsoft's forward-thinking antics wouldn't be enough to sell you on this yakyuu curiosity.
1990, IN JAPAN: Holy crap, online baseball!
2017, ON MY COMPUTER: Alright then.