PLAYERS: 1
PUBLISHER/DEVELOPER: Sega
GENRE: Platformer
DIFFICULTY: Adjustable
RELEASE DATE: 11/21/90 – (JP), 12/90 – (US), 03/91 – (EU)
As a kid, I played and enjoyed every Capcom-developed Disney game on the NES, including the awful Mickey Mousecapade and the eternally overrated DuckTales. I loved platformers, even mediocre licensed ones like The Tick or Virtual Bart. I owned a Genesis. For these reasons, I should have played Castle of Illusion as a kid; especially since I clearly remember it at the Blockbuster where I rented games. I didn't. Since I failed to experience one of Sega's seminal platformers when it was new and fresh, I'm forced to approach it from a more modern, jaded perspective. Apologies in advance.
Story time! Mickey's out to save Minnie from the clutches of the evil witch, Mizrabel. To do so, he must venture into the Castle of Illusion and find all seven colorful gems hidden throughout the game's five stages.
Mickey's equipped with a deadly butt bounce and unwavering American optimism. He struts through trouble like he's cock of the walk, which often gets him into trouble. While Mickey has a fearsome, soaring jump, perfect for leaping across large chasms, he's unable to move quickly, ever. He can't even go from a walk to a run; it's strut or nothing. Because of this, cheap hits are prevalent from quick moving enemies and boss battles. Not saying Mickey needs to be Mario or Sonic, but a little extra pep in his step would have been nice.
Mickey starts off each level with three hit points, though his life bar can graciously be increased to five by collecting stars. Each level also has items Mickey can throw, like apples, marbles, and candles. These are perfect for more aggressive in-your face enemies, walls with combustible bricks, and boss battles.
The five levels – Enchanted Forest, Toyland, the Storm, the Library, and the Castle – get more interesting as you move along. The Enchanted Forest and Toyland are unsettling and gorgeous, but the constant bouncing on enemies and jumping from platform to platform quickly grows stale. Once you hit the Storm, the game opens up. The stages are still linear, but various paths appear, some of which lead to secrets, others to dead-ends and additional enemies. The Library is my personal favorite stage, if only for the inspired, bizarre vignettes where you swim around in tea cups, enter open bottles of presumably spoiled milk, and hallucinate that you're in a candy land.
Even with the outstanding presentation, Castle of Illusion feels lacking. It needs more levels, more challenge, more secrets. Something more than what it offers, which is basic platforming. Yes, bouncing on enemies and jumping on platforms are the hallmarks of every platformer, but this isn't "every platformer." This is Castle of Illusion, son. Before Sonic the Hedgehog came along and set Sega's course, the company promoted the crap out of this one. For a game that's hailed as one of the finest platforming examples on the Genesis, and one that released the same year (in America) as the landmark platformer, Super Mario Bros. 3, I was expecting more.
Castle of Illusion is a beautiful game, though. It really does look like a Mickey short film come to life. Many of the stages, like The Enchanted Forest, the Library, and the Castle, seem plucked directly from a 1940s cartoon. Mickey's animation is superb, as well. The movements and expressions of the character are perfectly replicated, though I will say, Mickey's constant smiling in the face of danger is a reminder of how vague and unformed his character really is.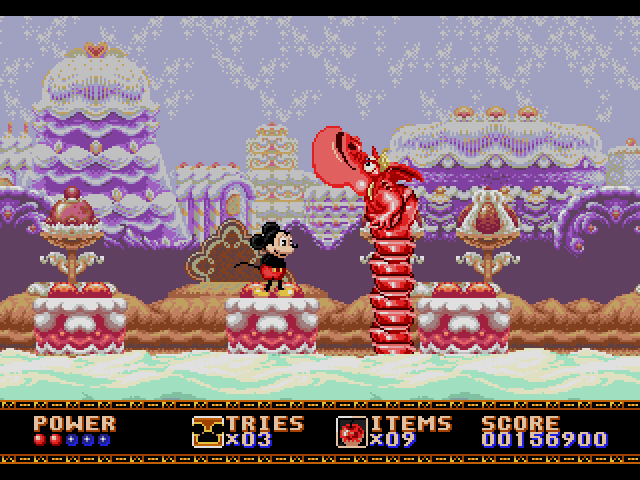 Two concessions I'm willing to make for those who hold Castle of Illusion in high regard:
Concession #1: Upon its release, there were no games like Castle of Illusion on the Genesis. Sega could decry the NES as a child's system all they wanted, but they couldn't deny that the NES remained on fire in 1990. Since the release of the Mega Drive two years prior, Sega had stood by its commitment to make their 16-bit console the place for more mature arcade games. This had to change. Revenge of Shinobi, Strider, Herzog Zwei, A-grade titles all, and not a cheery, kid-friendly one on the bunch. If Sega was going to thrive, they needed to diversify. Castle of Illusion was Sega bridging the gap towards younger gamers, and more specifically, cautious parents with disposable income.
Concession #2: I would have loved Castle of Illusion as a kid. Loved it. I'll never understand why I didn't rent it. The game is as good of a platformer as anything in the NES Disney lineup, but it looks like a cartoon turned into outstanding pixel art. Good on Sega for marketing the crap out of it, and for doubling down on more Disney games in the years to come.
I don't believe Castle of Illusion deserves its sterling reputation, but I understand why gamers place it on a pedestal. Like Donkey Kong Country in the mid-90s, Castle of Illusion's graphics and world must have enveloped the player upon release. The screenshots are fine, but they can't replicate how great the game looks in motion.
As with DKC, Castle of Illusion is a game very much of its time. Nearly three decades on, its imperfections – too easy, too short, lack of content, etc. – seem all the more prominent. Castle of Illusion remains a polished and playable platformer today, but the sense of wonder is gone.
1990: A
Today: B