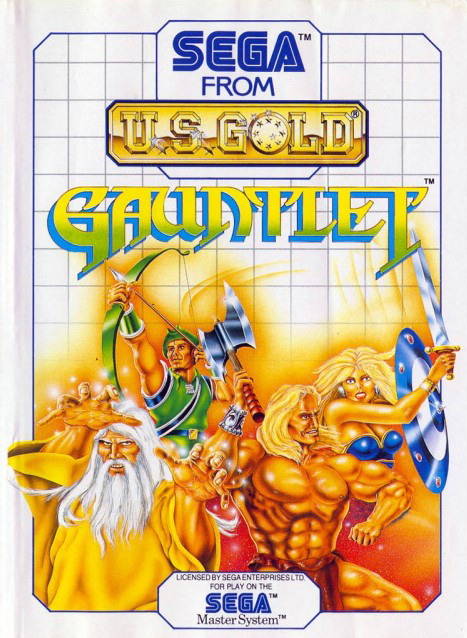 PLAYERS: 1-2 simultaneous
PUBLISHER: U.S. Gold
DEVELOPER: Atari Games (port by Tiertex Design Studios)
GENRE: Arcade action
RELEASE DATE: 11/90 – (EU)
Atari's 1985 four-player arcade classic finally arrives to the Master System!… in late 1990… for Europe and Brazil only. What's the deal with these fashionably late Master System ports (see also: Rainbow Islands in 1993, Ghouls 'N Ghosts in 1991 etc.)? Nintendo licensing drama caused the wait for some of them, I'm sure, but since Gauntlet was only legally licensed for the NES for a short time, it doesn't have that excuse. Surely the Master System could have used an awesome two-player co-op title in 1987 or '88?
At any rate, Gauntlet's the same fantastical hack-and-slash action that you remember from days of yore. Four warriors, mighty and true, bade you select them to treasure hunt and monster bash. Thor the Warrior has strong attacks, but his chubby fingers prevent him from using magic. Thyra the Valkyrie defends herself with gusto, but her attacks leave much to be desired. Merlin the Wizard can cast a mean spell, but he's incapable of hand-to-hand combat. Lastly, Questor the Elf can kill a bear with his bare hands, but his long-range combat skills are worthless.
Each level is a top-down, non-linear dungeon that contains enemies, items, treasure, and food. When you first start the game, your Health begins at 2,000 and steadily decreases as you explore. If an enemy attack hits your person, your health decreases further. This is offset by eating food or drinking cider, both of which should add about 100 health. Items range from potions that increase your attack or defense, to keys that open up walled off areas, to amulets that provide invisibility. Treasure is strictly for points and not always worth getting, particularly if you see it surrounded by swarms of enemies.
Enemies emerge from generators that look like boxes. Until you destroy the generator that's churning out the enemies, they will continue to appear. There's only a handful of enemy types, but they're all bastards in their own way. If Ghosts touch you, they take off a large chunk of life then disappear. Sorcerers flicker on and off the screen so they're harder to hit. Death is impossible to kill, and if he touches you, he'll steal 200 health before he disappears.
Most dungeons either offer exploration, aggressive combat, or a mix of both. Thankfully, you don't have to pick up every piece of treasure or kill every enemy to beat the level. Once you find the Exit, you can leave at any point. After level 8, the dungeons are all randomly generated. There are 125 different dungeon layouts in the game, but if you're good enough, you could potentially play the game forever. There is no ending, and the levels will eventually begin to repeat.
Gauntlet is best enjoyed with at least one other person. The original arcade game was four-player, but since the Master System never had a four-player adapter, only two players can play here at the same time. It's better than nothing. The tireless swarms of enemies are overwhelming if it's just you taking them on, regardless of which character you choose. If it's you and a friend, the onslaught is slightly more tolerable and certainly more fun.
Rest assured, the Master System port of Gauntlet is mad decent. But was it worth releasing in 1990? I'm not sure how many ports of Gauntlet Europe and Brazil received prior to 1990, but here in the States, you could play the game on a myriad of computers or the NES. The Master System version, had it been released here, would have been overkill and probably not sold well. That's not to say Europe and Brazil weren't thankful for Gauntlet's presence. God knows they received more than their fair share of terrible Master System games exclusive to their territories. Perhaps Gauntlet buoyed the spirits of Master System fans and made them believe better games were just around the corner. Stranger things have happened.
B