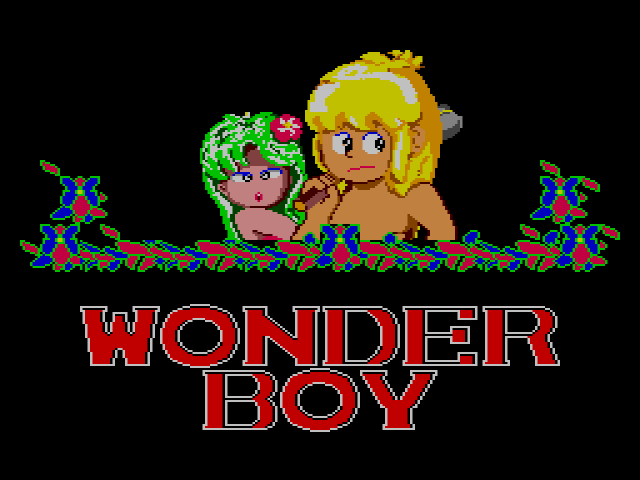 Without knowing the series history, one might view the original Wonder Boy as an innocuous early platformer and nothing more. You play as Tom-Tom the caveman, and your objective is to save your girlfriend, Tanya, from the clutches of the evil cave-dwelling overlord, Drancon. Tom-Tom runs, jumps, throws hatchets, collects fruit to prevent his vitality meter from depleting, and rides skateboards that hatch from eggs. He's the most enduring and energetic caveman in all of gaming this side of Bonk (sorry Joe, and to a lesser extent, Mac), but where he went after this, no one could have predicted.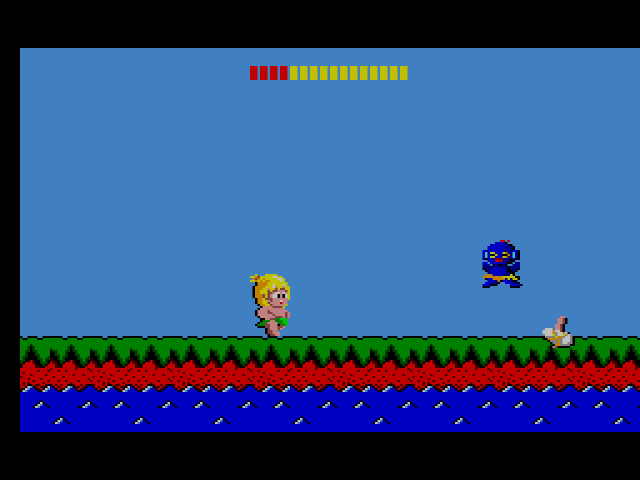 If Tom-Tom sounds suspiciously like Master Higgins from Adventure Island, well, that's because Tom-Tom is Master Higgins from Adventure Island. While the Wonder Boy games were published by Sega, Westone Bit Entertainment (known as Escape during this time) held control over the source code which allowed the game to be published on different systems. Details are murky as to how Hudson Soft obtained the rights to Wonder Boy during this time. Perhaps Westone licensed out the code or perhaps they had a contract with Hudson alongside their Sega alliance. Either way, Adventure Island on the NES was the result of this partnership.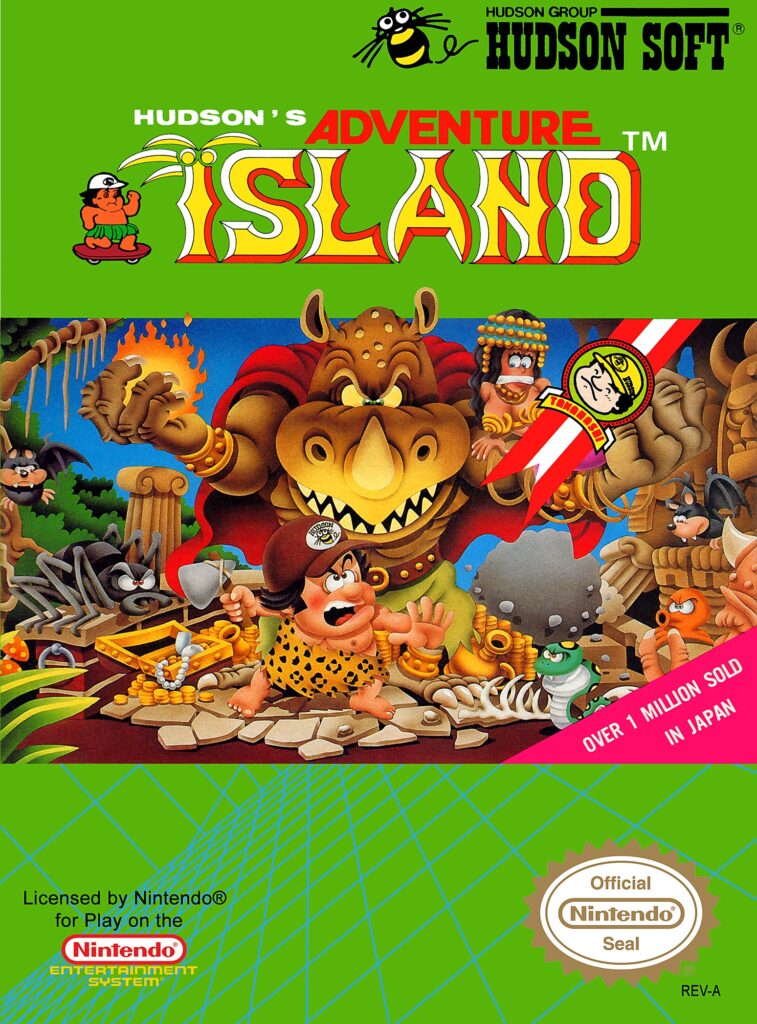 The most obvious change between Adventure Island and Wonder Boy was the substitution of Tom-Tom for Master Higgins. Higgins' ball cap and round visage were adopted from one of Hudson Soft's then-spokespersons, Takahashi Meijin, to give the game some distinction from Wonder Boy. There were other changes between the two games as well, but they were mostly cosmetic and didn't affect gameplay. And as those who grew up with the NES and SNES can attest, Adventure Island would become one of Hudson Soft's most successful series, in large part (in my opinion) to the goofy look of Master Higgins.
Wonder Boy's transformations wouldn't end there. Beginning from the sequel, Wonder Boy in Monster Land, Westone would begin to mess with the series, resulting in platforming and adventure games with light RPG elements. This experimentation yielded several games, including a completely different series called Monster Land that would intersect with the Wonder Boy series whenever Westone felt like it (see Wonder Boy V: Monster World III, which is not a joke). Since this review is covering just the first game and not the entire series, I'll leave the history for now. I just wanted to briefly touch upon the series fascinating, confusing chronology, because it gives a different perspective on the fun, but simplistic first entry. For an overview of the entire sprawling shebang that is the Wonder Boy series, please read the Wonder Boy entry over on Hardcore Gaming 101.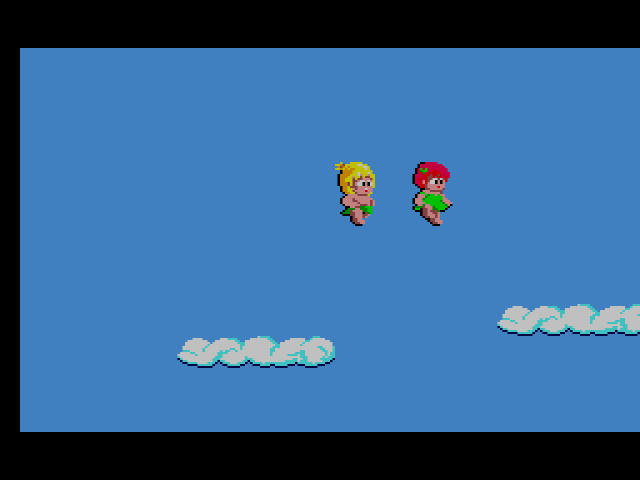 Wonder Boy's hop-and-boppery somewhat resembles Super Mario Bros, but the game has enough to distinguish it from the era's golden prince of platforming. The vitality meter, located at the top of the screen, is perhaps the most unique feature of the game. As you run through a level, the meter dwindles, especially if you trip over a boulder or fire in your path. Vitality can only be recovered by eating copious amounts of fruit, but the game provides enough fruit for a small country to get diabetes, so no worries there.
Wonder Boy can only be hit once unless he's riding a skateboard. Skateboards both propel you through a level and count as a second hit. Eggs scattered throughout the stage are the way to obtain power-ups, like the skateboard. Fairies, which grant temporary invincibility, will also be hidden in eggs, along with the occasional Grim Reaper who lingers behind you and drains your vitality meter, like the ripe bastard he is. Creepy-looking bonus dolls can also be collected in every stage. If you collect them all in the Master System version, an additional world will be unlocked.
Wonder Boy (SG-1000)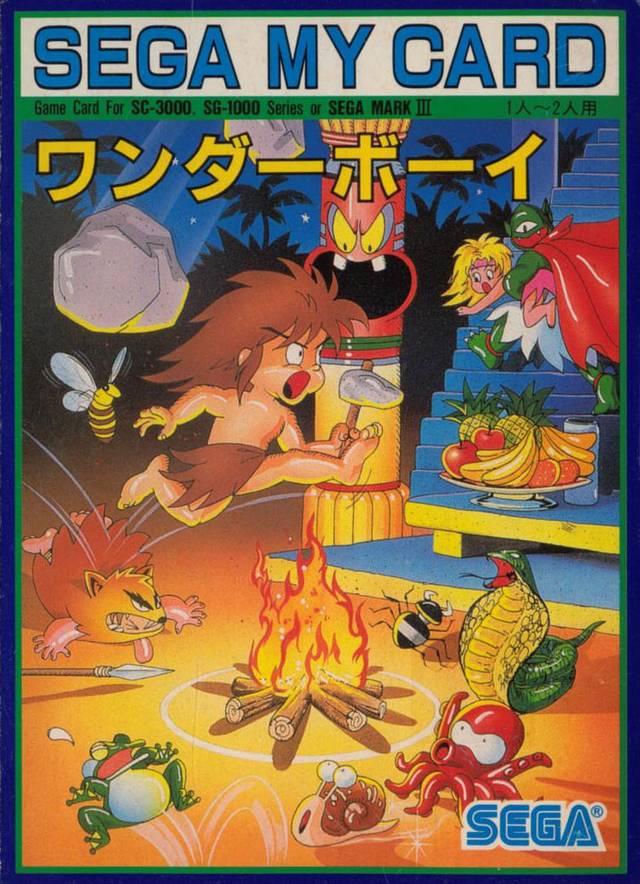 PLAYERS: 1-2 alternating
PUBLISHER: Sega
DEVELOPER: Escape (port by Sega)
GENRE: Platformer
RELEASE DATE: 1986
Unsurprisingly, the first Wonder Boy began its life in the arcades before being ported to both the SG-1000 and the Master System. And while the Master System goes out of its way to be an ace arcade port, including extra levels, different environments, and an entirely new boss, the SG-1000 version feels like Sega placating the remaining fans of the system with a rushed, bewildering port.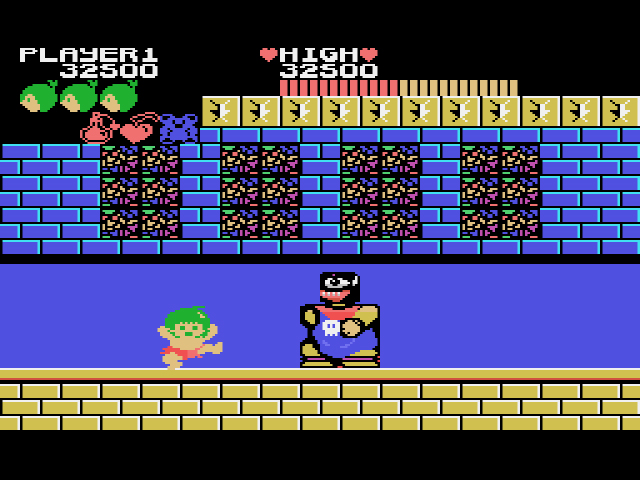 In fact, I would argue that Wonder Boy shouldn't have been ported to the SG-1000 at all. Forget the washed-out graphics or the awkward controls. The system just can't handle a fast-paced scrolling game, where the main actions are running and jumping, often at the same time. Choppy movement indeed rules the day here. The game's playable (in a extreme test of will, I actually beat it), but you'll wonder why you're bothering, especially since the Master System version is so much better.
Enemies literally appear right in front of Tom-Tom as he's running along, fruit is relatively scarce, and hatchets lost as a result of death are rarely seen again. The arcade game's thirty-two stages have been cut down to five, and the skateboard, fairies, and dolls have been extracted altogether. Coupled with the difficulty and the port's minimalist aesthetic, the SG-1000 Wonder Boy is just above LCD-handheld status in terms of playability: not bad enough that you can't see what's happening, not good enough to be considered a full-length experience.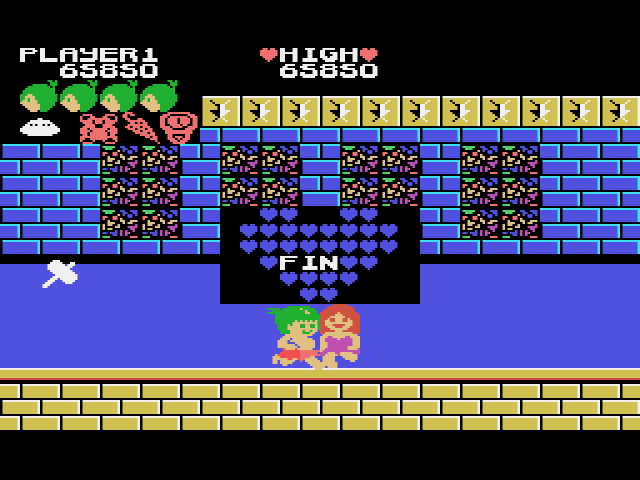 Wonder Boy (Master System)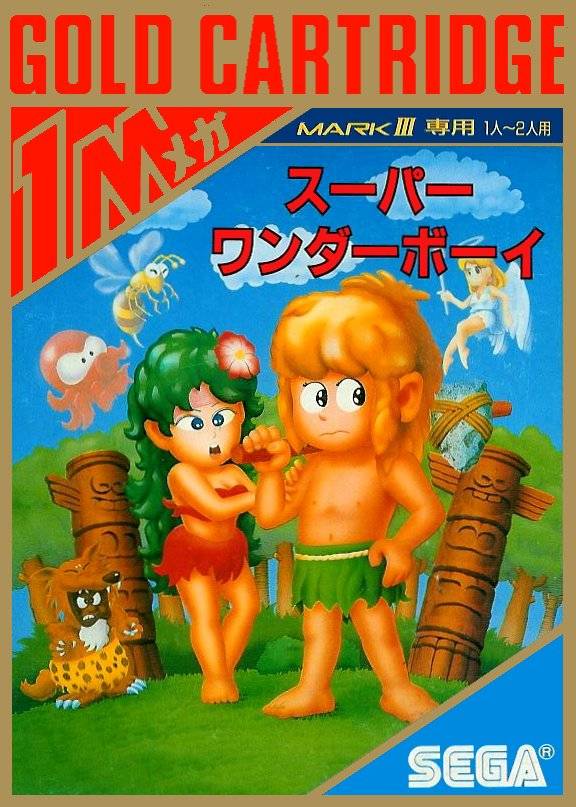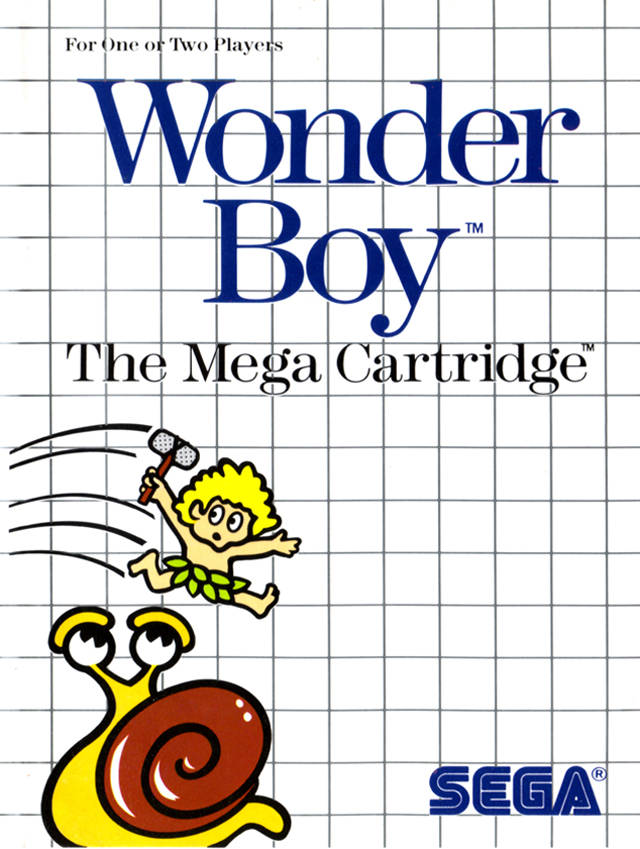 PLAYERS: 1-2 alternating
PUBLISHER/DEVELOPER: Sega
GENRE: Platformer
RELEASE DATE: 03/22/87 – (JP), 06/87 – (US), 1987 – (EU)
Compared to the SG-1000 port, the Wonder Boy on the Master System is a whole new world. Every aspect of the arcade has been restored and then some. Skateboards, fairies, and dolls have returned, along with vibrant graphics that look better than just about anything the NES ever produced. The game has three additional worlds, each with four stages, for a grand total of forty stages. Sega was finally starting to understand the difference between a straightforward, no-frills arcade port, and a console port that gave the player more value for their buck. Both the arcade and the Master System versions have an abundance of jungle, cave, and water levels, but the Master System adds a desert, a waterfall, and cloud-based environments. Unfortunately, the controls remain slippery and sometimes difficult to manage, but they don't detract from Wonder Boy's overwhelming charm.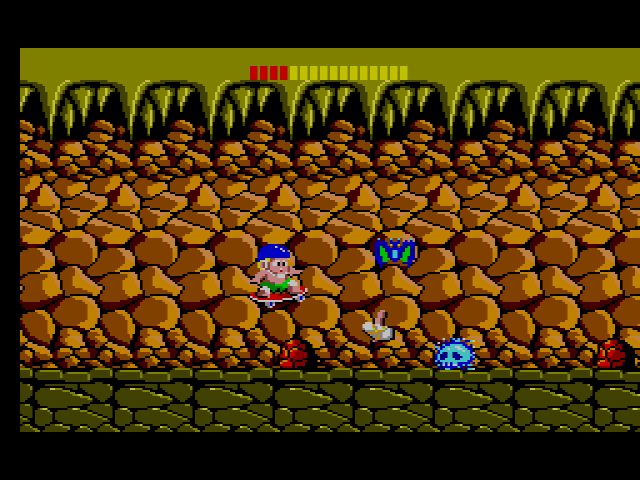 Wonder Boy (Game Gear)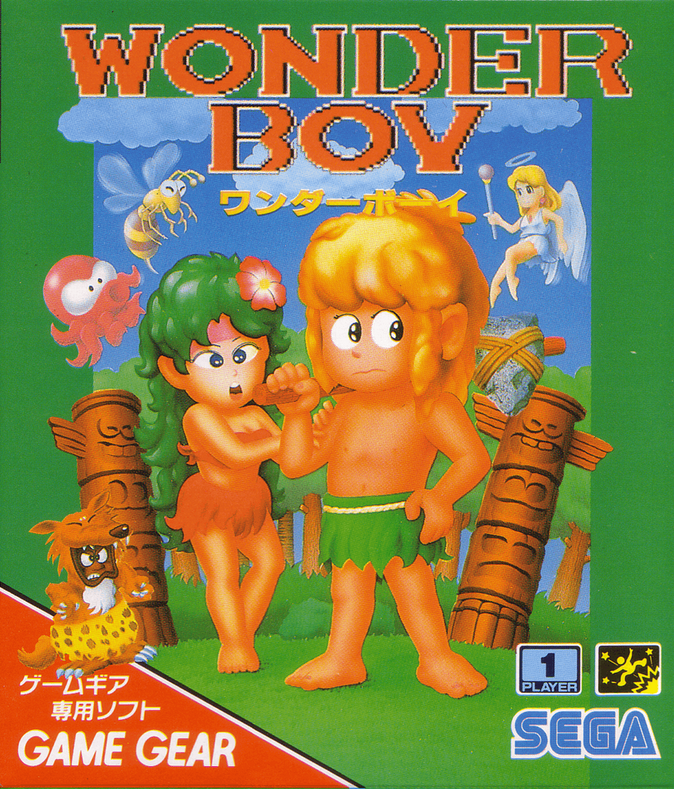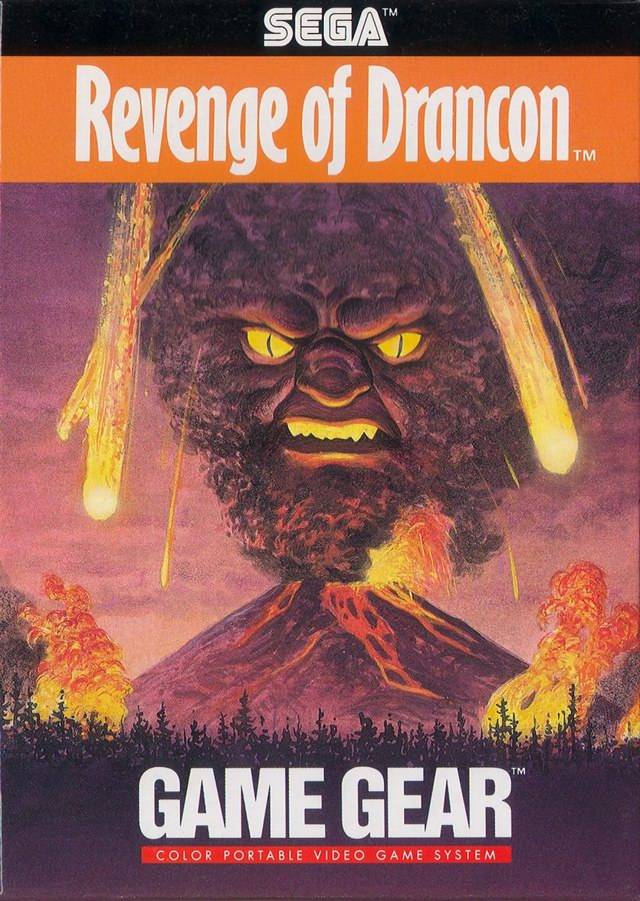 PLAYERS: 1
PUBLISHER: Sega
DEVELOPER: Escape (port by Sega)
GENRE: Platforming
RELEASE DATE: 12/08/90 – (JP), 06/91 – (US), 1991 – (EU)
Wonder Boy also saw a decent Game Gear port in the early 90s, though it was renamed Revenge of Drancon in the States and given an ominous looking cover; presumably to remake Wonder Boy with an early 90s Sega "edge." The game is the same as the Master System version, albeit with slightly fuzzier graphics (dat blurry Game Gear screen), less enemies, and unless I'm crazy, more slowdown; Tom-Tom just doesn't seem to be on his running A game, as he is in the Master System port. All the extra levels and features are here, though. For gamers who like their screens small and their batteries exhausted, you could do worse than Wonder Boy.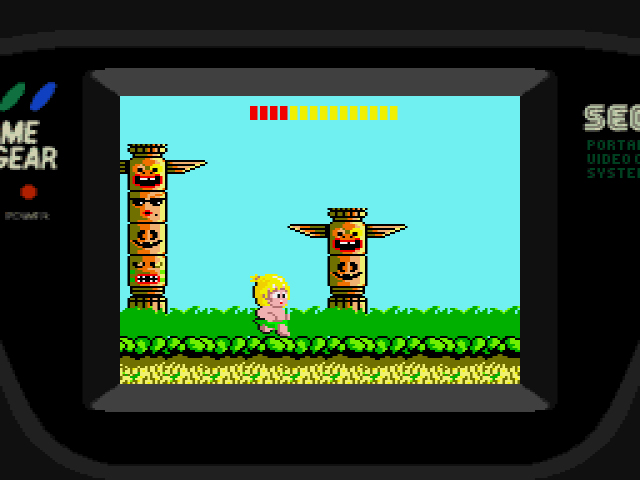 I'm not sure if it's the excitement of playing a Master System game that feels like a Master System game (as opposed to an SG-1000 game with fancier graphics), but Wonder Boy is a joy to experience. The game pays homage to Super Mario Bros, while adding in a prehistoric style and non-stop, light-hearted feel that's all its own. The controls could be tighter and the levels could have a tad more variety, but that's if you're looking for things to complain about. After the games I've played, Wonder Boy is an out-and-out blessing.
SG-1000: C
MASTER SYSTEM: A-
GAME GEAR: B-