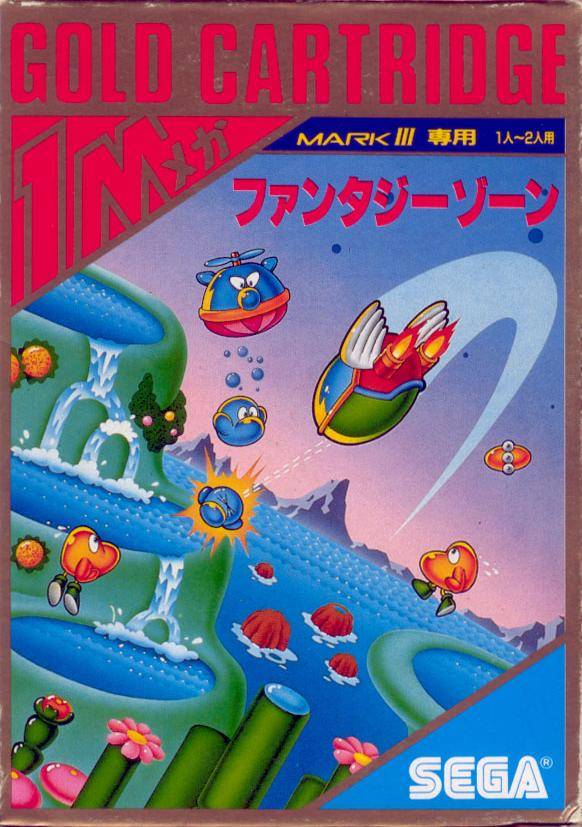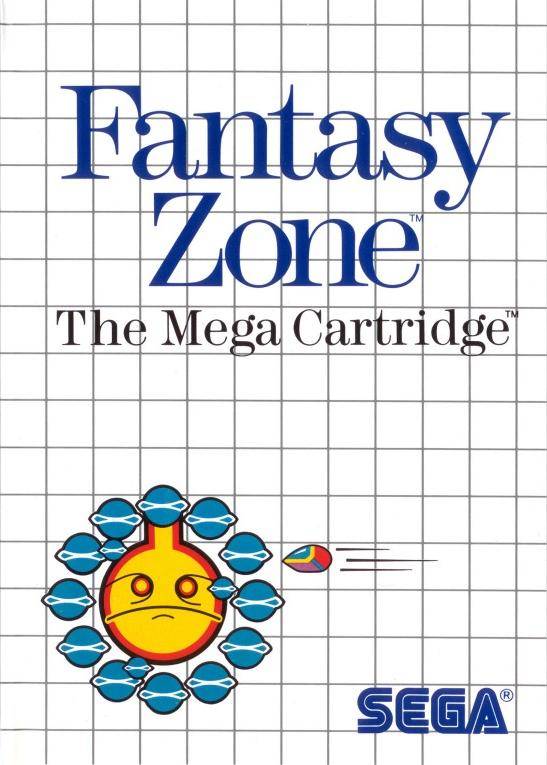 PLAYERS: 1-2 alternating
PUBLISHER/DEVELOPER: Sega
GENRE: Shoot-em-up
RELEASE DATE: 06/15/86 – (JP), 09/86 – (US), 09/1987 – (EU)
If Lisa Frank and Salvador Dali were commissioned to design a shoot-em-up together, the visual result would be something like Fantasy Zone. Awash in carefree colors and intentionally crude, yet well-rounded art, the game is even more visually striking when you place it next to austere outer space shmups of the mid-80s. Coupled with an optimistic musical ditty that accompanies you through every stage, one might believe that Fantasy Zone was made for small children; especially since the game is credited with being one of the first "cute-em-ups."                            
And yet, Fantasy Zone is a lot like "Who Framed Roger Rabbit?" in that, both bear the visual trappings of kid-friendly entertainment, though neither of them were made for children. "Roger Rabbit" has Jessica Rabbit's abundant cleavage, lots of swearing, and Judge freakin' Doom. Fantasy Zone has butt-puckering difficulty that not only distracts from the engaging landscapes, but also undermines the visual optimism the game surrounds you in. Not everything is going to be ok, kids, especially when life appears as though it's all sunshine, lollipops, and video games.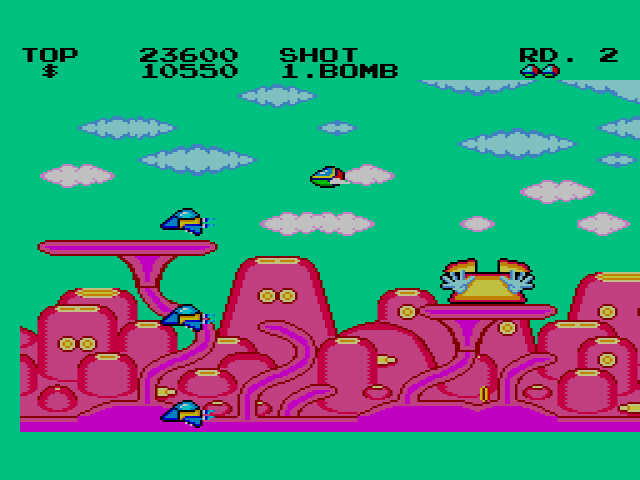 In Fantasy Zone, you control a ship named "Opa-Opa" and your task is to save the eight realms of the Fantasy Zone from evil, not-so-fantastical invaders. Each realm has six stationary bases that spit out enemies. Destroy the bases, then the boss will appear for you to kill. Stay alive through eight rounds of pure pastel aggression – base, boss, repeat – and you'll have restored peace to the Fantasy Zone.
Sounds like another ordinary shump at first, but the freethinking starts immediately: while most horizontal shooters force you to move to the right only, in Fantasy Zone, you're able to move right or left at any time. This horizontal freedom served a purpose in the original arcade version, but not so much in the Master System port. While the stage design remains the same between both versions, the arcade stages are vaster and spacious, while the Master System's stages are more cramped and contained. Given the arcade's wide-open feel, the ability to move in either direction seems natural. In the Master System version, it's easier to just keep moving to the right.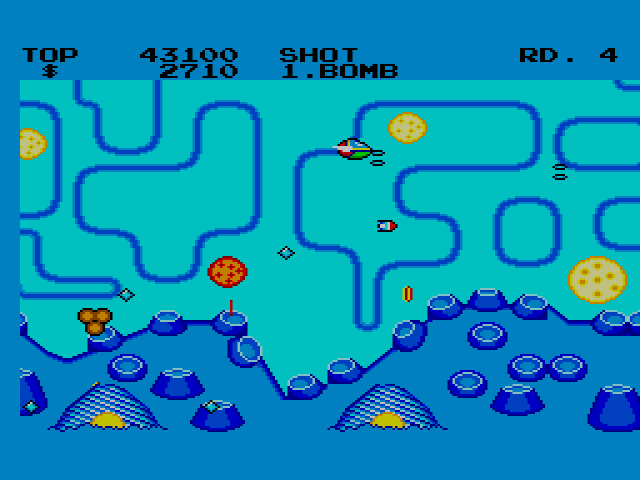 Your ship has two initial attacks, a straightforward exodus of bullets called Twin Shot and bombs that drop slowly from your underside. Enemies and bases both drop coins after they're destroyed that can be used to upgrade your weapons, bombs, and ship engine in shops. Shops are only accessed by a Shop balloon that appears on the screen at the beginning of the stage, or after you've lost a life. Bases will go down much quicker with an upgraded weapon, while bosses can usually be taken out by dropping a Heavy Bomb or two onto their weak points. Without taking advantage of the shops, you'll have to rely on your standard weapons; those will barely last you past the second stage. But the Shops must be used wisely. Purchase the wrong upgrades and you'll waste your precious coins.
Once you enter the shop, all the weapon, bomb, and engine upgrades are available to purchase at once, but you won't have the coin to afford them all yet. The engine upgrades are really just more speed for Opa, and they range from Big Wings (the smallest speed upgrade) to Rocket Engine (the greatest speed). Eventually, you'll want to purchase all four engines. Not because you'll need them all, but by purchasing them all, whatever weapon upgrade you make your primary weapon will now receive infinite ammo.
Outside of your standard Twin Shot which has unlimited ammo, any weapon upgrade purchased has a limited life (one of Fantasy Zone's many quirks that I never grew to appreciate). The weapon upgrades range from Laser Beams to Wide Beams to 7-Way Shots, and bomb upgrades inclue Twin Bombs, Heavy Bombs, Fire Bombs, and Smart Bombs, respectively. Obviously, Sega wants you to experiment with all of these options, to find the best combination for you. I'm here to tell you experimentation sucks. If you equip the Big Wings, purchase all four engines, then equip the 7-Way Shot and buy a plethora of Heavy Bombs, you'll be set for the game.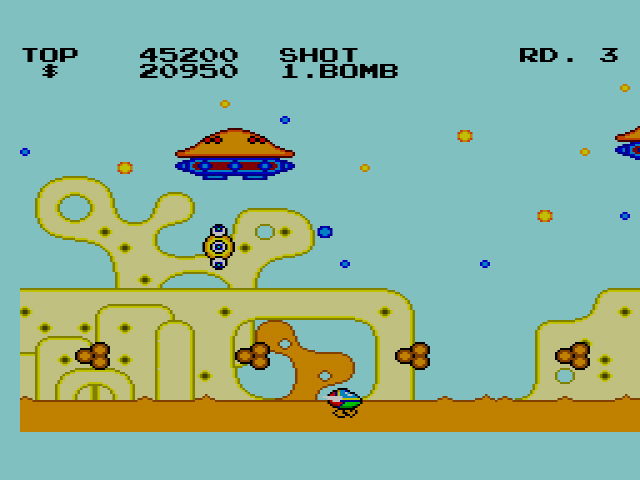 Unless, of course, you die. Then everything you had equipped disappears and you have to buy it all over again. Is this frustrating? Boy howdy. Especially when you just decked out Opa with the fattest gear in the game. And the more upgrades you buy, the higher the purchase price for the next time you buy them. Thankfully, bosses, once defeated, give a generous amount of coins; even if you're low on funds at the end of a stage, a boss will usually give you enough to start the next stage right. Still, given how easy it is to die in this game, it doesn't seem fair that every stinkin' upgrade disappears after every death.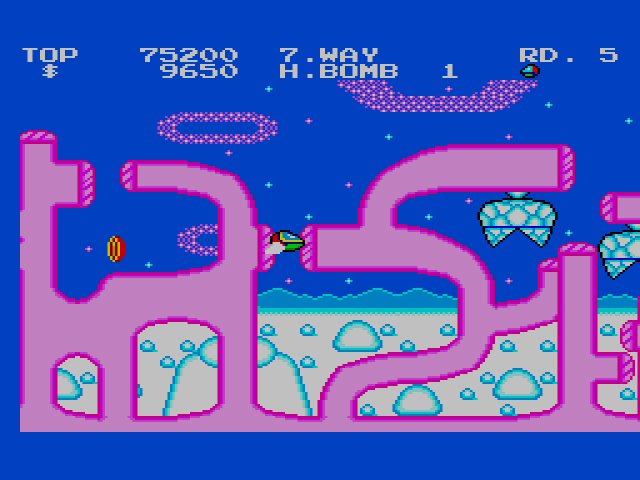 It's easy to die in Fantasy Zone. The enemies are bizarre colorful mutations, furthering the child-like acid trip facade, and they often blend into the equally colorful backgrounds, making for cheap deaths as sure as you're born. Some of their movement patterns are relentless too, particularly the creatures that hover around you until you kill them. Once again, if you have the right weapons equipped, these enemies are rarely an issue – until you die and you have to start from scratch. And you have the standard three lives, no continues, the anarchic non-option that American and Japanese arcade games reveled in in the 80s. There are also floaty controls, which I attribute to the ability to move in either horizontal direction, but which nevertheless, will sometimes get you into trouble.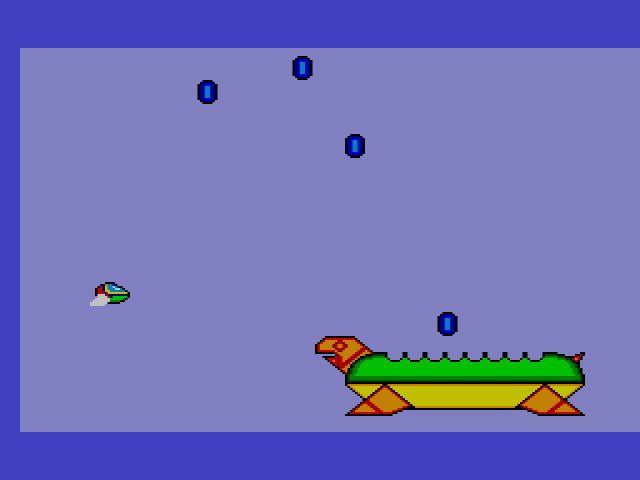 I don't know whether to praise Fantasy Zone for its playful surrealism, or to besmirch it for ruining otherwise decent ideas with questionable execution. On one hand, the otherworldly nature of the game feels very much ahead of its time, while the option to shop for upgrades is both groundbreaking and more preferable to finding the upgrades in the levels themselves.
It's very obvious that Sega was trying to make a singular entry into the (at the time) limited shoot-em-up genre, and for the most part, I feel they succeeded on their own terms. But many of Sega's design choices are confounding, particularly in regards to the upgrades. Why not make the upgrades cost more and have them be permanent additions to your arsenal, instead of having to purchase them time and time again? And as much as I like seeing a whimsical drug-addled vision play out on the Master System, the backgrounds can't be appreciated when you're trying to focus on the action at hand.
So Fantasy Zone: sometimes I'm captivated by your nonsensical stylings, other times I want to Smart Bomb every copy of the game out of existence. The conflict remains.
B+ or D+, depending on my mood.