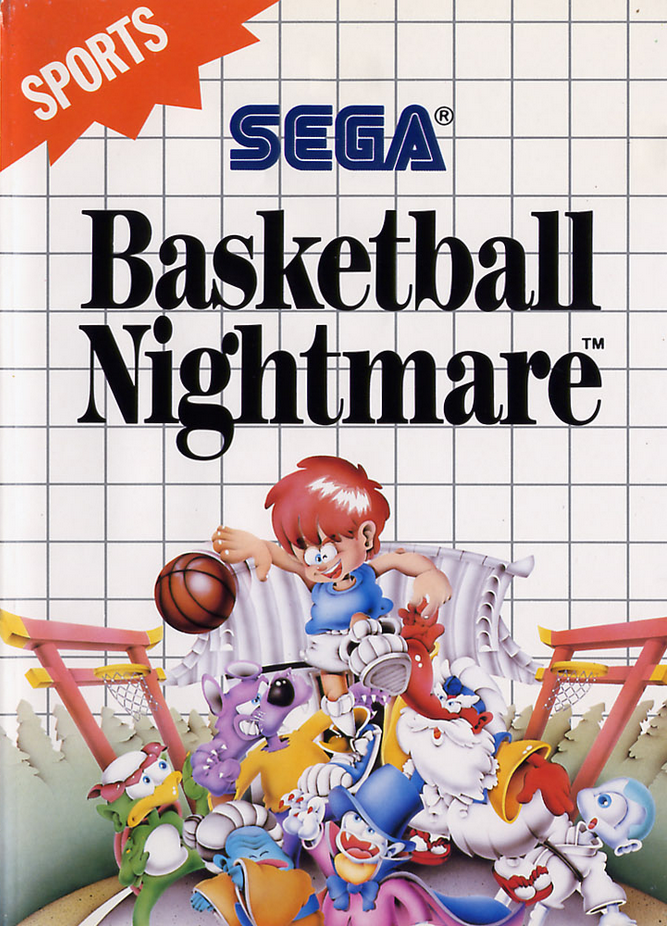 PLAYERS: 1-2 simultaneous
PUBLISHER/DEVELOPER: Sega
GENRE: Sports
RELEASE DATE: 12/1989 – (EU)
There is nothing to fear in Basketball Nightmare, except for werewolves, kappa, and vampires all vying for control of your resting subconscious. This is not a drill, but rather, a dream; a dream where an entire high school basketball team falls asleep at the same time and is thrust into a paranormal world occupied by supernaturally gifted basketball-playing creatures. Why has this happened? To prepare the human high schoolers for the game of their lives in the All-American High School Championship. Ridiculous, yes, but for being among the first to include a fantastical element into what is otherwise a broken basketball game, Basketball Nightmare should be lauded.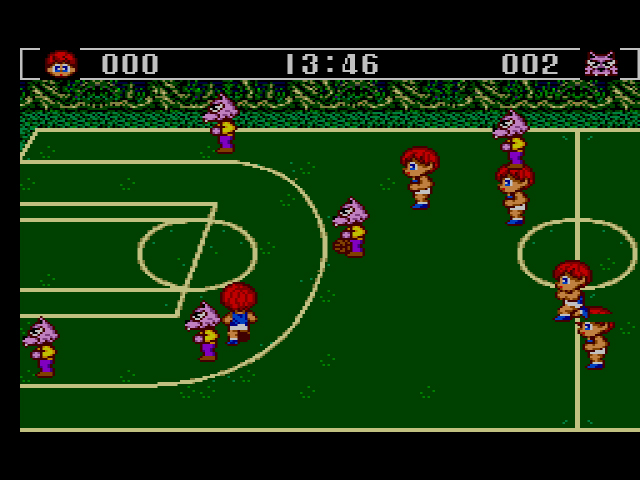 In the one-player-mode, you take on six teams: Werewolves, Kappas, Yokai, Vampires, Old Women and Tengu. The ball is thrown up into the air, you catch it, dribble, jump, throw, swish. Two points! Get close enough to the basket and you will always score. The opposing side likes to go for the cinematic dunks, which means they will travel as close as possible to the basket before throwing the ball. This gives you plenty of time, in theory, to steal the ball, but stealing is hard to achieve here. To truly steal, you have to stand in front of the player with the ball and let them run into you until they finally lose it. Which is less stealing and more complete idiocy; werewolves are smarter than that, Sega.
Sounds like an easy win – just stand in front of the creatures and pick up the ball when they drop it – but it's difficult to get in front of them. And, like you, the opposing team will almost always make their shots. When the opposing team is in control of the ball, the only way you'll be able to grab it is if they drop it or you successfully get a guy in front of the ball-carrying creature and stand still. Worse still is when both teams cluster together into a mess of dead-eyed sprites. When this occurs, the ball will always find its way into the other teams paws (claws, fins, what-have you).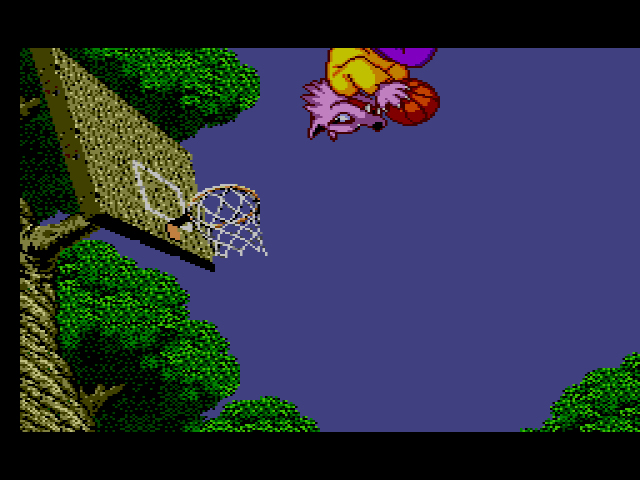 At times, Basketball Nightmare feels unfair for both the computer and the player. If your team gets on a roll – makes shot after shot, takes advantage of the computer's inability to pass a ball, and grabs the ball after the computer misses a shot – you'll win easily. Simultaneously, even if you make shots, the computer could turn around and get aggressive out of nowhere. Or they could steal the ball just by bumping into you (shame you can't do the same to them, eh?). There's no real difficulty, just pure luck for either you or the computer, depending on the game's ever-changing whims.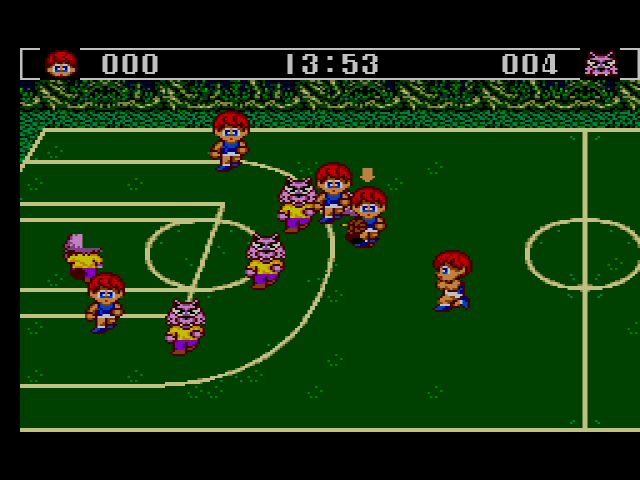 Aside from Basketball Nightmare's one player mode, there's also a two-player-mode where you basketbrawl against teenagers from other countries who look eerily similar to your team, just with different palette swap. Why can't you control the monster teams? Would that have ruined the one-player mode's mystique? There's also a CPU vs. CPU mode, where the computer battles against each other. Again, no monsters, only children from around the world resolving their differences on the eternal basketball court.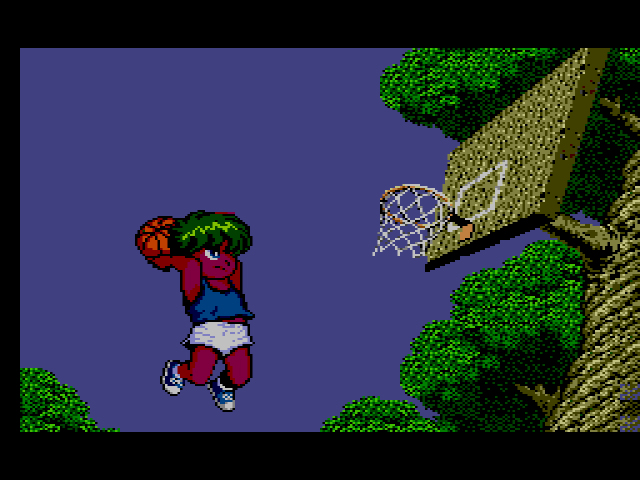 Like a B movie that's appreciated for its demerits, Baskektball Nightmare is similarly worth playing, if only to experience the truly busted gameplay. Perhaps the game will be merciful and you'll dominate the five creature teams contained within, or perhaps you'll get slaughtered – literally and figuratively – by the werewolves (of course if you lose, they get to eat you – what did you expect?). Either way, there's very little at stake. It is, after all, only a dream.
B-