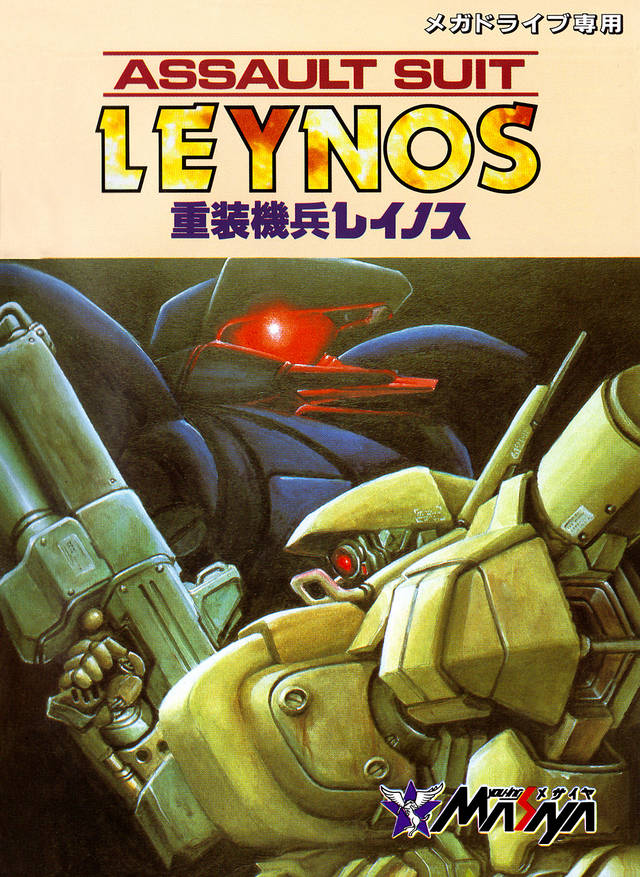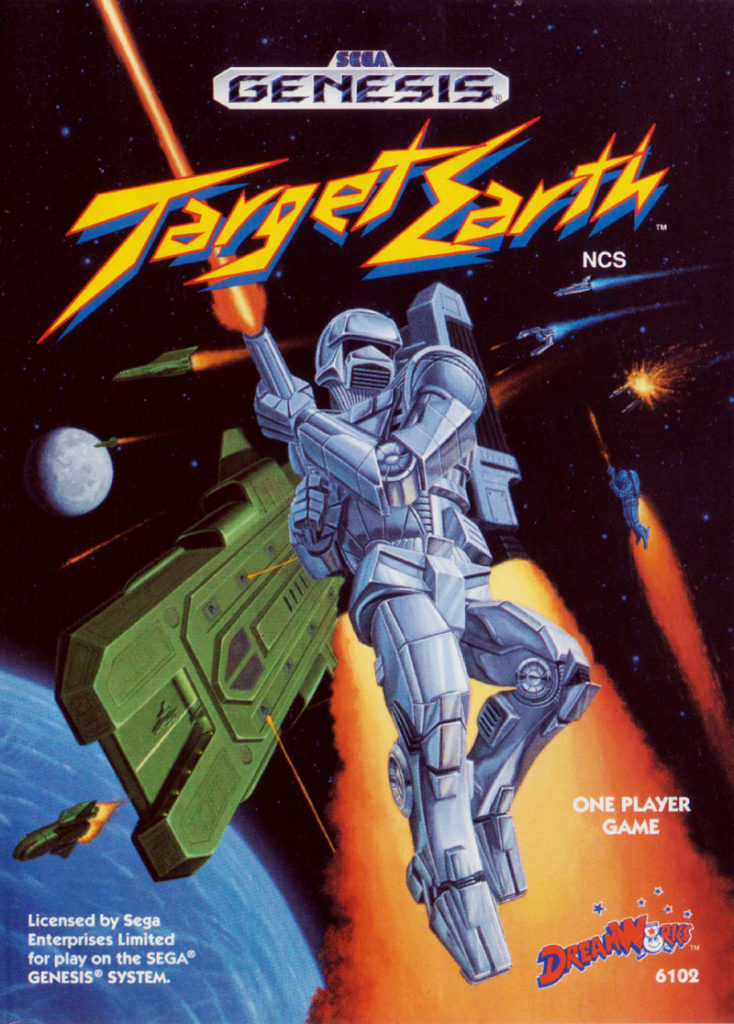 PLAYERS: 1
PUBLISHER: Masaya (JP), DreamWorks (US)
DEVELOPER: NCS
GENRE: Action/shoot-em-up
RELEASE DATE: 03/16/90 – (JP), 06/90 – (US)
Back in the day, any game had the potential to turn into a full-fledged series. To wit: Assault Suit Leynos, otherwise known as Target Earth to US audiences. As was the style at the time, Target Earth was a meaningless title given to trick American gamers into thinking they weren't playing a Japan-developed game; in other words, there is no Target Earth II. The series continued as Assault Suits Valken or Cybernator on the SNES. After Cybernator, no other ASL games made it to our shores. Assault Suit Leynos II and Assault Suits Valken II emerged in Japan on the Saturn and Playstation respectively in the late '90s, while both Europe and Japan received an Assault Suits Valken remake on the PS2.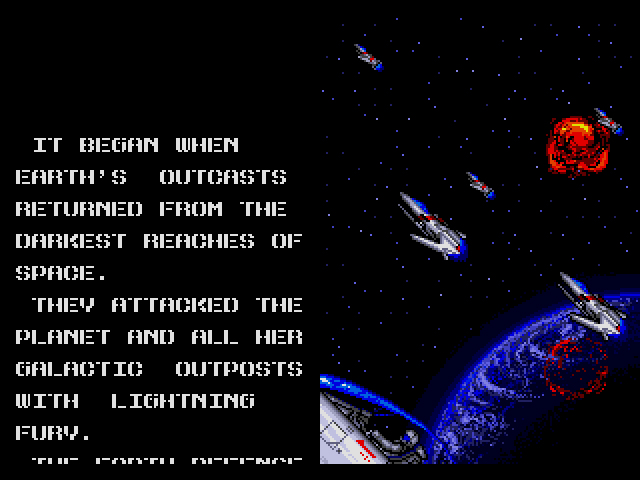 Why do I bring up such arcane history? Because there is no way this series should have continued. Assault Suit Leynos is a joyless, awkward mech shooter released on the Mega Drive. Not only is the game itself underwhelming, but the platform it was released on wasn't popular in the slightest in Japan. And yet, somehow, the franchise persevered into the 21st century. Crazier still, a PS4 remake of Assault Suit Leynos was released only a month ago to moderate acclaim. Perhaps there's more to Target Earth's joyless awkwardness than I realize?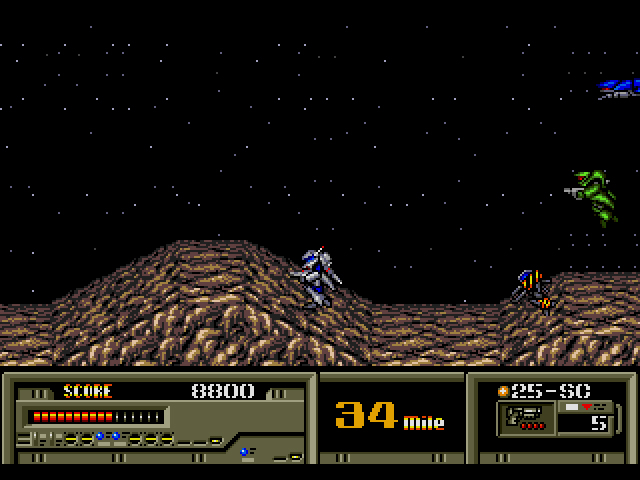 You control a shrunken mech otherwise known as an Assault Suit, and you're tasked with fighting alien forces and defending Earth. Before each level begins, you're given your choice of weapons: spread shooters, bomb launchers, machine guns, etc. Your mech has six slots for weapons, and in the early stages, you'll be able to take all weapons with you and switch between them in the heat of battle. As the game progresses, you'll obtain more weapons and be forced to decide which ones you'll take.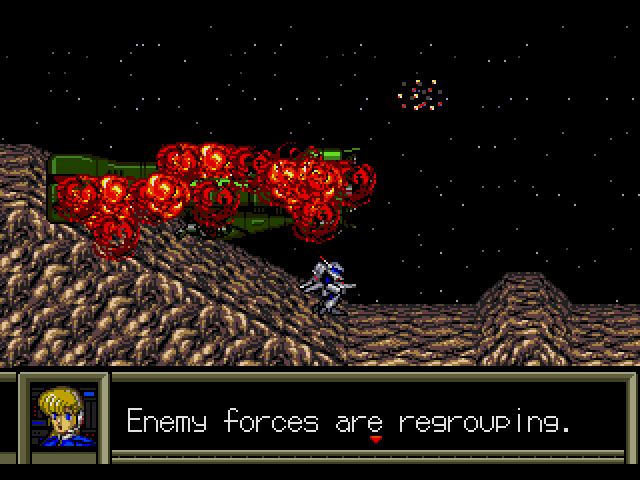 Once you've selected your weapons, dialogue boxes at the bottom of the screen guide you to your task. These tasks are usually simple: destroy the approaching warship, get to the shuttle, kill enemies for two minutes, etc. It's keeping yourself alive that's tricky. While your life bar is relatively long (and can be extended by equipping ARMOR powerups), a cluster of enemies shooting you in unison will destroy you if you don't take them out quickly.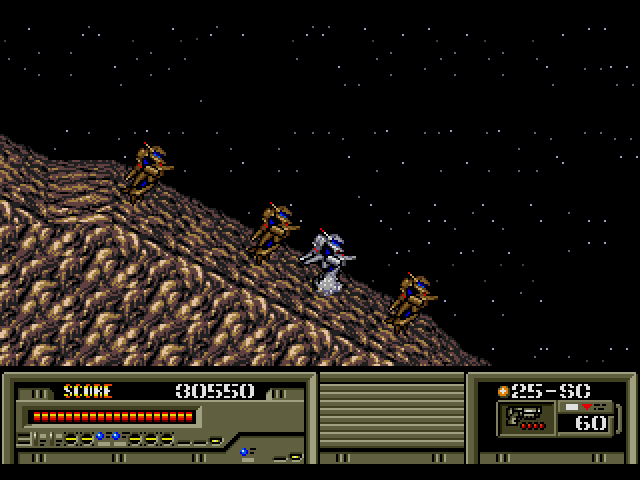 Target Earth's difficulty is unreal. You only have one life and two continues to make it through eight increasingly chaotic outer space scenarios. In true retro game fashion, the game is only balls hard because it's so short. Once you get a feel for each stage's layout, you can clear most of them in less than two minutes. That is, if you can endure the unwavering enemy onslaught.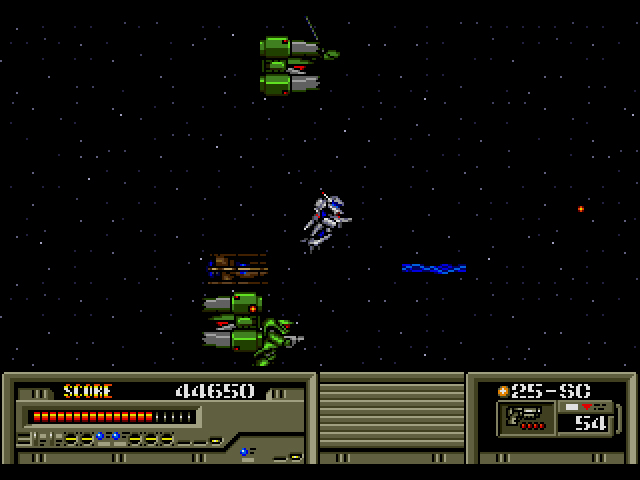 The game has a couple bits of innovation: a regenerating life bar and player evaluation. The latter is given at the end of each stage and is determined by your score. The more points you get, the more armor and weapons are unlocked for you to use in the next stage. Player evaluation is interesting and would become a crucial Japanese game mechanic in the survival horror genre, but I'm shocked to see a regenerating lifebar in a game released in 1990. Originally made popular in Halo, the regeneration isn't just a neat quirk: it's imperative for survival. Unfortunately, bars only go up after a couple seconds of not getting hit, and it's rare for you to have that kind of peace here.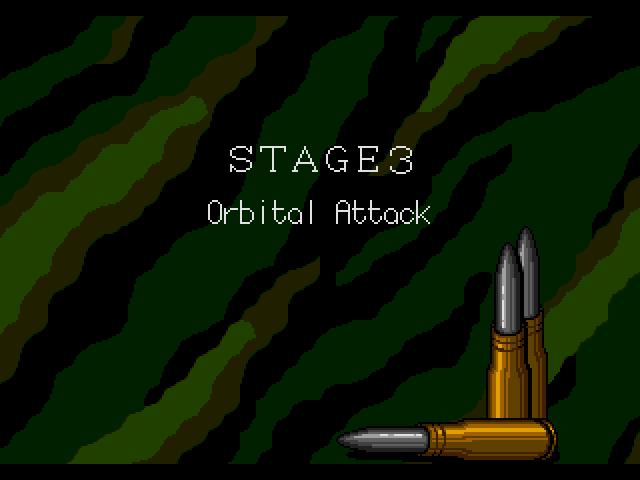 Surprising innovation aside, Target Earth couldn't be more mundane. The level design is unvaried (yet another space battle!), your enemies are all bland robots, and your mech, despite being hyped up in the manual as the savior of Earth, is short and weak. The action is intense at times, and it is thrilling to finally fell a boss that killed you dozens of times before, but you can get that sensation from any number of superior platformers and/or shoot-em-ups. God help me, Japan, I just don't get it.
D