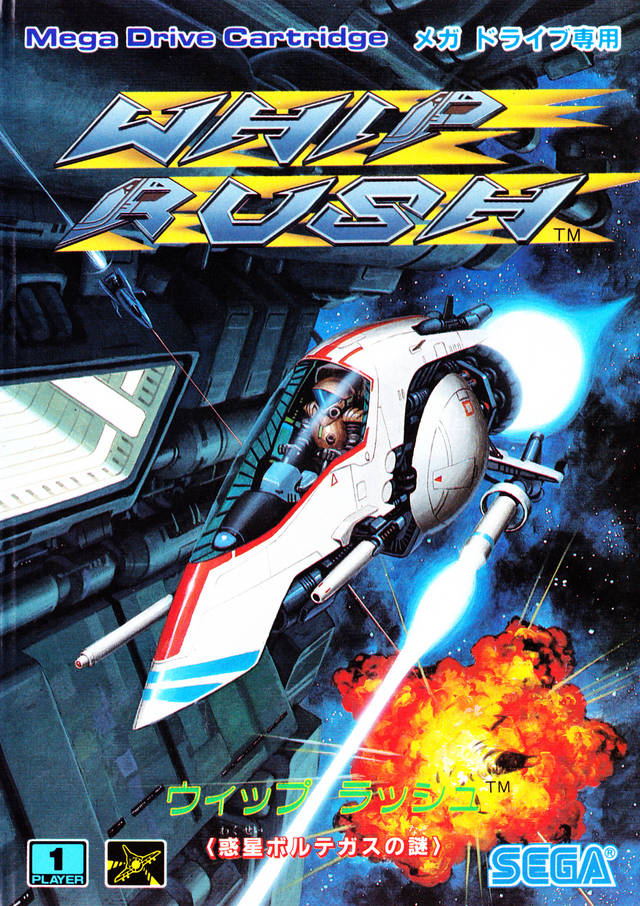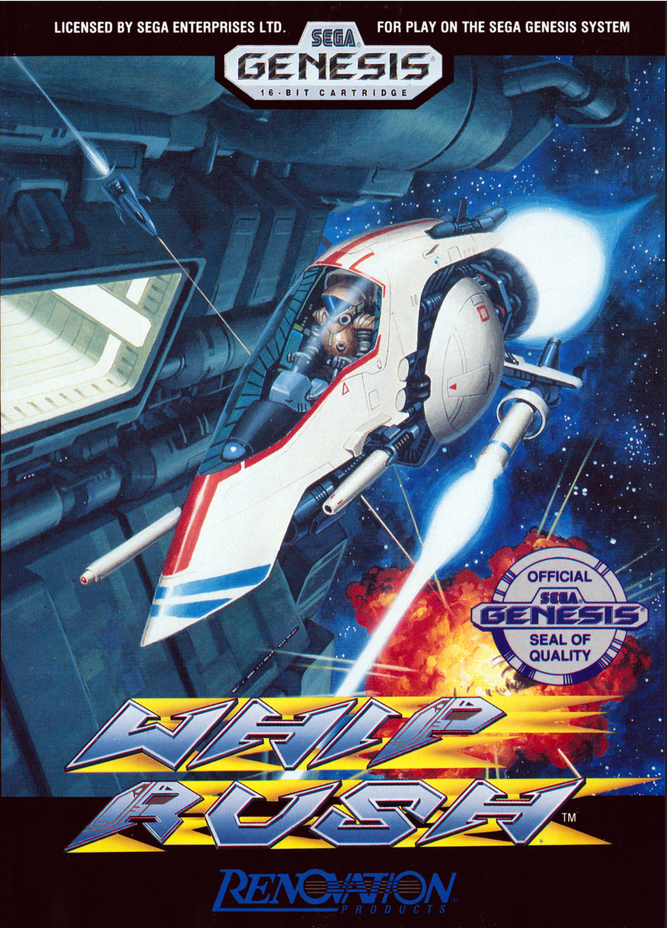 PLAYERS: 1
PUBLISHER: Sega (JP), Renovation (US)
DEVELOPER: VIC Tokai
GENRE: Shoot-em-up
RELEASE DATE: 05/26/90 – (JP), 10/90 – (US)
If you're a fan of the shoot-em-up genre, you've played many a nondescript title like Whip Rush. The shooting mechanics are solid, the controls are tight, you do indeed "shoot them up." And yet, after you've beaten it and moved on, you fail to remember any of the game's defining characteristics. Either you have early onset Alzheimer's (and I really hope you don't), or Whip Rush's content is as lightweight as its title.
You control the ship Whip Rush (who looks a bit like Opa-Opa!) through seven levels of harrowing space madness. Armed only with a pew-pew bullet stream at first, you acquire weapon upgrades by destroying floating capsules. Your upgrades are: mega lasers, homing missiles, and fireballs that move in the opposite direction. Lasers are the strongest upgrade, but can only be shot in front. This makes it the wrong weapon to have for bosses with hard-to-reach weak points. Homing missiles will ensure enemies are hit, but they move slower and their power is slightly weaker than the laser. Fireballs spew out in whatever direction they want, and their sporadic movements make them worthless.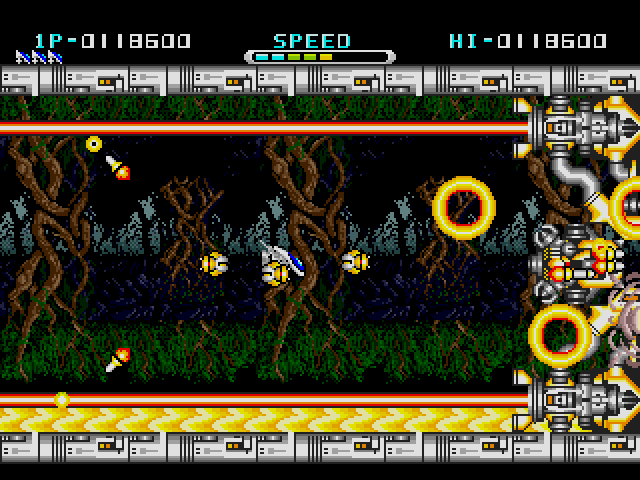 Because each weapon has a significant weakness, in order to handle each level's various challenges, you'll need to switch between weapons. The problem with this is that upgrade capsules do not appear often, and when they do, you don't always know what weapon you'll need for the obstacles ahead. If you choose the wrong weapon for a particular portion of the level – say a cluster of enemies appears behind you and all you have is the front-facing laser equipped – it could result in significant death.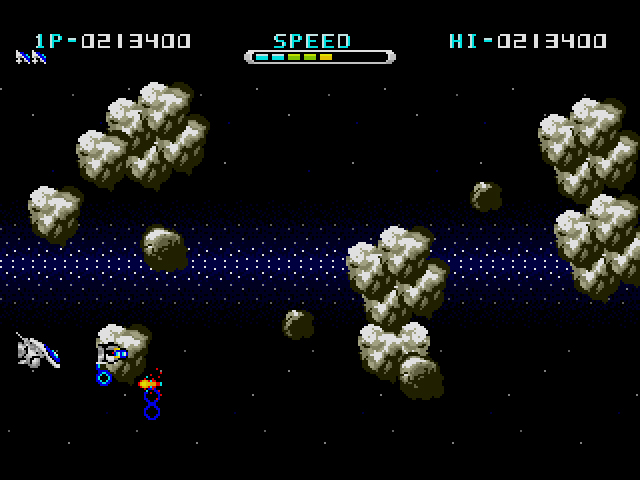 The Power Claws – tiny floating units that can be added to Whip Rush – are all but necessary for the game's more intense segments. The units provide additional firepower and, when they appear, they float atop and below the ship. Up to two Power Claws can be equipped and spun in front, behind, on top or below Whip Rush, depending on the direction you want to attack. They also can't be destroyed, no matter what you do to them, so feel free to ram them into enemies who're getting a little too close to Whip Rush.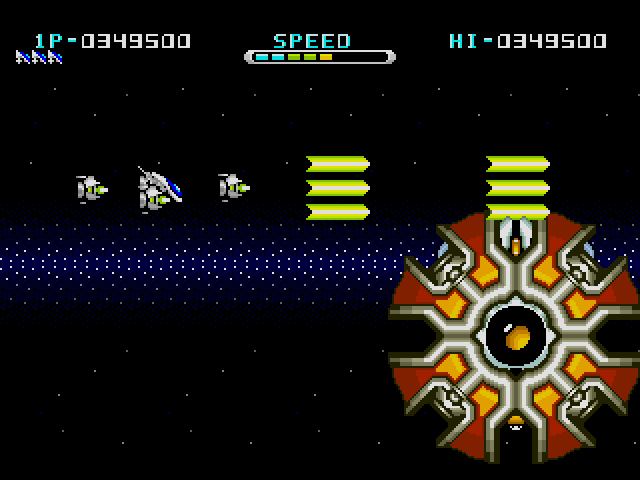 Whip Rush is mostly a traditional horizontally-scrolling shoot-em-up, in that, you progress from left to right, merrily shooting other ships while avoiding their projectiles. Occasionally, though, the game pulls a spook on you and flips your direction. In level 1 for example, everything is proceeding as usual, when the stage suddenly descends. Large, formless obelisks (that will kill you if you touch them) move slowly past you as you float downward, while little robotic insect ships buzz around your personal space. Level 3 takes advantage of Whip Rush's generous proportions and propels you horizontally forwards, backwards and vertically upwards through narrow corridors.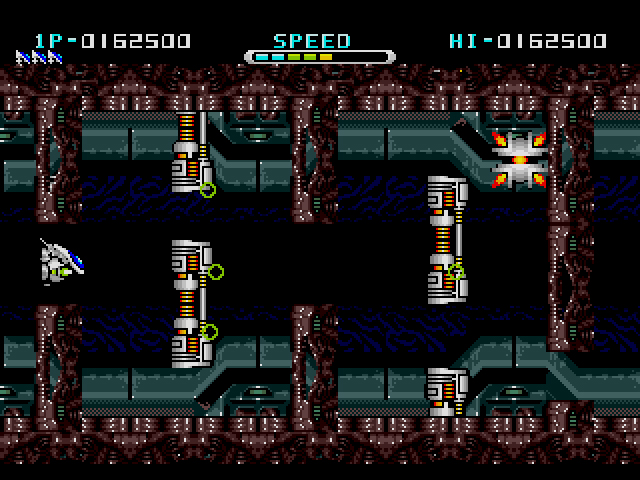 What, if anything, sets Whip Rush apart from other unremarkable shoot-em-ups of yesteryear? The Power Claws, while neat, are a feature seen in both the Mega Drive shoot-em-up, Curse and used to superb effect in the underrated NES gem, S.C.A.T.. The power-ups aren't effective. Generic level design fails to leave any mental imprints. The bosses are your stereotypical oversized machines you see in most shoot-em-ups. But! The game does allow you, at any time, to speed up and slow down your craft by pressing 'A.' This is cooler than you might think. No longer do you have to focus on getting speed power-ups in order for your ship to move faster than a sleeping snail. Want to slow down and consider your trajectory? Go for it. Want to soar through the galaxy like some intergalactic Autobahn? You have the power. The speed control is not a game-saving feature, but it is one I wish would be implemented in more shoot-em-ups.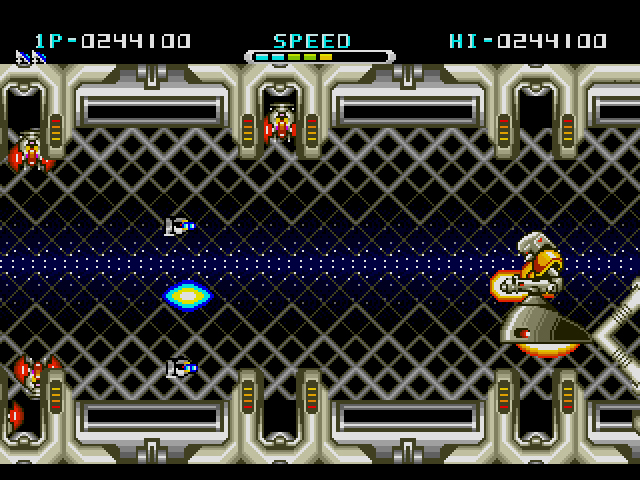 Our time together is complete, Whip Rush. You have crappy power-ups, speed control, and a title that reminds me of a frosty Sonic beverage. Even with that information, I will likely forget I played you within a week or two. Man can not live by sugar alone.
C