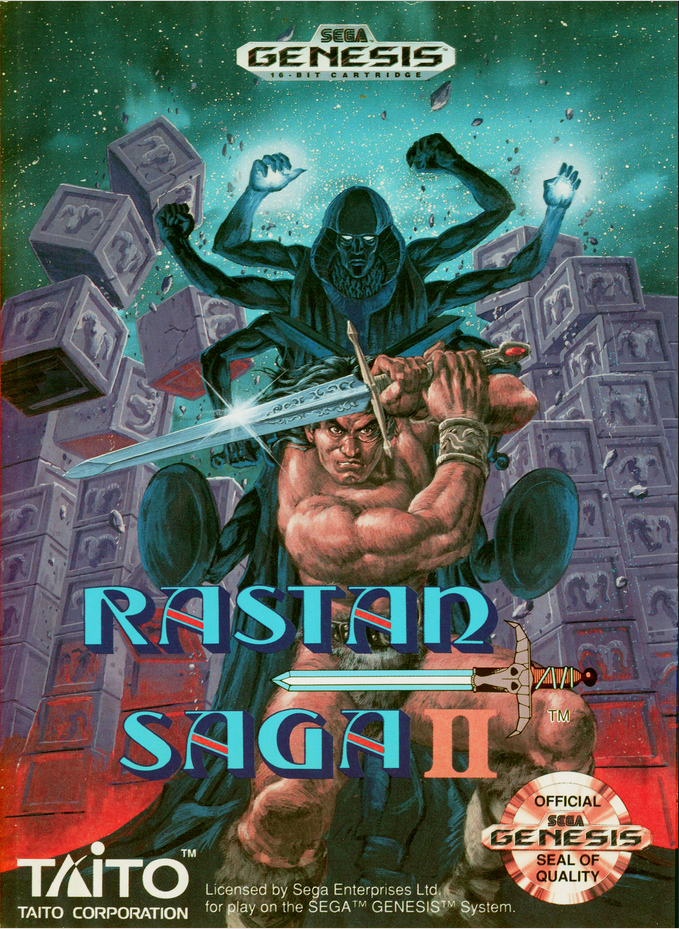 PLAYERS: 1
PUBLISHER: Taito
DEVELOPER: Taito (port by Opera House)
GENRE: Beat-em-up
RELEASE DATE: 10/10/90 – (JP), 06/91 – (US)
In Rastan Saga II, you play as Rastan, greasy barbarian-for-hire. Your mission: to pulverize a wide range of mythological creatures and restore order to a crumbling, forgotten world. The fantasy beat-em-up recalls two more popular (though not necessarily better) games, Golden Axe and Altered Beast, and the character Rastan is clearly a Conan ripoff. Still, there's something enjoyably trashy about Rastan Saga II. It's short, full of endearing Engrish, and like Altered Beast, doesn't take itself too seriously.
Rastan begins his journey with a short sword and shield. With these, he can jab and block oncoming projectiles from any direction, including diagonally. He's not limited to this combo, however. Enemies, once killed, will drop two other weapons, a long sword and iron claws that resemble Wolverine's. The claws make for quick attacks, but you have to get in each enemy's personal space to do any damage. Since most enemies either shoot projectiles or have swords themselves, the farther away you can attack them, the better. Enter the long sword, the best weapon in the game. It allows you to slice through evil at long distances and is more powerful than the other two weapons.
Along with the aforementioned weapons, enemies leave behind an array of items. Various crests will enhance your sword with lightning or fireball power, slow down time, and eliminate every on-screen creature. Lights of Power restore your energy, and bizarre one-off items like the Fang of Hitler cause skeletons to form a dancing shield around you.
Rastan needs every bit of help, because, well… look at him. How can he be anything other than a slow, lumbering strongman? Taito recognized this, which is why the game is methodically paced. With the exception of winged creatures like bats and harpies, enemies move as slow as Rastan; some even wait for you to approach them. This doesn't make the game easy, though. Rastan's enormous sprite often gets in the way of enemy attacks, and the sketchy hit detection means you'll occasionally absorb attacks you didn't see coming.
The world of Rastan Saga II is vague fantasy. Generic forests, mountains, caves, and castles are used both as background environments and as settings for the levels themselves. The creature designs, however, are first-rate. Examples include the Gyganek, a hooded cow skull that reveals itself to be an enormous spider after it's hit. The Water Shadow is a particularly frustrating demon that appears from dark pools of water to throw garbage at you. And the Muscle Snake is a beefy python that waits for you to get near it before it attacks
Rastan Saga II does not exist in its own beefy bubble. The original Rastan Saga was released for the arcades in Japan, but when it was ported to various computers/consoles (including the Master System) in the States and Europe, the game's name was changed to Rastan. Rastan was never released for the Master System in Japan, but the Master System version was ported to the Game Gear in Japan only and re-titled back to Rastan Saga. Rastan Saga II was re-titled Nastar for the European arcade release and Nastar Warrior for the American arcade release. When brought to the Genesis in North America, however, Taito decided to keep Rastan Saga II as the name, despite any confusion this undoubtedly caused.
Rastan Saga II's gameplay isn't much different from 8-bit beat-em-ups of yore: enemies approach, you kill them, repeat until the final boss. This basic brawling approach surprisingly complements the B-movie atmosphere. The environments look like cheap movie sets that are about to fall apart. Rastan's curious expression and nonsensical ranting in-between stages make for a gloriously cheesy protagonist. The developers clearly spent most of their time on the creative and occasionally horrifying creature designs, which are worthy of Harryhausen. As such, Rastan Saga II isn't so much a good game, as it is – like all B-movies – an experience that deserves to be shared with friends.
B-